Scottish National Party Manifesto 2017/Screenshot
On Tuesday, the Scottish National Party launched their general election manifesto.
The SNP, in addition to dominating the Scottish Parliament also held 54 of 59 Westminster seats in Scotland at the end of the 2015-17 parliament.
Having been in power for just over a decade, they need to show they have fresh ideas are to demonstrate they're not a tired party.
Perhaps this what motivated them to choose this image for the back cover of their manifesto.
Picture: SNP Manifesto PDF/Screengrab
A boy pressing his head on a toy triceratops.
Twitter was mostly bemused.
Other images on the back page of the manifesto show children doing more fun things.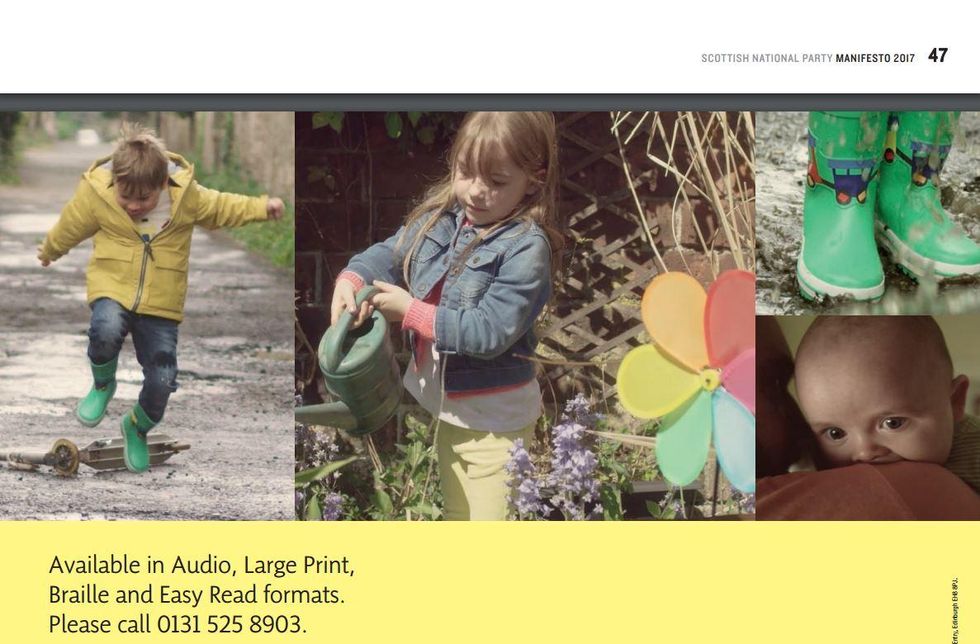 Picture: SNP Manifesto PDF/Screengrab
Chasing this up with the SNP, indy100 was told:
It's just a cute picture of a kid playing. Nothing else to it.
Fair.
indy100 has been unable to locate any living triceratops for comment.
More: Everyone is sharing this photo of Jeremy Corbyn. Don't pretend you don't know why
More: 10 stock photos of people on aeroplanes that are quite frankly ridiculous​