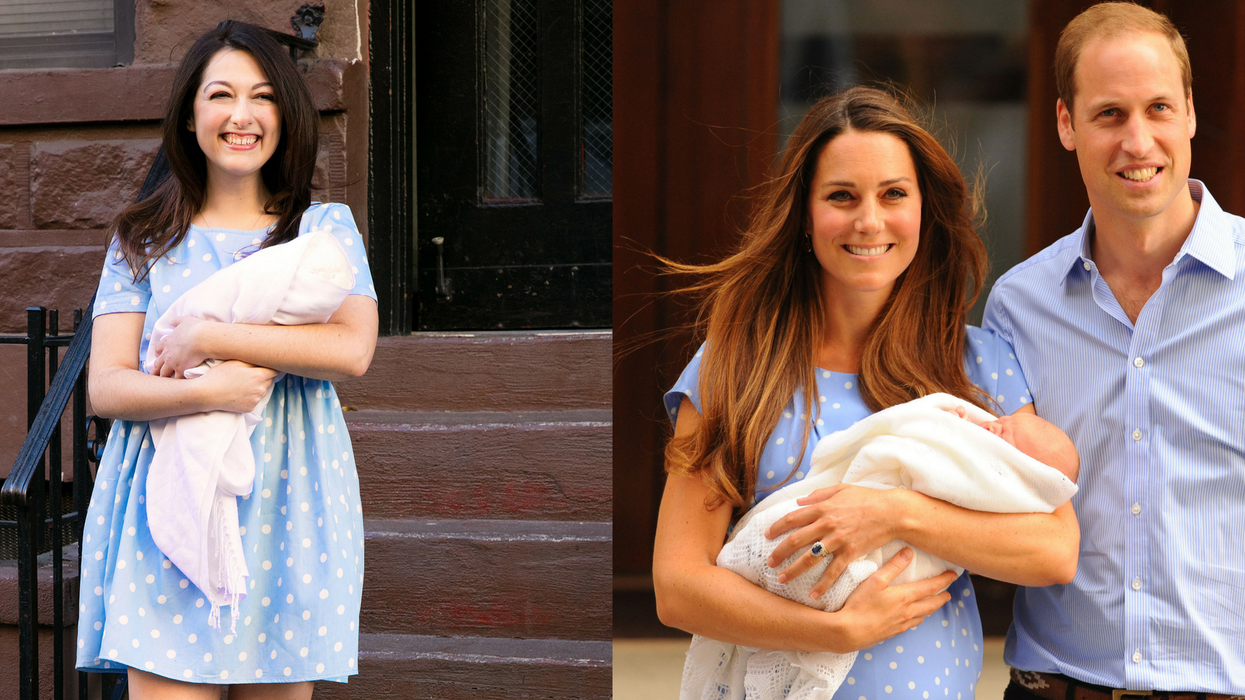 Chamorro/Cosmopolitan/Dominic Lipinski/PA Images
The Duchess of Cambridge is a busy royal - as well as being a full-time mum, she accompanies husband Prince William on royal duties and engagements. Not to mention her charity work and her love of sport.
It must be pretty difficult to imagine what her day-to-day life must be like but one writer, who clearly doesn't shy away from a challenge, decided to try it out.
Rebecca Nelson, 26, who writes for Cosmopolitan- left her regular politics beat behind and stepped into the royal shoes of Kate Middleton for seven days.
I (yes, ME) lived like the goddamn Duchess of Cambridge for a week and HERE'S HOW IT WENT https://t.co/rq3RQrInAG https://t.co/Se0tJUIRgg

— Rebecca Nelson Kay (@Rebecca Nelson Kay) 1515613378
Catapulted into a "rough" exercise regime straight away, Rebecca said the experiment proved tough the minute she took on the life of Katherine.
As part of her time as the royal, Rebecca decided to try one of the Duchess' favourite sports, rowing.
She writes in her piece for Cosmopolitan:
I'm more of a spin person (and as hard as I tried, I couldn't find any evidence that Middleton does SoulCycle), so there were a few moments when I thought I might not make it.

I felt my legs shaking underneath me as I walked to brunch afterward. But I was also on an endorphin high.
According to Kate Middleton's stylist Richard Ward, the royal gets three blowouts a week. So she quickly headed out to a blowout bar to get that voluminous look.
Rebecca also underwent etiquette training at the Etiquette School of New York. But ended up running late for the first session.
She said:
I knew I'd be skewered for being late to an etiquette class, so I fast-walked from the office, zigzagging through holiday tourists. I arrived at 4:01 with a thin film of sweat coating my forehead. "I'm so sorry I'm late," I said. She coolly replied:

"The princess would never be late." I already failed my first test.
Reflecting on the lesson, Rebecca wondered why women "have to go through this. Why can't Kate just be herself?"
Discussing etiquette in an interview with the Daily Mail, Rebecca said the rules endured by Kate Middleton are one of the things that surprised her the most.
She said:
She has to be so vigilant about what she says and does, She had to learn to speak differently—softer—and sit with her legs zipped together, slanted to one side. She can only wear certain nail polish colours. She can't laugh so hard she snorts because it's unladylike. All of that can get to be exhausting.
In her piece, Rebecca concluded the life of a princess is not for her, but she could get used to the blowouts.
She told the Daily Mail:
While it would be amazing to get as many blowouts as she does, I don't think I could handle having every aspect of my life reported on and picked apart.

She can't go to Starbucks without it being a major news event.