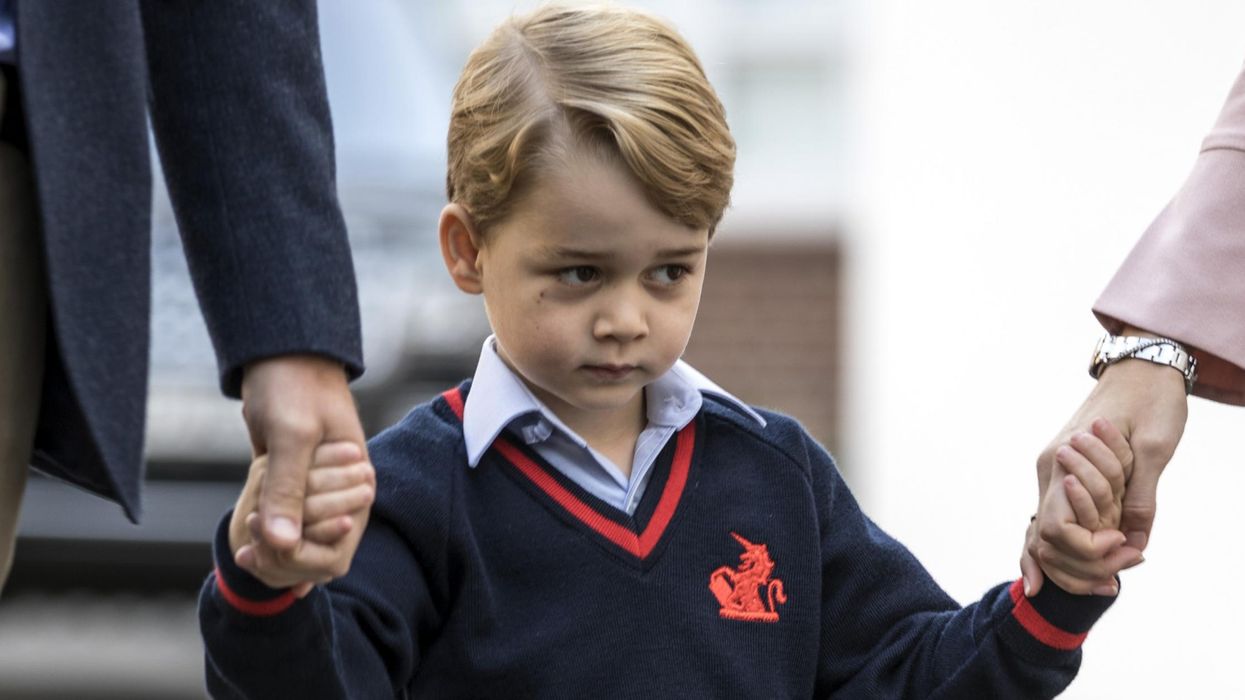 WPA pool / Getty Images
Today's an important day for one family in Britain. Prince George, son of the Duke and Duchess of Cambridge, is attending his first day of school.
George will be starting today, Thursday, at Thomas's in Battersea, an independent school with fees from around £17,604 a year per pupil.
That money increases to £19,884 a year when a child reaches year three, for those keeping track.
The world's media went big on the day, with many papers devoting double-page-spreads, and broadcasters sharing video packages on the rather run-of-the-mill occasion.
The Daily Mail broke out their slightly disturbing Photoshop job of the young prince in school uniform.
That's George's face edited onto another child's body - I can only imagine how the conversation with the photo desk went with that one.
Maybe they'll get told off today for getting the socks wrong?
SKY News gave us a montage of some of George's (best?) moments.
It was then followed up with this breaking news blast that mum Kate would be too unwell to join George for his first day.
It's BIG NEWS guys.
He won't be hitching a lift or hopping on the underground though, his dad and royal protection officers will be about to ensure his safety.
He got a personalised weather forecast from the BBC's Elizabeth Rizzini.
He also might have had someone pack his pencil case for him Good Morning Britain:
Many people were just a little... 'extra' on social media.
A number of others really weren't too fussed though.
If you're a fan of the prince and have been hoovering up coverage of his first day this morning... While we have you:
Hurricane Irma has killed eight people and devastated the island of Barbuda.
Attacks on the LGBT community in the UK have soared by almost 80% since 2013.
The British government have been accused of using EU migrants as 'human shields' during negotiations.
Russian Facebook accounts reportedly spent $100k on political adverts during the 2016 American presidential election.
And up to 300,000 Rohingya Muslims could flee violence into neighbouring Bangladesh, a UN agency official has said.
Let's just let the kid have an enjoyable first day?
More: Family on state handouts release picture of a two-year-old girl and people can't handle it