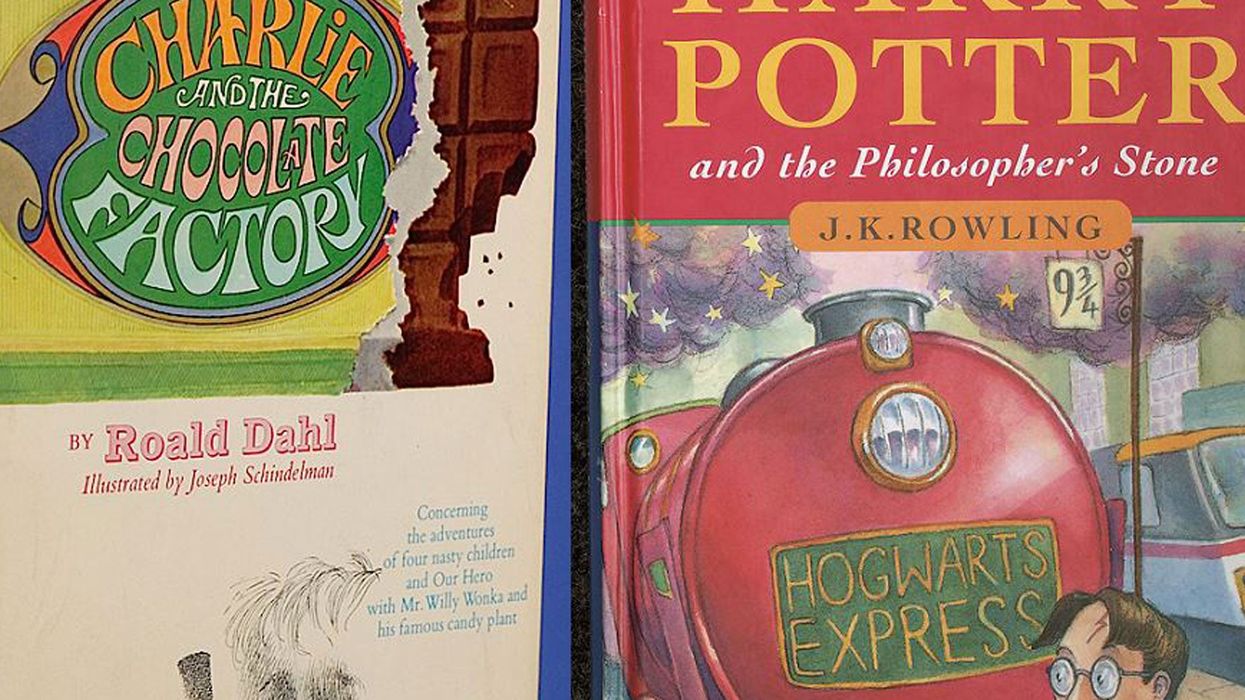 Getty and screengrab DB Rare Books
It's the dream: you buy a used copy of Harry Potter and the Philosopher's Stone for £2.50, only to discover that it's actually a super rare, first edition gem worth tens of thousands of pounds.
If only.
Ignore the cynicism - you might be lucky enough to have unwittingly come into possession of a valuable edition of a book.
Are you standing at your bookshelf now? Good.
Here are 10 books that you should look out for:
1. Harry Potter and the Philosopher's Stone (J K Rowling, 1997) £60,000
It has to be one of 500 first editions printed by Bloomsbury in June 1997. You'll know it's the real deal because there's a line near the front that reads 10 9 8 7 6 5 4 3 2 1.
There's also a typo on page 53. The words '1 wand' is listed twice on a list of school supplies.
A copy that is in excellent condition was sold to a buyer in Dallas, Texas for £60,000.
2. The Hobbit (21 September 1937, J R R Tolkien) £48,400
According to AbeBooks, there were just 1,500 copies of the first edition published in the UK by Allen & Unwin. Though notoriously difficult to find, as most of them are in personal collections across the world, there are still a few in circulation.
AbeBooks once sold one of these for $65,000 (£48,400).
3. The Tales of Peter Rabbit (1901, Beatrix Potter), £35,000
The 41-page book was printed privately by Beatrix Potter herself in 1901 after many publishers turned her down.
It contains line drawings and was in the Dreweatts & Bloomsbury auction last year.
4. A Christmas Carol. In Prose… Being a Ghost-Story of Christmas (1843, Charles Dickens) £22,500
The rare first edition bound in a reddish-brown cloth is decorated with gold lettering on the front page and contains the original illustrations by John Leech.
It's currently going for £22,500 at Peter Harrington.
5. Where the Wild Things Are (1963, Maurice Sendak), £18,600
The children's book needs to be a 1963 first edition published by Harper & Row. If you happen to have Sendak's signature inside, it will add thousands of pounds to the value.
One of these was sold by AbeBooks for $25,000 (£18,638).
6. Charlie and the Chocolate Factory (1964, Roald Dahl) £18,638
Only 10,000 copies of this first edition were published in September 1964 by Knopf's. One sold on AbeBooks for $25,000 (£18,638).
7. The Mysterious Affair at Styles (1921, Agatha Christie) £13,035
The hardcover first edition of the Who Dun It? classic was published by The Bodley Head and is currently going for $17,500 (£13,035) online.
8. Winnie the Pooh (1926, A. A. Milne) £8,831
Published in 1926 by Methuen, you could earn a pretty penny for it – especially if signed by Milne or the illustrator, E H Shepard.
One such copy was sold on AbeBooks for $11,851 (£8,831).
9. Northern Lights (1995, Philip Pullman) £7,700
If you're a Philip Pullman buff and you bought the first edition of Northern Lights (published by Scholastic Press) and managed to get it signed – you could be sitting on thousands of pounds!
The signed first edition is worth anywhere between £4,000 and £8,000.
10. The Wind in the Willows (1908, Kenneth Grahame) £5,750
A first edition, with the original green cloth cover, is going for just under £6,000 at Peter Harrington.