LIAM SMYTH / GOFUNDME
People on the internet were equal parts shocked and amused earlier this week, when Liam Smyth shared the worst Tinder date there has ever been.
He explained via a GoFundMe page that his while on his date, the young woman told him:
I went for a poo in your toilet, and it would not flush. I don't know why I did this, but I panicked.

I reached into the toilet bowl, wrapped it in tissue paper, and threw it out of the window.
On trying to recover said package, she got stuck in the gap between two windows and had to be rescued by firemen.
And now, Tinder girl has broken the silence and told her side of the story.
A woman claiming to be the mystery 'window-poo date' posted to reddit to explain that it was a "panic response" - and that she was hanging upside down for about half an hour.
She also revealed - surprisingly - that there was a second date after the incident.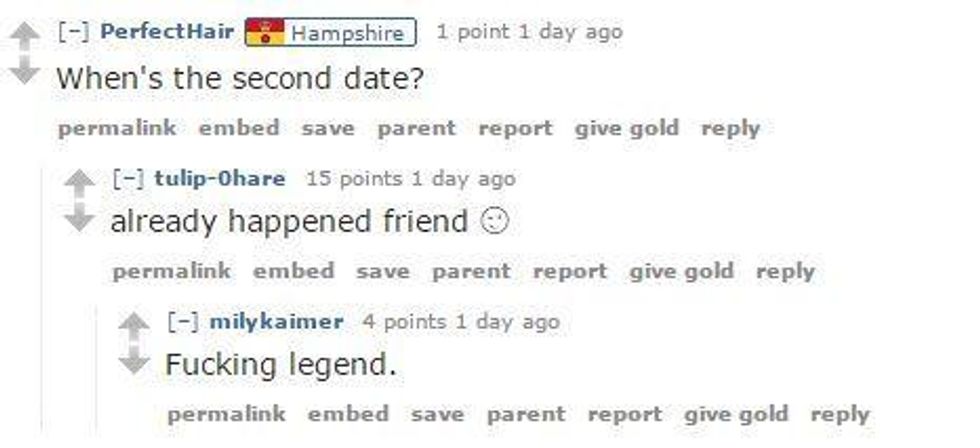 Picture: Reddit
She wrote:
I am indeed the shamed Shirehampton s*** slinger. My friends have been comparing me to Miranda Hart.

Within seconds i knew I'd made a terrible mistake... i would have left, but i just couldn't do that to him. i make bad choices sometimes (!) but i like to think I'm not a bad person, and to me that would have been bad. i told him almost straight away, i couldn't lie about something like that.

It's not something I'm proud of, but people are laughing, and if I'm making people happy then I'm not going to complain.

I swear i was literally on my knees cringing and apologising. He was so good about it though, just laughed with me rather than at me. It was one of the hardest things I've ever had to say 

Sometimes people do stupid things... I'm a self proclaimed impractical person.

I feel like this could so easily happen to anyone, when something goes wrong you naturally start to panic and make poor choices, the next thing you know the fire brigade are breaking you out of a window after you retrieved a poo.
People told her how far the story's reached:
Picture: Reddit
And people said how much they loved the story: