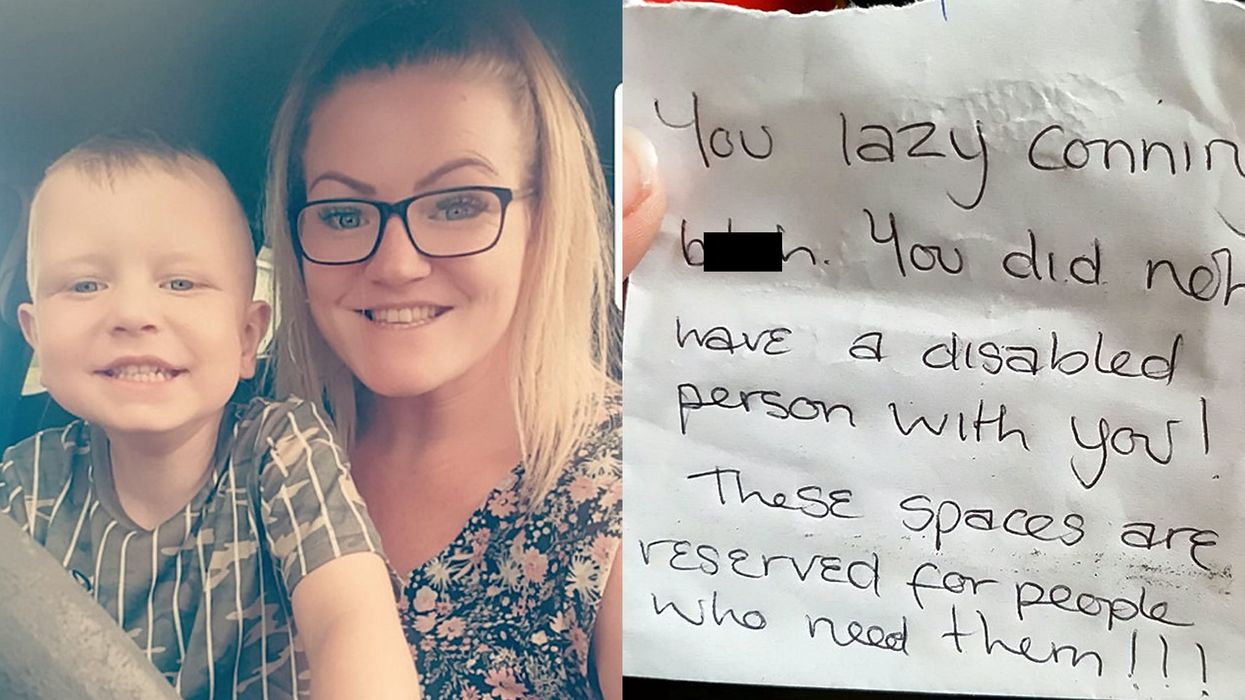 SWNS
The mother of a terminally ill child has hit back at the people who left an abusive note on her car in a row over a parking space.
Emma Doherty had parked in a disabled bay when she took her three-year-old son Bobby to the Alder Hey Children's Hospital in Liverpool.
But when she returned to the car, she was shocked to discover a note calling her a "lazy conning b***h".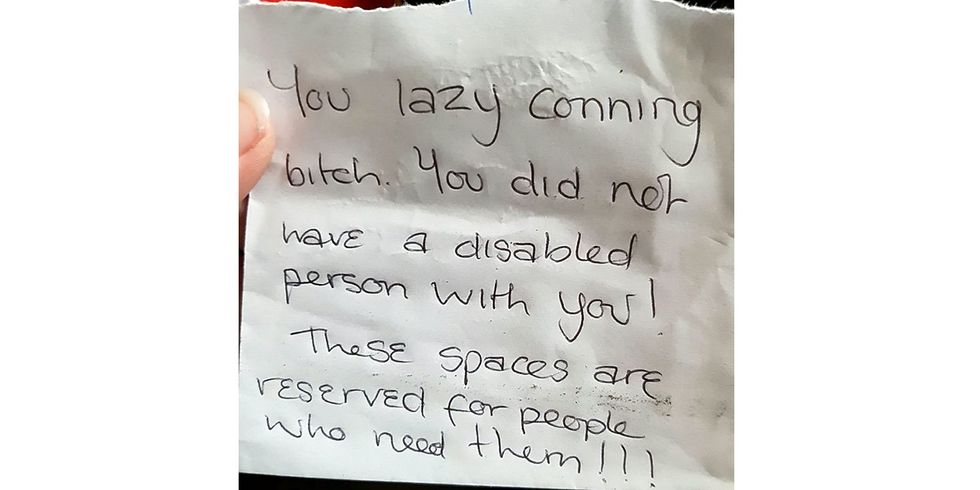 Pic:
The person who wrote the note had apparently seen Doherty carry Bobby, who usually uses a wheelchair, into the hospital because she was running late.
Bobby was born with three holes in his heart and has already undergone 15 operations.
The note read:
You lazy conning b****.

You did not have a disabled person with you! These spaces are reserved for people who need them!
Doherty posted her story on Facebook to spread awareness of the difficulties people with invisible illnesses face.
She wrote:
To the person who put this on my car, which I had put my disabled badge fully on, I'm not angry at your pure ignorance, I'm actually upset with it.

How dare you ever accuse anyone of not needing a disabled badge without knowing. I wish you had the balls to say this to my face and I would have told you (even tho I don't need to explain myself to the likes of you) but I'd have happily said why I have a badge.

I promise to get the stigma away from people with disabled badges who don't 'look disabled'.

I hope this gets shared and back to you and you will see my son is terminally ill, he's had over 15 operations, three open hearts, two stomach, lung and diaphragm and countless artery stenting operations and spent half his life on intensive care.
She added:
I'm a single mum trying my best to hold it together for my son who's in and out if hospital. NOT ALL DISABILITIES ARE VISIBLE and I hope you regret doing this and learn your lesson!
Doherty's post has been shared more than 100 times and received more than 1,000 reactions since being posted.
She said she was "shocked" by the number of messages she had received from people who had a similar experience.
She said:
My inbox is full of people who have told me they have been stared at or even spat at.
This is a serious problem and I just want it to change.
It's worth remembering that not all illnesses are visible.
H/T SWNS