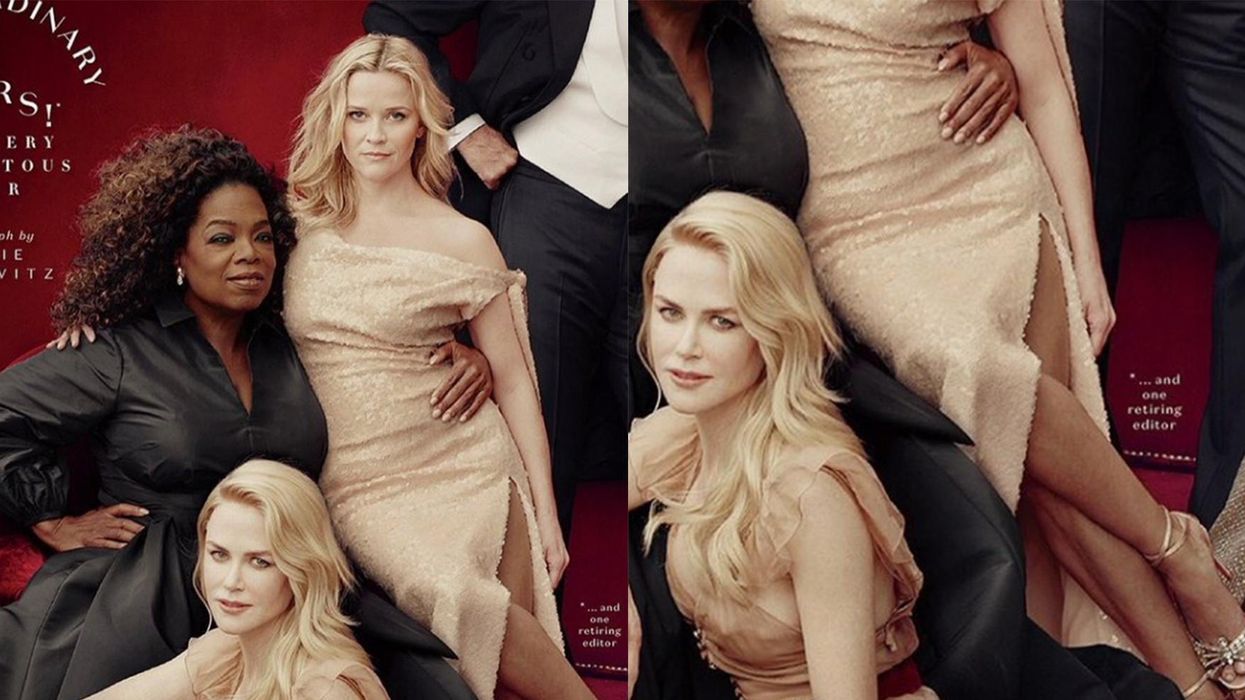 Vanity Fair
Every year Vanity Fair features the bold and beautiful of the acting world in their annual Hollywood issue.
This year the likes of Tom Hanks, Nicole Kidman, Gal Gadot, Harrison Ford and Jessica Chastain adorn the cover in their best garments for famed photographer Annie Leibovitz.
One element of this year's picture has attracted more attention than usual and it appears, to many, to be a Photoshop fail.
Can you see what it is?
On the left of the image, you can see Oprah Winfrey and Reese Witherspoon in an embrace, which actually makes it look like Reese is sitting on Oprah's knee.
The positioning of the pose isn't the problem here. Upon closer inspection, you'll notice that the Legally Blonde actress has not two, but three legs.
People on Twitter were quick to pick up on this glaring error and shared it so the rest of the world could see.
Others weren't so sure that there was a 'Photoshop error' and went into great detail to prove that it was some sort of optical illusion.
There was definitely a lot of confusion over the issue, someone even admitted to attempting to sit in that position only to injure themselves.
That wasn't the only problem.
Another image appeared online that appears to show Oprah with a third hand.
Luckily the two super-stars saw the funny side of things.
Another story which emerged from the photo shoot is the apparent removal of James Franco from the scene.
The Disaster Artist actor was reportedly removed from the image after five women came forward to accuse him of sexual misconduct.
During an appearance on Late Night with Seth Meyers, the actor addressed the allegations:
There are people that need to be heard, I have my own side of this story, but I believe in these people that have been underrepresented getting their stories out enough that I will hold back things that I could say, just because I believe in it that much.
So if I have to take a knock because I'm not going to try and actively refute things, then I will, because I believe in it that much.
HT news.com.au, Twitter