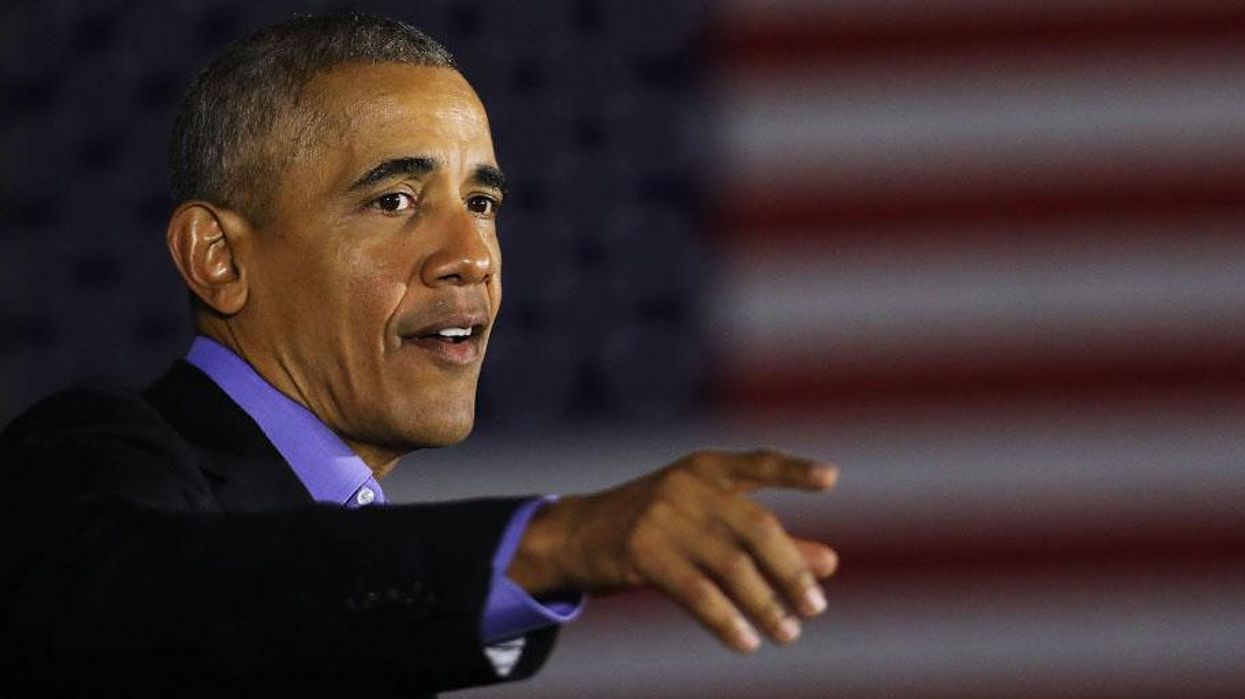 Photo by Spencer Platt/Getty Images
We've always known that Barack Obama was a particularly skilled orator in the political field, but it turns out when it comes to romance he can be just as smooth.
Nine letters penned by Barack himself to his former girlfriend Alexandra McNear have been made public by Emroy University, Georgia.
They reveal a man with lyrical prowess that would make even the coldest of hearts flutter.
Barack and Alexandra met in California and had a long distance relationship during the 1980s.
The letters, which were written between 1982 and 1984, were donated to the university in 2014 but have only just been made public.
Extracts from the letters show that Obama was already the wise, intelligent and aspirational man that would later become president.
BBC News quote one the more tender letters to Alexandra as reading:
I trust you know that I miss you, that my concern for you is as wide as the air, my confidence in you as deep as the sea, my love rich and plentiful.
This was reportedly five years before Barack would meet his now wife Michelle, so the relationship with Alexandra didn't last too long.
By 1983 it seemed he was already having doubts.
I think of you often, though I stay confused about my feelings.

It seems we will ever want what we cannot have; that's what binds us; that's what keeps us apart.
Despite the intimacy of the letters, Barack's lofty ambitions and political mindset were already evident.
After graduating from Columbia University in 1983, Barack began to experience hardships without knowing this would put him on the path to the White House.
One week I can't pay postage to mail a resume and writing sample, the next I have to bounce a cheque to rent a typewriter.

Salaries in the community organisations are too low to survive on right now, so I hope to work in some more conventional capacity for a year, allowing me to store up enough nuts to pursue those interests next.
He briefly went to Indonesia yet felt alienated in a country that he called home during his childhood.
I can't speak the language well anymore.

I'm treated with a mixture of puzzlement, deference and scorn because I'm American - my money and my plane ticket back to the US overriding my blackness.

I see old dim roads, rickety homes winding back towards the fields, old routes of mine, routes I no longer have access to.
He then took a job in a publishing house but left swiftly afterwards in order to conserve his values and not become part of the corporate machine.
By 1984 he wasn't the respected politician that he is now but his vision of the future was beginning to materialise.
My ideas aren't as crystallised as they were while in school, but they have an immediacy and weight that may be more useful if and when I'm less observer and more participant.
Andrea Gillespie, the associate professor of political science at the school now hopes that current students can be inspired by the words of young Barack and channel that into their own education.
What is very striking about the letters is how they show President Obama's intellectual development.

You can see how intellectually curious he is, even in his early 20s.

I think undergraduate students will benefit immensely from seeing how, as a young man, Obama internalized his studies and got the most out of a liberal arts education.
The letters will be included as part of the schools rich African-American collection, which also features writing from the civil rights movement.
HT Her