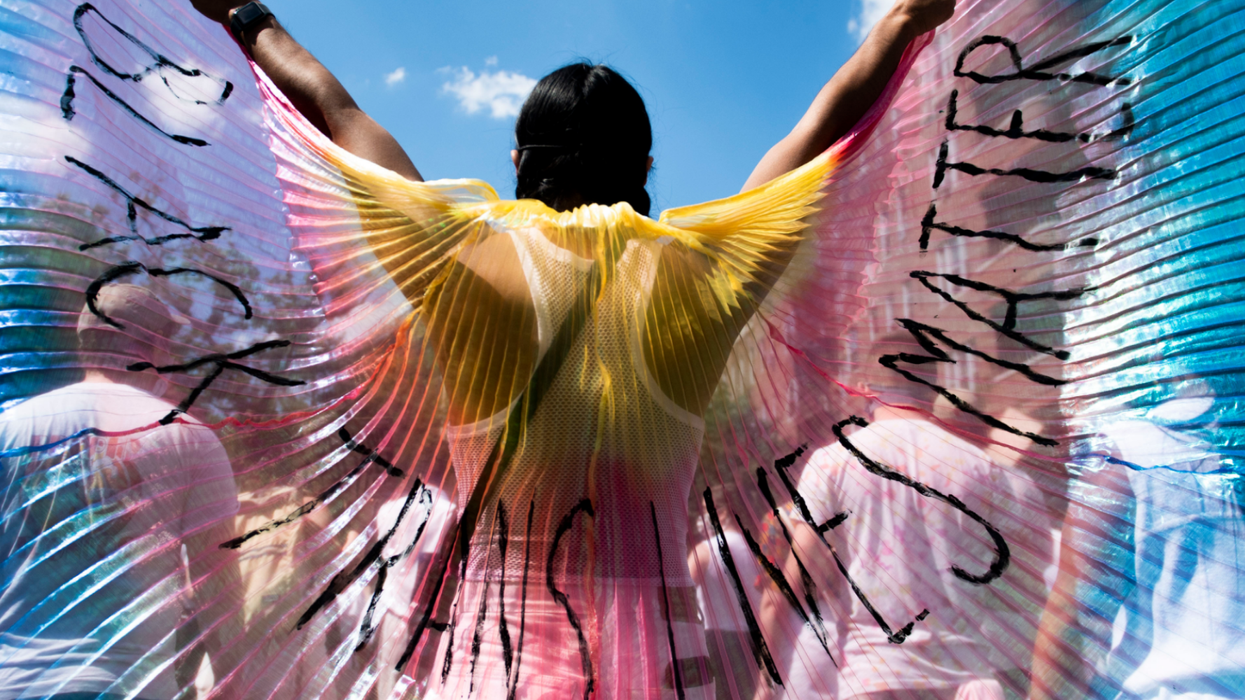 Getty
Protests for Black Lives Matter continue.
And on Saturday, London will see a particularly meaningful demonstration hit its streets.
The march for Black Trans Lives Matter will see trans people and allies meet at Wellington Arch to walk through London in memory of Black trans lives lost but also to celebrate the power and joy of the Black trans community.
Here's everything you need to know about the protest.
What are the details of the Black Trans Lives Matter march?
London's Black Trans Lives Matter march will take place on 27 June, beginning with a meeting at Wellington Arch at 2pm.
Demonstrators will then walk through London's streets, towards Downing Street, where they will listen to speeches relating to the cause and take part in a static protest.
Protesters are asked to bring flowers, wear masks and observe social distancing as much as possible.
Who is organising the march?
Both LDNBLM and London Trans+ Pride have thrown their weight behind the Black Trans Lives Matter march.
On hand are legal advisors and first aiders to support attendees, who are advised to protect their identity.
Why is the march so crucial right now?
The Black Trans Lives Matter march represents individuals who sit at an intersection: people who are both Black and trans.
Not only do they face inequalities as a result of being Black, they also suffer inequities as a result of being trans.
So there are two systems of oppression which interact.
This affects everything from access to healthcare, to financial stability.
The Black Trans Lives Matter march comes as the government has reportedly backtracked on a promise to reform the Gender Recognition Act.
Rather than allowing trans people to legally change their gender identity via a more simplified method, The Times reported earlier this month that the government has scrapped plans to ditch the existing lengthy and medicalised process.
And the Equalities Minister, Liz Truss, has prompted alarm by hinting at potential legal changesthat could prevent trans people easily accessing single-sex spaces, such as refuges for women who are victims of intimate partner violence. There have also been concerns over Truss's remarks on young trans people accessing medical care.
This would be a rollback of trans protections and rights that activists warn could pose a risk to the trans community.
Charities like Stonewall have observed the similarities between current transphobic rhetoric and homophobic legislation like Section 28, that was passed in the 1980s.
These are just some of the reasons why people are marching this weekend.
This march is specifically to celebrate the Black trans community and mourn those taken before their time.
There is another march on the 7 July to celebrate all members of the trans community.
How can I help if I can't attend?
The Black Trans Lives Matter march is currently crowdfunding for supplies such as hand sanitiser, hi-vis jackets for stewards and water for attendees. You can donate here.
Other organisations you can donate to are COLOURS, a Black-led youth network for LGBTQ+ individuals or the Exist Loudly fund, run by activist Tanya Compas.
But there are multiple organisations supporting Black trans people and others of colour in the UK, so don't be afraid to do some research.
Amplify organisations, read up and share details of the protest on social feeds.
Now is the time.