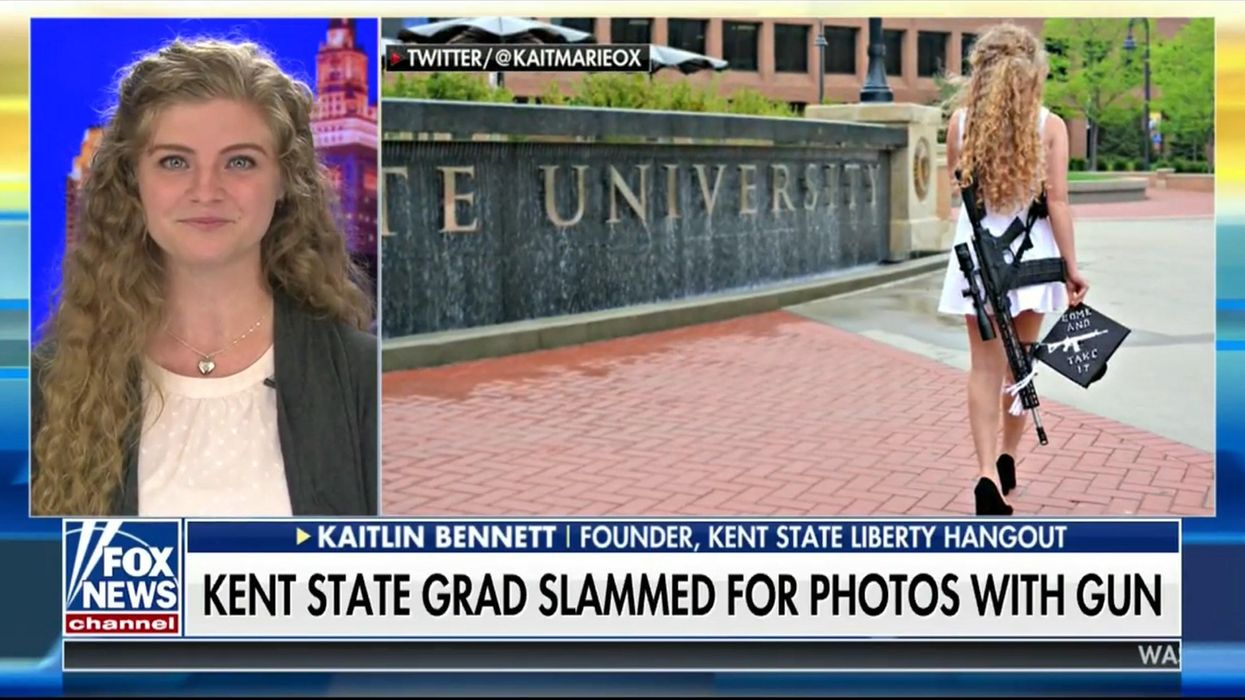 Screengrab: Fox News
The gun violence and second amendment debate in the United States is one of the most fiercely discussed topics in the country at the moment.
It ranges from sensible and logical points to the downright ridiculous and offensive, but a gun activist is now threatening to take it to a whole other level.
Last month, 22-year-old Kaitlin Bennett went viral after being pictured with an assault rifle on the campus of Kent State University, Ohio, following her graduation.
The photo was taken as a stance against the school's ban on guns and came complete with a customised graduation mortarboard bearing an image of a rifle and the caption 'Come and Take it'.
The provocative image raked up more than 8,000 retweets at the time of writing, but Bennett wasn't done there.
In a bizarre turn of events, she is now challenging prominent gun control advocate David Hogg to an arm wrestle.
18-year-old Hogg was a survivor of the Marjory Stoneman Douglas High School massacre in February and has been a vocal opponent of gun violence and the NRA ever since.
His status has seen him become something of a figure of criticism among gun advocates, with some even accusing him of being an actor.
In an attempt to end the debate surrounding the reppeal of the second amendment, Bennett wants to face Hogg in a physical battle with some big stakes on the line.
We hate to make a joke out of a situation, but we'd have thought she would have preferred to settle her differences with pistols at dawn?
The challenge was issued on 3 June and unsurprisingly Hogg is yet to respond, but that hasn't stopped Bennett from trolling him on Twitter and using the insult 'twig arms'.
The conservative website Liberty Hangout, which Bennett is a grassroots director of, also conducted a poll to see who their readers thought would win in the contest, which Bennett won in a landslide.
It's unlikely that Hogg will ever respond to such a challenge as he's probably got more important things to do. Like salvaging America's moral compass. Also, last time we checked, arm wrestling was not legally binding in constitutional debates.
HT news.com.au