Chris Jackson/ Ron Sachs-Pool/Getty Images
Donald Trump has cancelled his plans to visit the UK in February and has blamed it all on Barack Obama.
The President of the United States was expected to open the newly revamped US embassy in London after a multi-million pound move from Grosvenor Square to South London.
Mr Trump remarked that he would not be coming over to the UK to cut the ribbon of the new building because the Obama administration had sold the embassy for "peanuts" and moved it to an "off location".
In case you are wondering, the "off location" is Nine Elms in Wandsworth, near Battersea. It isn't exactly Mayfair (where the previous embassy was) but it shouldn't be sniffed at.
However, some have blamed planned protests against the United States President as the real reason for his cancellation.
Former Ukip leader Nigel Farage told the BBC's Today programme that Jeremy Corbyn and London Mayor Sadiq Khan's backing of the protests against the leader could have deterred Mr Trump from visiting.
Some people have taken the opportunity to poke fun at the President and his decision to blame President Obama's administration for his cancellation.
For example, Twitter user Cynthia Peet has spent the morning sending the 45th President images of the Obamas with various Royals.
Recently, Barack and Michelle visited Kensington Palace.
Picture: Chris Jackson/Getty Images
And during a previous visit, they met the Queen and Prince Philip at Windsor Castle.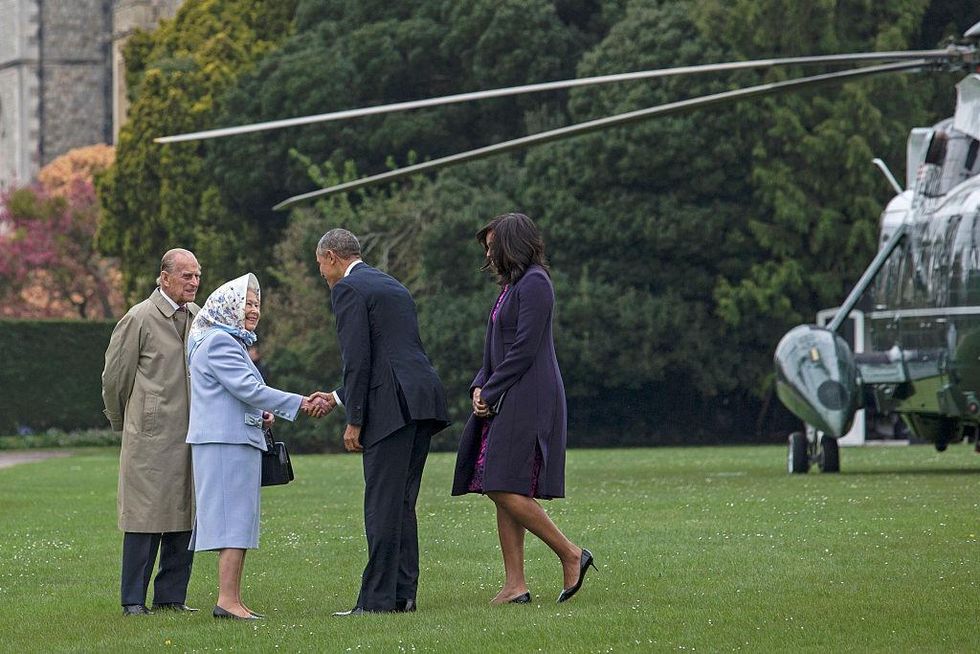 Picture: Jack Hill - WPA Pool/Getty Images
Prince Harry also visited Mr Obama in the Oval Office.
Picture: Win McNamee/Getty Images
And his father Prince Charles has also been a guest in the White House too.
Picture: Chris Jackson/Getty Images
Let's not forget that Harry recently interviewed former President Obama for the BBC too.
While this is all rather amusing another interesting fact behind Mr Trump's cancellation has been overlooked.
According to broadcaster James O'Brien, the deal to switch the embassy location wasn't organised by the Obama administration but actually the Bush administration.