In the past 24 hours, a US airstrike of 59 Tomahawk missiles have killed a number of Syrian troops.
The attack was focused at a government airbase, a location thought to be the source of a devastating chemical weapon attack which killed around 100 people in Idlib Province.
Syrian state media is reporting that in addition to the military deaths, nine civlians, including four children, were killed in US airstrike.
Donald Trump announced that he had authorised the attack, labelling President Assad a 'dictator'.
Tonight I ordered a targeted military strike on the airfield in Syria from where the chemical attack was launched," the President added.

"It is in this vital national security interest of the United States to prevent and deter the spread and use of deadly chemical weapons.
In the wake of the attack, Syrians have been changing their profile images to Donald Trump's picture.
Spotted by Mostafa Mahamed (@AbuSulaymanMM3), he tweeted:
The caption reportedly reads 'We love you,' according to the Independent.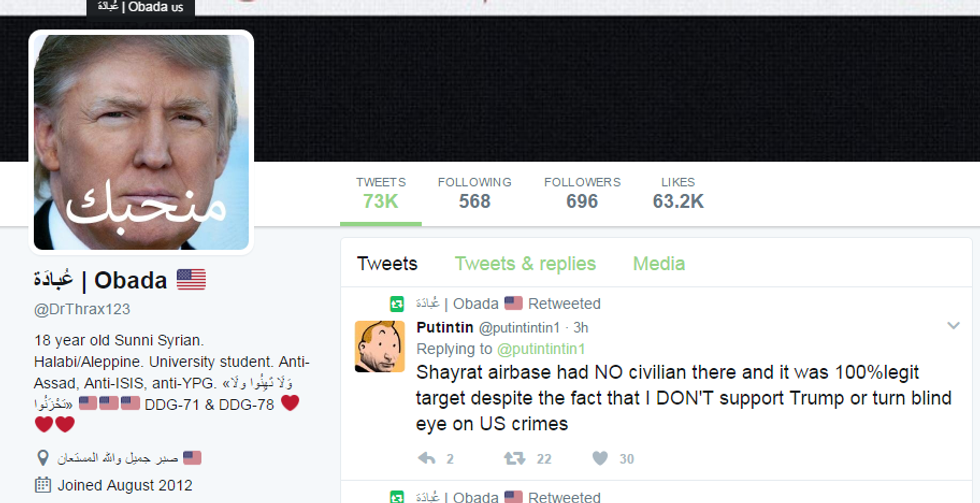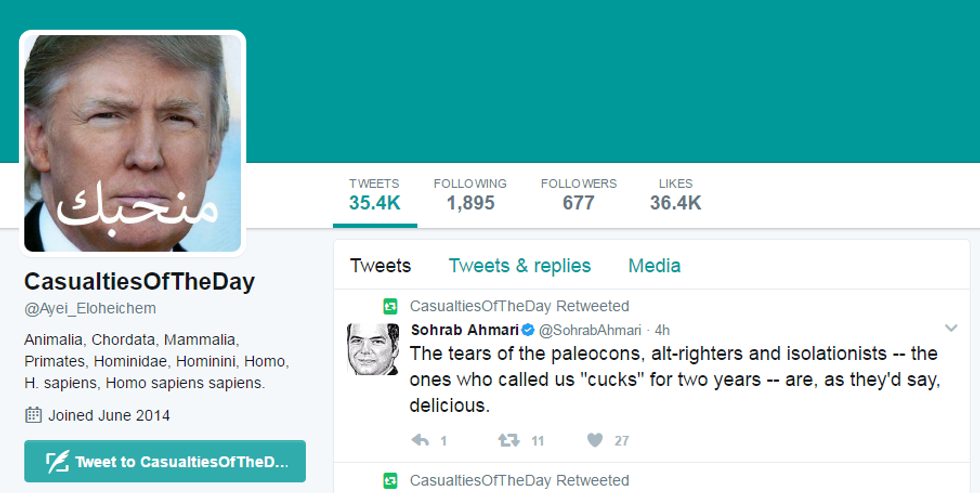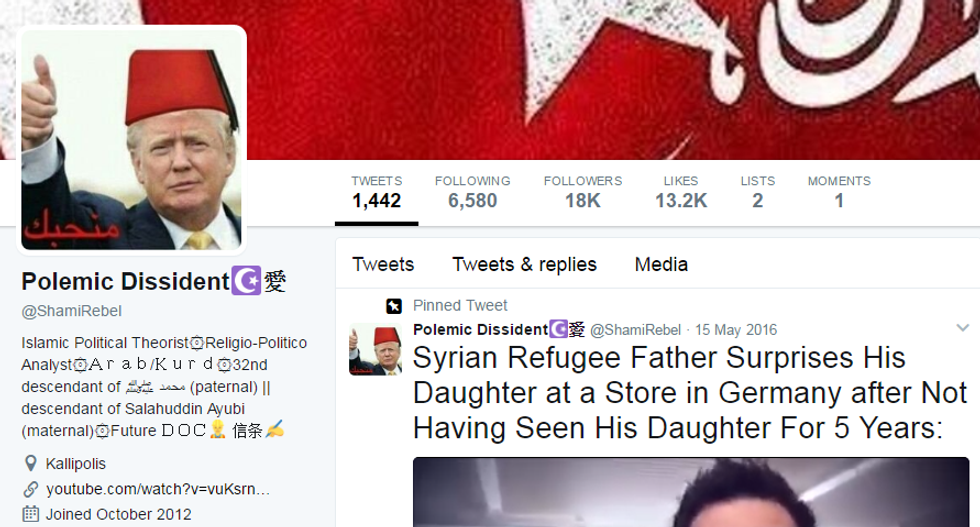 Mostafa followed up the original tweet, commenting:
This attack was clearly an attempt to win over hearts and minds. Only the naive will be fooled to believe that Trump has a heart.

I am confident that most people in the world (not just Syrians) can see that Trump is not the good Samaritan that he is posing  as.
Correction: 7/4/17 2025 GMT
After publication of this story, war journalist and media media activist Rami Jarrah (@RamiJarrah) clarified certain points and details for indy100.
We had previously reported that the caption below Donald Trump's portrait read: 'We love you' as a sign of thanks for President Trump in the wake of the bombing raid on the Syrian airbase. This was incorrect.
To help claify this point, Jarrah spoke to us about what in changing of the profile pictures actually meant.
It would be more accurate to say that the changing of the profile picture was closer to satire, mocking Assad's slogan identical slogan that was placed on almost every street corner in the country. 'The concept of telling a leader they love thm in this way has become a thing of the past,' Jarrah explained.
He added:
This is not directly criticising trumps actions over the past 24 hours or in general its [America's] approach on Syria.  Those that are changing their profile are generally happy with the action that the United States has taken.

The joke in all this is the way that they are expressing themselves towards Trump by using a slogan that has been imprinted in the minds of Syrians seeing it all over Syria with Bashar al Assad's face above the term 'We love you;. It has been repeated again and again with different people and always aimed with humour, those that do not know of this context may easily be duped into thinking it was a genuine expression.
He went on to discuss that the practice of changing one's profile picture has become "a very common way to make a statement," and that "that there are comments from Syrians that were directly thanking Trump on Twitter."
However, it is essential to point out:
The reason that it would be extremely rare that someone that opposed Assad in Syria genuinely liked trump is that, they oppose Assad mainly based on principle, the very principle that set out with the uprising and it's movement in 2011 and Trump has quite frankly attacked such principles and does not appeal to most audiences in Syria.
We asked Jarrah for the best way to get to the root of an issue on social media when stories like this inevitably occur again, he commented:
Context on Syria is not an easy game given the complexity of so many different backgrounds on the ground and the closed of centralised media that is governed by the state.

I think that it is important to continue to ask questions and seek out media or individuals who report who we feel continue to ask those questions for us and try to avoid simple narratives, which is easier said than done.

However, I never assumed that following Syria could be easy whoever or with whatever you're doing it through. So good judgement is also needed in finding credible parties that report and drawing your own general picture from them.