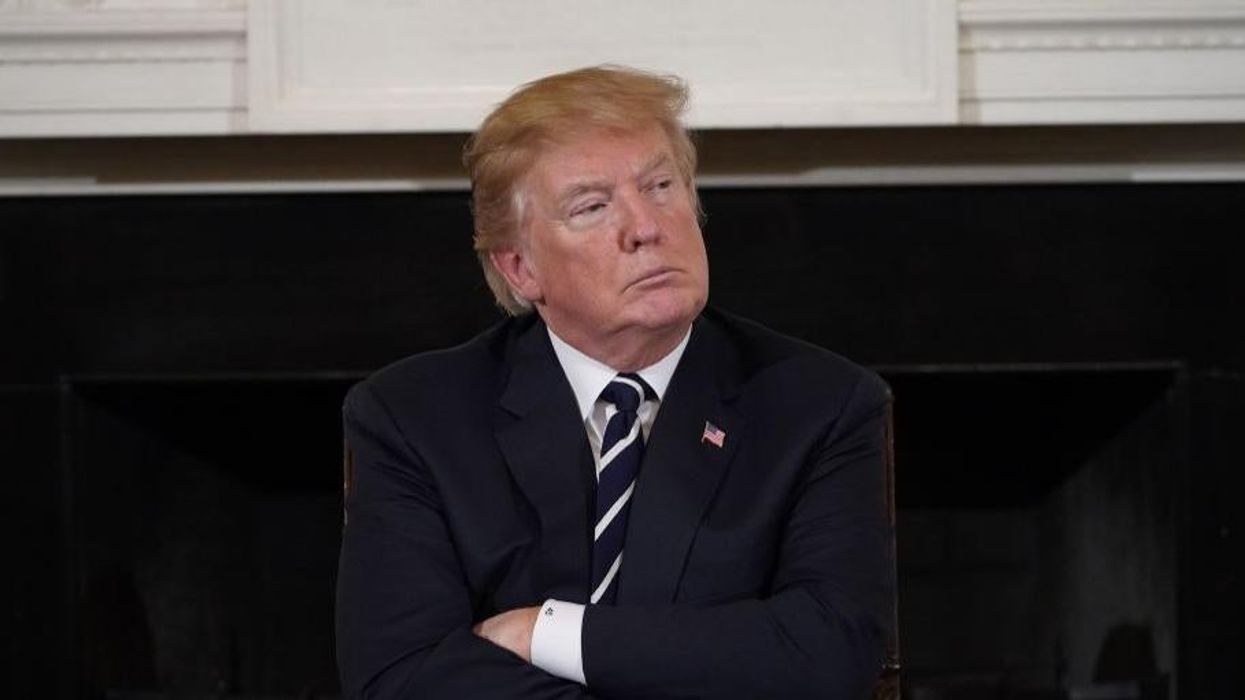 MANDEL NGAN/AFP/Getty Images
President Donald Trump has come under further scrutiny for the lack of emotion he has displayed towards the victims of the Parkland shooting.
Earlier this week, an image of the cards he was given to read for a listening session with students and teachers at the White House showcased a fundamental lack of empathy towards the individuals and the delicate subject matter.
In addition to this, it has also emerged what Trump directly said to one of the victims during a phone call to her hospital room last week.
Samantha Fuentes was shot in both legs and left with shrapnel behind her right eye after the shooting at Marjory Stoneman Douglas High School on 14 February.
The New York Times reports that Fuentes was left "unimpressed" by her interaction with Trump.
He said he heard that I was a big fan of his, and then he said, 'I'm a big fan of yours too.'

I'm pretty sure he made that up.

Talking to the President, I've never been so unimpressed by a person in my life. He didn't make me feel better in the slightest.
She states that Trump also called the gunman "a sick puppy" and claimed that he said the words "oh boy, oh boy, oh boy," at least seven times during the conversation.
One of her fellow students at Stoneman Douglas, Samuel Zeif, spoke at the White House on Wednesday and was also critical of how the President conducted himself in their presence.
The 18-year-old chose to point out to the New York Times that the "I hear you" note on Trump's cards served as a true reflection of the President's character.
Everything I said was directly from the heart, and he had to write down, 'I hear you.'

Half the time during that meeting, his arms were crossed — I kept wanting to say, 'Mr. President, uncross your arms.'

To me, that is the international sign for close-mindedness; it's really just a big 'no'.

He may have heard us, but he's never going to feel what we feel, because his kids are protected by the people that came to save me and my classmates that day.
This wasn't the case for everyone who attended the session at the White House earlier this week.
Andrew Pollack, whose daughter Meadow was killed during the attack, had a different opinion of Trump after the meeting and felt that he cared.
He showed us nothing but love. The guy really cared, you know?

He flew us in, he had a bus waiting for us, he made time for us.

He took pictures of my daughter that we brought, and he said he was going to look at it every day.

He's a regular guy. I wouldn't have been there if I didn't think he cared.