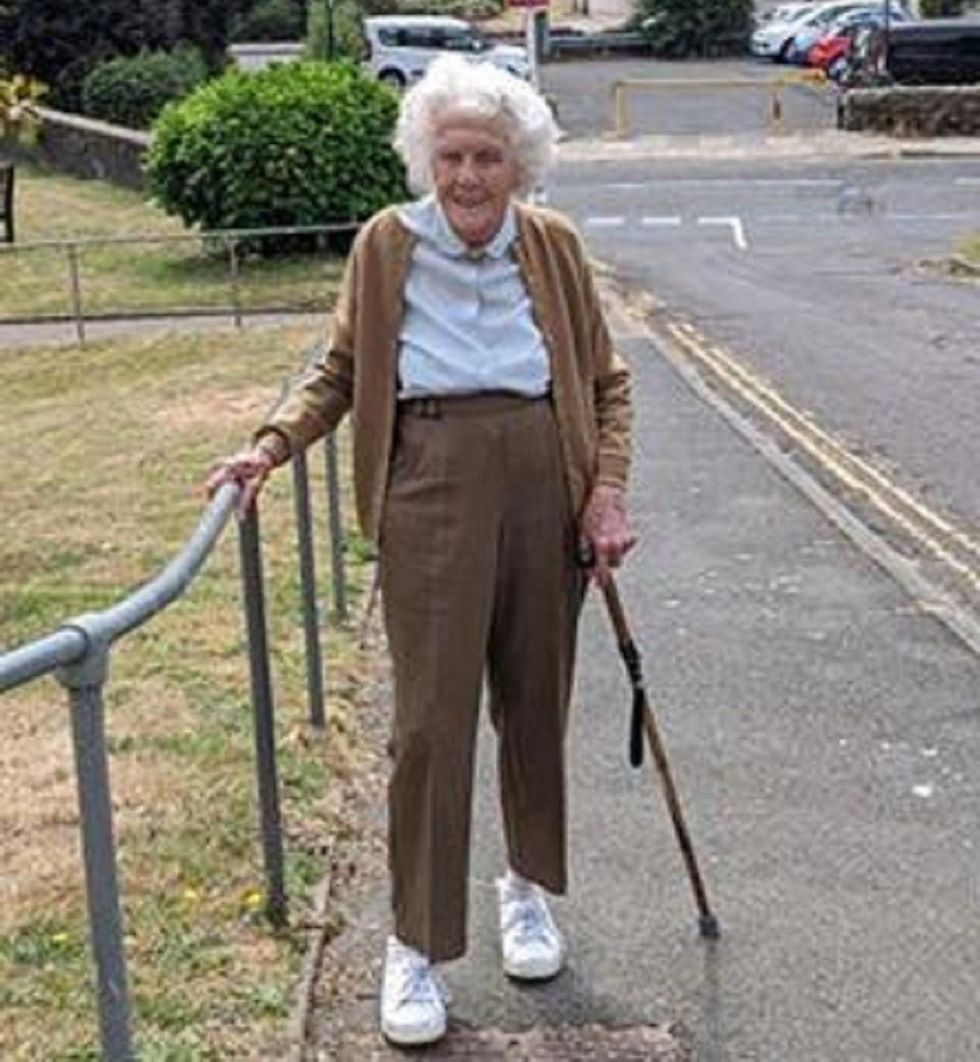 PA Media - Old Hastings House/British Heart Foundation
The joint-oldest person ever to be honoured has said she is "flattered" to be included on the King's Birthday Honours list.
Joan Willett, 106, a former teacher who survived two heart attacks, has been awarded a British Empire Medal for her charitable fundraising for the British Heart Foundation (BHF) during the coronavirus pandemic.
Ms Willett, who is just a few weeks away from her 107th birthday, says she was inspired by Captain Sir Tom Moore to raise more than £60,000 for the charity in 2020 when she completed a 17-mile walking challenge outside her care home in Hastings, Sussex.
During the pandemic I was inspired by watching Captain Tom to do my walk for the British Heart Foundation

Joan Willett
She said: "When I got the letter from the Cabinet Office informing me that I was being recommended to King Charles for this honour I literally couldn't believe it. It was such a wonderful surprise and something that I could never have imagined would happen to me.
"But I've had to keep it a secret for a while until it was officially announced and couldn't tell anyone, so that was difficult. I feel so very honoured and flattered, but I don't think I have done anything special.
"I couldn't have embarked on my fundraising challenge for the BHF without the support and encouragement of my friends and every single one of the wonderful staff here at my care home. They are all fantastic.
"So, I consider that this great honour is for all of them too, because without them, it wouldn't have happened.
"During the pandemic I was inspired by watching Captain Tom to do my walk for the British Heart Foundation because thanks to their research I have been able to reach the age I am and still enjoy life.
"I'm also so grateful that I came to live at my care home after my second heart attack, because the staff are wonderful and have made sure that I keep my independence which is so important to me.
"My friend and carer here, Pauline, supported me all the way throughout. When I came to live here over 20 years ago after my second heart attack, did I ever think that largely thanks to her I would be getting an honour from the King!"
The late Sir Tom, a Second World War veteran, captured hearts across the nation when he raised almost £39 million for NHS charities during the first wave of the coronavirus pandemic by walking laps of his garden at the age of 100.