FABRICE COFFRINI/AFP/Getty Images
Teenager Greta Thunberg's grassroots environmentalist activism is sweeping across the world, igniting a movement led by young people urging their governments to combat climate change - and she could soon surpass the Green Party's Twitter followers count.
The 16-year-old Swede started protesting last summer – by herself – outside the Swedish government until the country aligned itself with the Paris Agreement.
A year later and she's a rising star whose bold actions prompted students to mobilise in Australia, Belgium, Germany, America, Japan and over a dozen more countries including widespread student demonstrations across the UK.
Her reach is growing, too. Last year she had only a few thousands followers on Twitter – now she's on 177k and growing.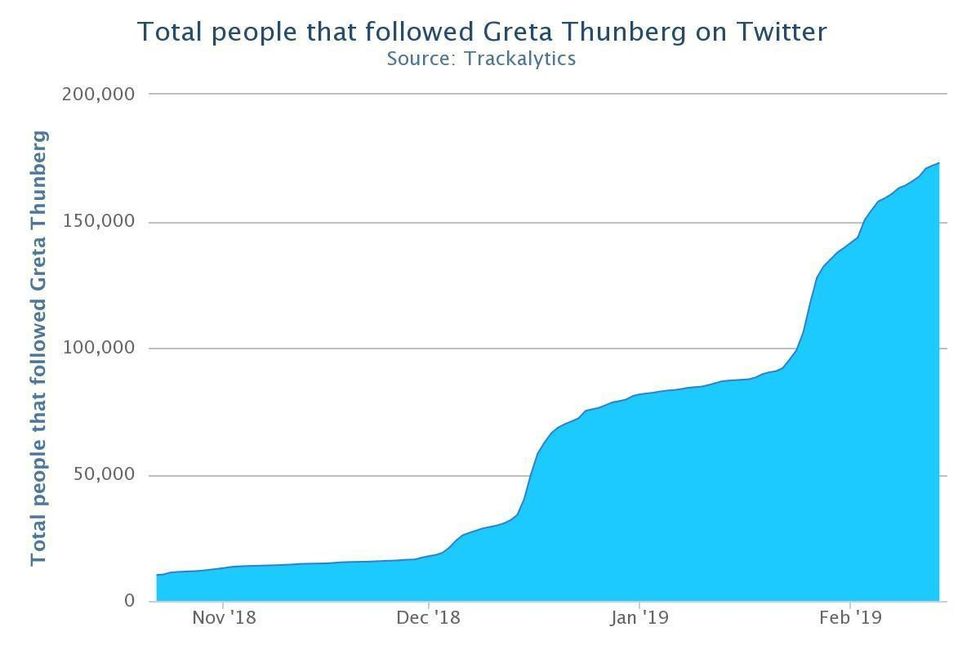 Picture: Trackalytics
In fact, she has more people following her than Green Party leaders Jonathan Bartley and Sian Berry. Combined.
She seems to be on track to surpassing The Green Party's 233k total.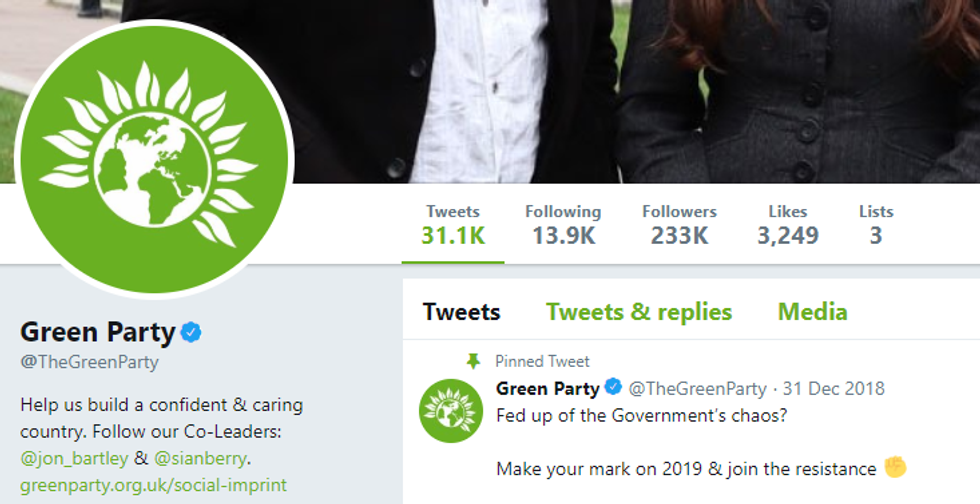 What is it about Thunberg that galvanised so many young people to take to the streets?
Greta gave a speech at Davos this week, and one passage in particular is being shared across social media and coming to encompass her message:
I don't want your hope. I don't want you to be hopeful. I want you to panic. And act as if our house is on fire. Because it is.
She is straight-talking and has a voracious knowledge of climate change and the environment, most of which is self-taught.
And she speaks to her peers in way that gets them involved in their own future.
Thunberg has been doing the media circuit for the past few days, and her message hasn't wavered: governments need to lower carbon emissions. It is, she says, so simple a concept even a child could grasp it.
Speaking to the Guardian, she said: "I think enough people have realised just how absurd the situation is."
We are in the middle of the biggest crisis in human history and basically nothing is being done to prevent it. I think what we are seeing is the beginning of great changes and that is very hopeful.
And she's not finished. Thunberg has another global mobilisation planned for 15 March.
More: Kenny G played jazz in Kim Kardashian and Kanye West's house for Valentine's Day and the internet thought it was hilarious
More: James Woods posted a transphobic tweet and the dictionary let him know why he was wrong