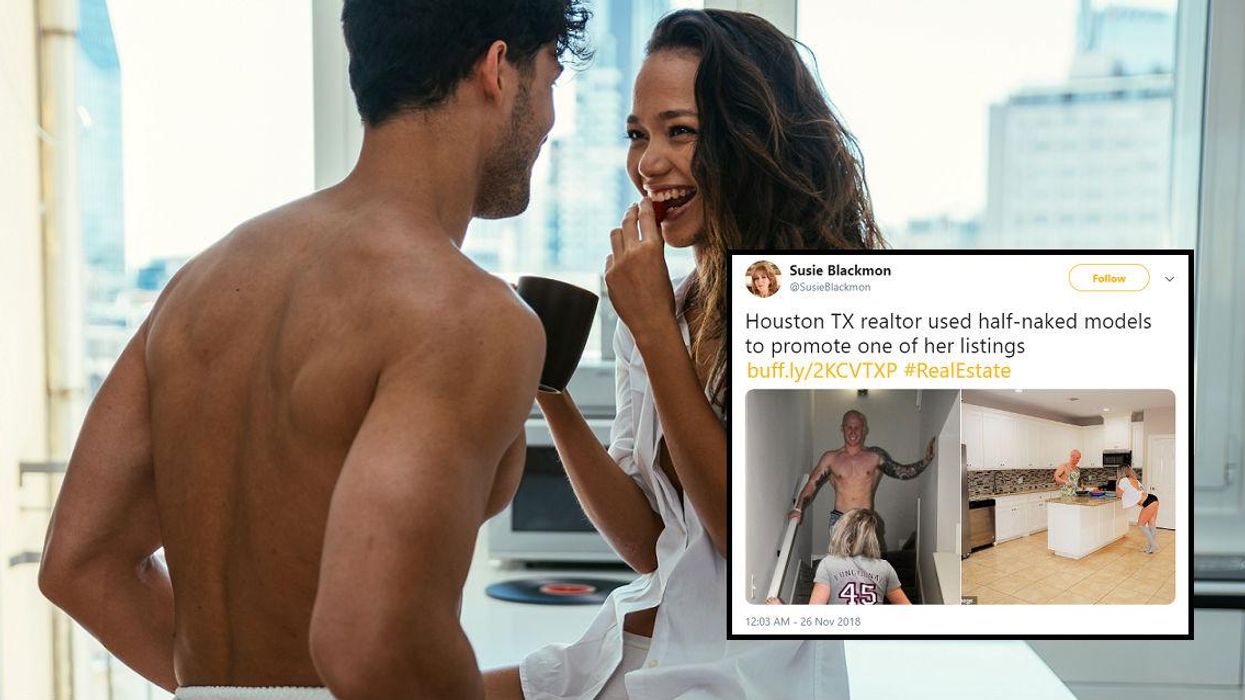 iStock and Twitter screengrab
A realtor decided to try and entice viewings for one of her properties with a half-naked photoshoot.
Kristin Gyldenege, also known as The Rogue Trader, has divided opinion, with some criticising her for her decision, and others applauding it.
The realtor, based in Houston, Texas, decided to hire two fitness models to pose as a couple throughout a home listed in Conroe in an effort to draw attention to it.
The woman was pictured in her underwear, while the man was pictured with his shirt off.
In one of the photos, the woman lies on a table topless with underwear and knee-high socks as the topless man massages her.
Another photo features the woman walking up the stairs in a t-shirt, knickers and knee high socks. The pair pose in a similar fashion all around the house - in the kitchen, bathroom and laundry room.
According to Gyldenege, who took the pictures, they helped secure six showings the day after they went live.
"I didn't want anything slutty," she told Chron.com.
I wanted to represent a young couple who was on top of their game all the way around and who had just moved into this great house.
The home, in Mosswood Drive in Conroe, was on the market for 40 days and didn't receive much attention. After the photos were posted, some 20,000 people viewed the listing within the first 24 hours it was live.
After it received more than 100 complaints, Har.com took down the images.
Still, Gyldenege doesn't regret her risqué photo shoot.
[Potential buyers] may not look like [the models], but if they think they could look like that in this house, they would be more attracted to at least see it.
Her​ photoshoot was the topic of much discussion online.
Despite being pulled from the real estate website, people online don't seem to have a problem with it.
Real estate agent gets in a teeny bit of trouble when she uses scantily clad women in her pics for a property. But… https://t.co/Iogc9bUxAP

— Tim Burger 🍔 (@Tim Burger 🍔) 1543231723
@GregHillWAAF Who really did take offense to it? Sounds more like somebody's personal problem with half naked women.

— Zerthwind (@Zerthwind) 1543235675