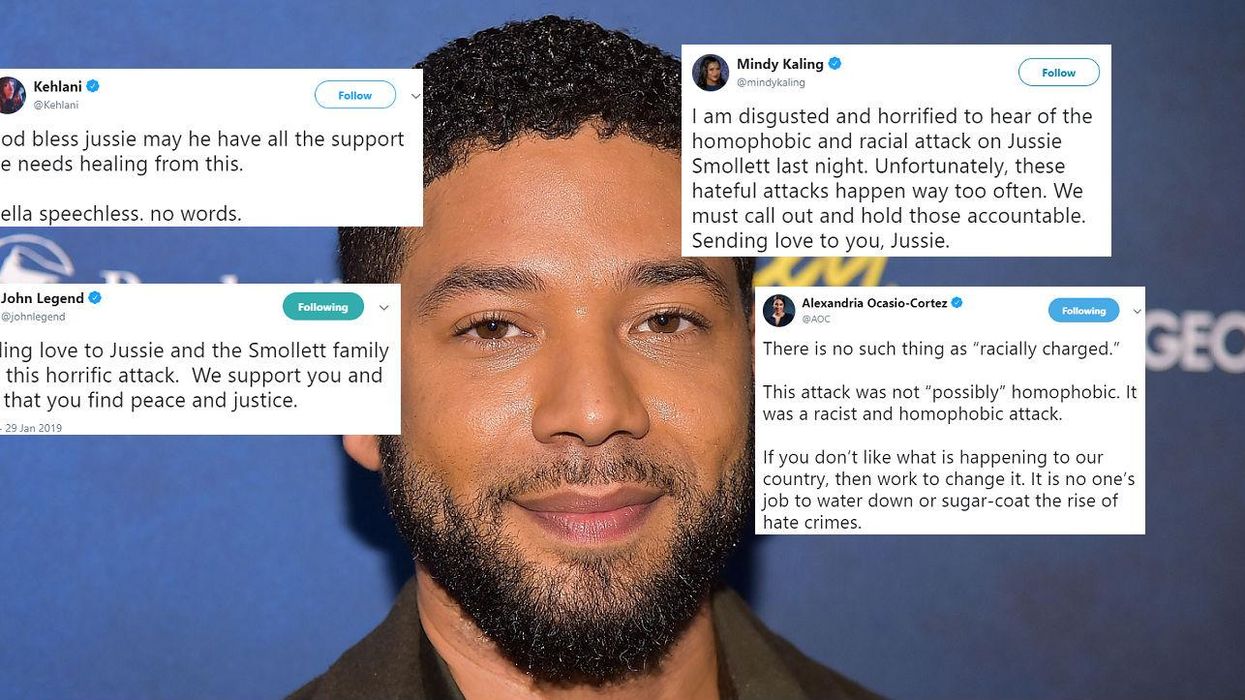 Theo Wargo/Getty
'Empire' actor Jussie Smollett was admitted to hospital following an attack by men who "yelled out racial and homophobic slurs" in what is being treated as a possible hate crime.
Smollett was approached by two men at approximately 2am on Tuesday, according to a police statement provided to The Independent.
"The offenders began to batter the victim with their hands about the face and poured an unknown chemical substance on the victim," the statement reads.
At some point during the incident, one of the offenders wrapped a rope around the victim's neck.
Jussie also told police his attackers made reference to Donald Trump's 2016 presidential campaign slogan "make American great again".
People online were shocked at the nature and violence of the assault, and took to social media to send Smollett support.
Celebrities came to his aid in droves.
Ellen DeGeneres sent him and his family her love, and reminded people that four years ago, he came out as gay on her show.
Emma Watson said "as a society we continue to fail LGBTQIA+ communities and PoC".
Singer Cher tweeted "WHITE ONLY IS NOT RIGHT".
Zendaya called it "heartbreaking and terrifying".
"Hella speechless," Kehlani wrote.
And film-maker Rob Reiner (When Sally Met Harry) said such a "horrific attack has no place ina dececnt human loving society".
Celebrities expressed their shock over the brutal attack.
Congresswoman Alexandria-Ocasio Cortez slammed some of the coverage of the attack, saying there is "no such thing as 'racially charged'".
And others pointed out that Smollett actually received a threatening letter before the attack in Chicago.
TMZ, who first broke the story, said that he received a letter filled with racist and homophobic slurs, and the envelope appeared to have "MAGA" written on it.
LGBT+ people of colour are disproportionally impacted by hate crime and violence. LGBT+ charity Stonewall said:
Our hearts go out to @JussieSmollett, who was a victim of a devastating racist and homophobic attack. What happened to Jussie yesterday is a sobering reminder of the increased violence and unique threats that BAME LGBT people still face as a result of double discrimination.
Smollett took himself to the hospital and police say he is in "good condition."
More: Tim Farron said Labour had 'stuffed the country' after the Brexit vote, and it backfired badly
More: Brexit vote: Boris Johnson told on live TV that the EU will not renegotiate backstop