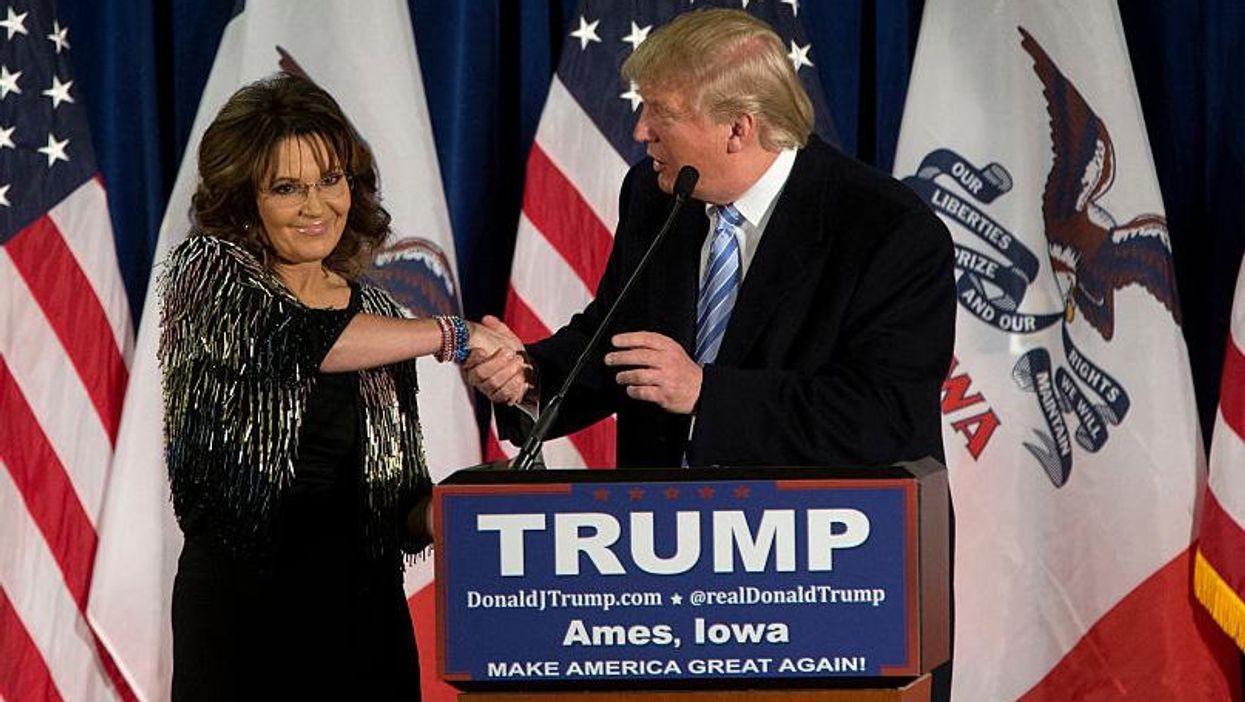 Aaron P. Bernstein/Getty Images
Unless you're a hard-right conservative, you've probably been watching Trump's transition into the Oval Office with mixed feelings.
He's appointed a climate change denier as head of the EPA, a man who has published white supremacist views and fostered the so-called 'alt-right' as chief strategist, and has proceeded to fulfil his promise to "drain the swamp" by appointing a string of Goldman Sachs men to key positions.
Add to this mix that the CIA has concluded that Russia interfered with the 2016 US presidential election and it's all gone a Pete Tong in a Brioni suit.
Donald Trump has dismissed these claims as "ridiculous" but he is a man who has a very abstract relationship with truth.
Never fear though, Sarah Palin says she will look after the whole 'Russia situation'.
You may remember during the 2008 election, as the vice-presidential nominee, she told abc news she had special insight into Russia because of her Alaskan background in a famed interview clip:
They're our next-door neighbors. And you can actually see Russia, from land, here in Alaska, from an island in Alaska.
She's since tweeted to reassure her constituents and the country that she will do her part to prevent Russian interests manipulating the United States.
Russia's getting out of hand? So says the defeated. Not to worry... remember I can keep an eye on them from here. https://t.co/jQBCDV5O3W

— Sarah Palin (@Sarah Palin) 1481501434
No need to worry, then.
A bipartisan group of senators has called for a probe into the Russian role in the 2016 election.
A statement signed by incoming senate Democratic leader senator Chuck Schumer, Armed Services Committee chairman senator John McCain, fellow Republican senator Lindsey Graham, and Democrat senator Jack Reed, read:
While protecting classified material, we have an obligation to inform the public about recent cyberattacks that have cut to the heart of our free society. Democrats and Republicans must work together, and across the jurisdictional lines of the Congress, to examine these recent incidents thoroughly and devise comprehensive solutions to deter and defend against further cyber-attacks.
Picture: Cheryl Gerber/Getty Images