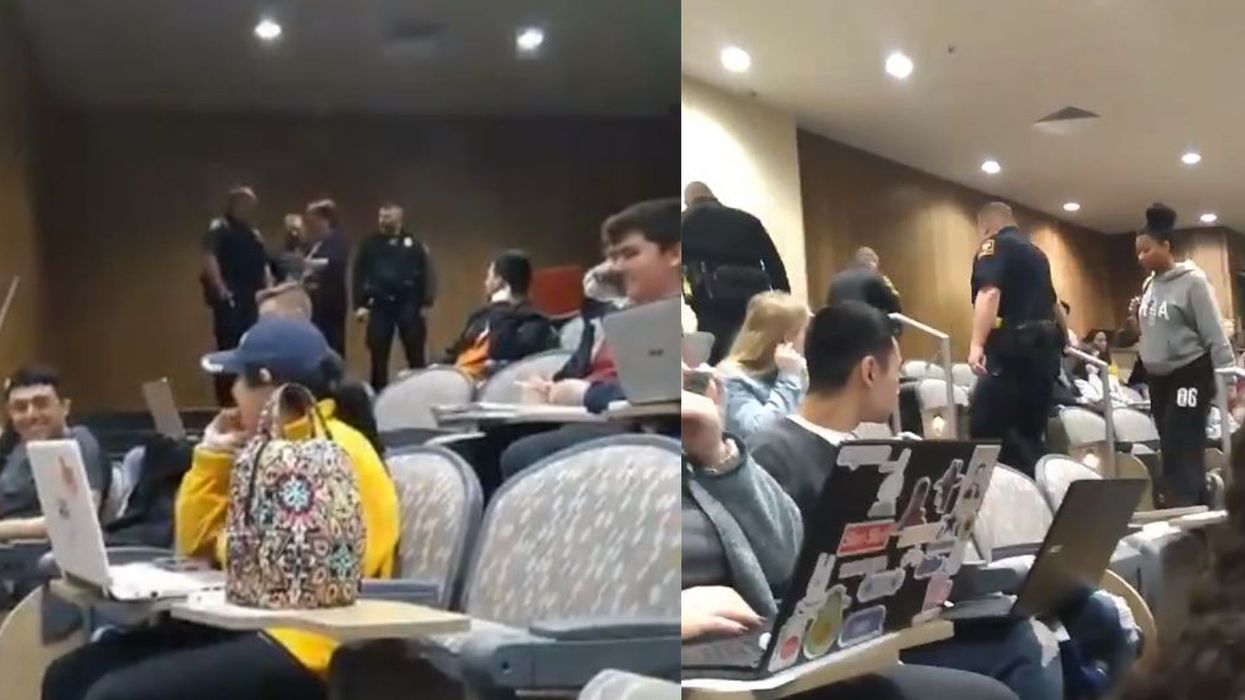 Apurva Rawal/ Twitter
A video of an African American student being escorted from a classroom by police for putting her feet on a chair has gone viral.
The incident reportedly happened at the University of Texas at San Antonio in a biology class where the professor allegedly reported the student for acting in an uncivil manner.
Footage showing the police removing the woman from the class was shared on Twitter by UTSA student Apurva Rawal on Monday and has since been viewed over 650,000 times.
In follow-up tweets, he claimed that the professor, who has been identified as Anita Moss, called the police on the student despite her not interrupting the class whatsoever and had apparently made a point of how uncivil students were behaving in the previous class.
A Twitter user going by the name of @FavouritePaigeee has since identified herself as the woman in the video and was told that she needed to leave upon entering the room or be removed by the police.
Other Twitter users have angrily voiced their concerns about the incident and directly criticised UTSA for how they have handled it.
Some have also suggested that it may have been racial aggravated.
Kimberly Andrews Espy, who is the Provost and Vice President for Academic Affairs at UTSA has since confirmed that she and COS Interim Dean Howard Grimes are aware of what happened and are conducting an investigation.
In addition, the UTSA President, Taylor Eighmy said that more needs to be done "around issues of inclusivity and supporting our students of colour."
The statement, as per News4SA, reads:
Dear Roadrunners,

Today we had an incident where one of our African American students was escorted from a biology class by members of UTSA's police department at the request of a faculty member.

While the facts aren't fully known regarding today's incident, our Office of Equal Opportunity Services is already conducting an investigation into possible discrimination.

In addition, an inquiry regarding the academic management of the classroom is being conducted by Interim Dean of the College of Sciences Howard Grimes.

Beyond this particular incident, I am very much aware that the circumstance represents another example of the work we need to do as an institution around issues of inclusivity and supporting our students of colour.

This concerns me greatly, and it's incumbent upon us as an institution to face this head-on. It's something that we need to address immediately as a university community.

I look forward to the arrival of Dr. Myron Anderson, our new Vice President for Inclusive Excellence, to assist us with developing a strategy to address these systemic issues.

I welcome your concerns being shared directly with me and my office by emailing taylor.eighmy@utsa.edu.

I promise to begin this process immediately – it will take time, but has my full commitment.

With appreciation,

Taylor Eighmy
Moss, who according to the school's website is a senior lecturer on the human anatomy and human physiology, is yet to release a comment.
HT News4SA