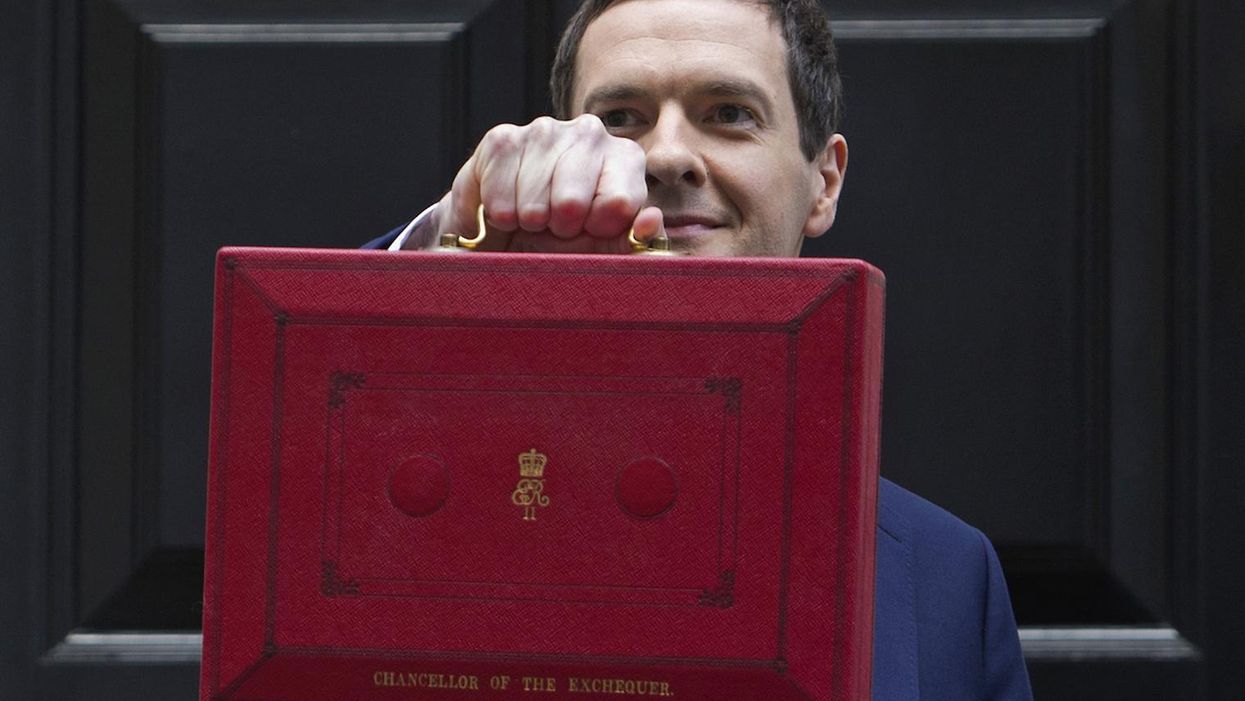 This is a Conservative government that is on your side.
The words George Osborne used in his Budget were addressed to small businesses, but it's a sentiment the Chancellor is hoping to convince the entire country of.
It's a hard job at times, especially on the same day you announce that the higher 40 per cent of tax will start at £45,000 from next year, rising to £50,000 by 2020.
So let's take a look at ten groups that may find it hard to believe the chancellor's mantra:
We're all in this together!
1. The disabled
The Chancellor said that the budget would increase by more than £1 billion, by announcing cuts to the Employment and Support Allowance (ESA).
The cuts reduced the benefit by £30 a week, down to £73 for some disabled people, while it was also announced that changes would be made to disability benefits called Personal Independence Payments (PIP), expected to save £1.2 billion but affect more than 640,000 people - cutting up to £150 per week.
Green MP Caroline Lucas accused the Chancellor of 'breathtaking hypocrisy when announcing his budget:
Picture: Carl Court/Getty Images
Mark Atkinson, the chief executive of disability charity Scope, said Mr Osborne's changes would make "many disabled people's lives harder":
Life costs more if you are disable... Half of disabled people say that they have struggled to pay the bills because of the extra costs of disability that they face.

Think again and consider the impact these moves have on the lives of disabled people.
Meanwhile Richard Kramer, deputy chief executive for deafblind charity Sense, said:
Cuts to funding, combined with a growing number of people needing support, has had a significant impact on social care services and we are incredibly disappointed that the Chancellor has not considered this a priority issue in the Budget.

When taken into context alongside recent cuts to ESA and expected changes to PIP funding, it is a bleak day for disabled people. Rather than using this as an opportunity to readdress the balance for some of the most vulnerable people in this country, the Government appears to be brushing the issue of the urgent need for investment in social care under the carpet.
Jeremy Corbyn wasn't happy about it either:
2. Children in poverty
Matthew Reed, chief executive of the Children's Society, said George Osborne had failed to confront child poverty and had "once again failed to deliver for struggling families":
If the Government wants to put the next generation first it must confront child poverty head-on.

Instead it is pressing ahead with a four-year benefits freeze that will hit 7.5 million children.

If the Government wants to act now rather than pay later, it must also invest in early intervention services in order to address problems before they become crises and make sure children can get the start in life they deserve.
3. Young people with no disposable income
The announcement of a Lifetime ISA for under 40s was the fig leaf to the younger generation in this budget, offering £1 from the government for every £4 you put in.
However, it assumes you already have disposable money to put away, which to some people trapped in the private sector with rent increases outstripping wages may seem farcical.
Oh and there's a nice little bonus:
4. People who rely on the NHS
Picture: Chris Ratcliffe/Getty Images
While Jeremy Hunt tries to impose a contract on Junior Doctors, in a week that a report says the NHS is struggling to plug a £22bn funding 'black hole', nothing on the NHS?
Really? Oh yeah, sugar tax is going to save the country and cure every ailment, isn't it? Which brings us nicely to...
5. Anyone who likes fizzy drinks
Ok this isn't a biggie, unless you're buying enough that the equivalent tax of 18-24p a litre introduced in two years time hits your pockets hard - in which case you should probably look at your habits.
The decision was welcomed by opposition leader Jeremy Corbyn - one of the few things he agreed with in the Budget - unlike fizzy drinks companies:
Naturally Jamie Oliver, who has long campaigned for the tax, said he was "shocked, surprised and over the moon":
6. Sufferers of domestic abuse
Campaign group Sisters Uncut claims women's services have lost more than 30 per cent of their funding since 2010, with further damage to services for black and ethnic minority women in the budget predicted.
They protested with this poster:
The government announced £12 million of funding to various womens causes with:
£311,000 going to Standing Together Against Domestic Violence – to create a Health Alliance for Domestic Abuse and develop innovative work identifying risks within the mental health setting.

£449,000 going toKarma Nirvana – to extend the hours of a helpline to support victims of honour based violence and forced marriage and provide guidance to professionals tackling it.

£114,000 going to Muslim Women's Network UK – to expand their specialist and culturally sensitive service to Muslim women and girls from diverse backgrounds suffering or at risk of abuse.

and £190,000 going to Southern Domestic Abuse Service – to provide support to victims of domestic abuse in South East Hampshire.

However, these are all being funded by the tampon tax.
7. People who don't want academies
Picture: Yui Mok - WPA Pool/Getty Images
As predicted, the Budget confirmed the move to turn all English schools into academies.
Schools must become academies by 2020 or have official plans to do so by 2022.
There are at least four big problems with this, as we've outlined here.
8. Smokers
From 6pm, there's a 2 per cent above inflation rise in tobacco duty for cigarettes and 3 per cent for rolling tobacco. Enjoy.
9. Wine Drinkers
Wine duty will also rise with the Retail Price Index, alongside high-strength sparkling cider.
10. People who take out insurance
After insurance premium tax will increase by another 0.5 per cent.
Picture: JUSTIN TALLIS/AFP/Getty Images