As we know, there is a group of around a dozen armed people currently holed up in a federal building on a remote wildlife reserve in Oregon to protest government "tyranny".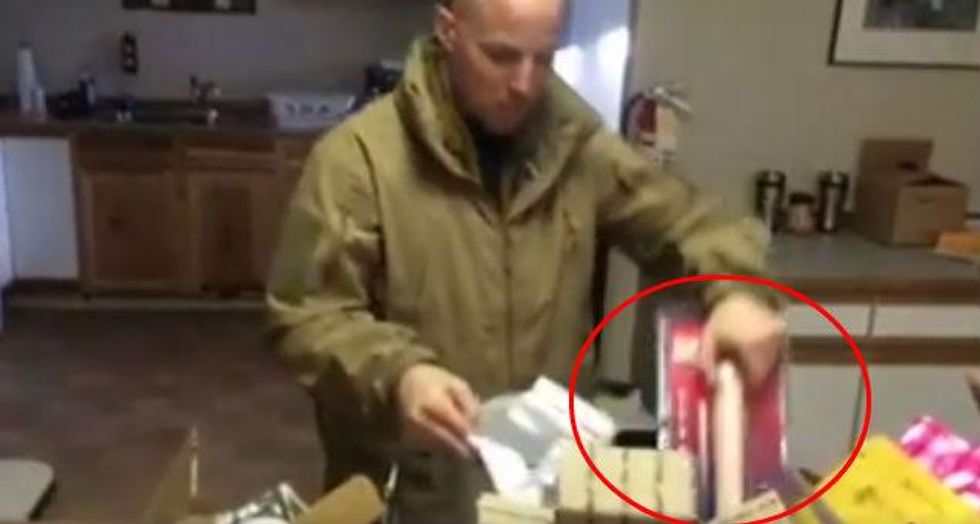 As we also know, things aren't going so well: the militia didn't pack very well for a siege taking place in freezing conditions, having put out repeated calls for blankets and snacks.
The government has also shown its true dastardly colours by threatening to cut off the electricity and heating to the occupied buildings.
In the meantime, netizens everywhere have heeded the patriots' call, and the group have received several care packages.
But as well as the care packages, there has been hate mail, and dildos, and one of the group's leaders Jon Ritzheimer is not happy about it:
We're going to continue to do good for our country, we're not going to let your junk and hate mail side track us.
On Facebook Ritzheimer wrote:
It's sad that there are people who would spend this kind of money on this rather than spending it to do good in the world. I'm done living in fear of an oppressing force. I'm going to uphold my oath to the Constitution and sleep great at night knowing that I did everything in my power to ensure what our founding fathers did for us will not be lost.
In particular, Ritzheimer took offence to a bag of gummy penises, which seems to fit the bill considering he asked for snacks, but what do we know.
The unwanted gifts will be going on eBay, Ritzheimer promised.
So if you've ever wanted to see an angry 'patriot' pick up a 15 inch dildo and then sweep an entire bag of d__ks off the table, your lucky day has arrived:
Watch Ritzheimer's rant in full below: