A thinktank has claimed that David Cameron earned more votes from voters from ethnic minorities in the general election than any other Conservative leader before him.
According to the British Future organisation and polling company Survation, Cameron won one million votes from ethnic minority voters, a group the Tories have traditionally struggled to attract.
While Labour earned 52 per cent of votes from ethnic minority voters overall, the Tories won as high a vote share from British Asians as with white British voters.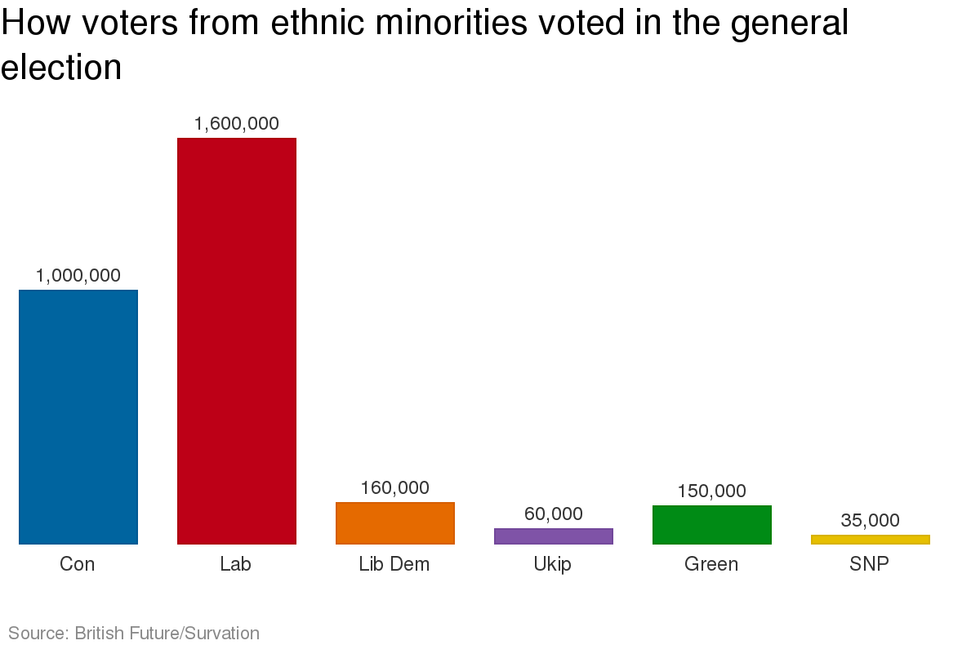 British Future director of communications Steve Ballinger wrote:
Our findings suggest that the Conservatives may have made up further ground with minority voters during the campaign itself, as they appeared to do with voters more widely - particularly on the themes of leadership, the economy and the uncertainty of a Labour government dependent on SNP support.

A Labour party with a stronger appeal on these issues may be hopeful of winning these votes back in 2020, when ethnic minority voters will play a yet more significant role as they form a larger proportion of the electorate. The lesson for all political parties in that election will be that ethnic minority votes are more up for grabs than ever before.
Survation surveyed 2,067 people in an online panel between May 8 and 15. More information is available here. Main picture shows David Cameron at the Hindu Temple Shri Swaminarayan Mandir in London during Diwali celebrations in 2013 (Getty).