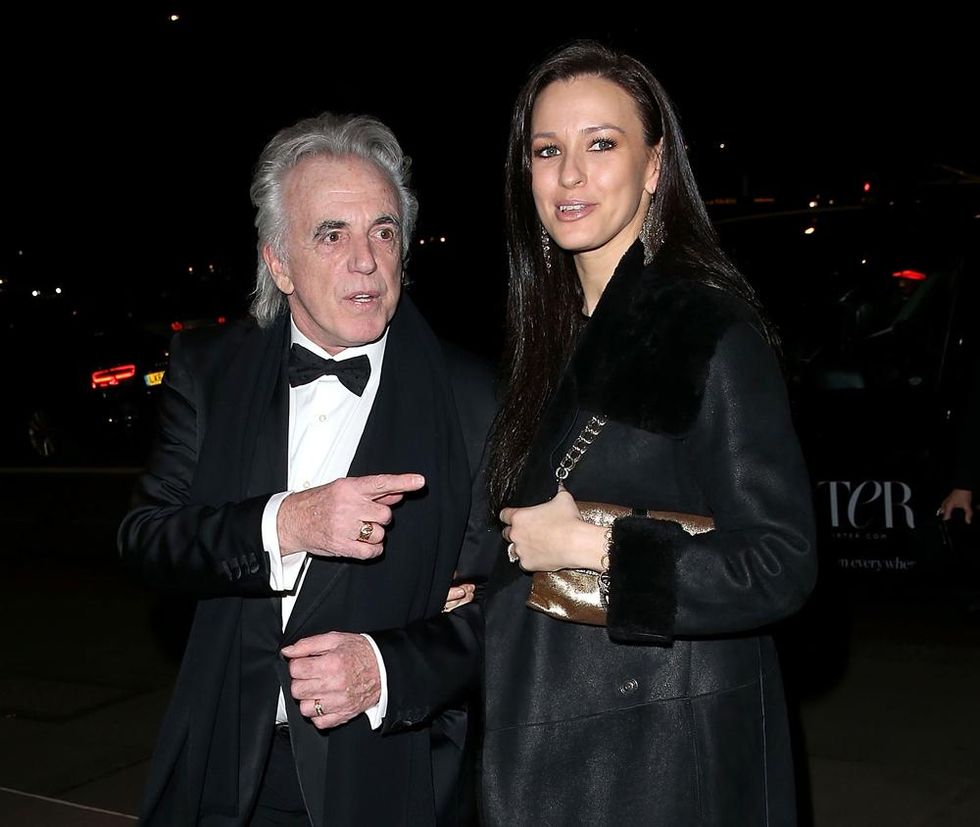 Peter Stringfellow and Bella Wright arrive at the fundraiser
The Conservative Party auctioned off items, including an iron man endeavour with Iain Duncan Smith and a trip on a private jet to Santorini, at a lavish event on Monday evening.
The Black and White election fundraiser was held at the Grosvenor House hotel in Park Lane on Monday night. Here's what you need to know:
The more you paid the more you got:
Tables of 10 at the event cost up to £15,000 each, while the minimum price for a single ticket was £500.
And the more you paid the more you got: a £15,000 table for 10 secured you the company of a cabinet minister, while for £10,000 you got a minister of state. Tables at the back of the Grosvenor's Great Room went for £5,000, but those "cheap seats" had to make do with a mere backbench MP.
The most tempting lots:
According to the Times (£) the most expensive lot was a bronze maquette of Margaret Thatcher by Antony Dufort, which sold for more £200,000. Among other items on offer at an auction held at the dinner, according to a list published by BuzzFeed, were:
A shoe shopping trip with Theresa May
10k Iron Man endeavour with Iain Duncan Smith
Jogging with Nicky Morgan
Budget statements signed by George Osborne
A trip on a private jet to Santorini
Tickets to the premiere of the Hunger Games: Mockingjay part 2
A portrait photograph of Suggs from Madness
A night to remember in Annabel's nightclub (according to the Spectator this went for £110,000)
Does this fundraising strategy actually work?
In a word, yes. This year's event is expected to have raised much more as the Conservatives' wealthy donor base looks down the barrel of Labour's mansion tax and new levies on the hedge-fund billionaires that David Cameron's fundraisers have so assiduously courted over the past five years. According to the Financial Times, party chiefs hoped to raise £3m. Meanwhile, this is how the Conservatives have fared for donations recently:
A similar summer fundraising event last year featured auction prizes such as a game of tennis with David Cameron and Boris Johnson (sold to a Russian banker's wife for £160,000) and an "Eight Gun Pheasant Shoot" (a prize donated by the wife of the Syrian-born businessman Wafic Said).
Party guests arriving at the Grosvenor House hotel
Who organised it?
This year's event organising committee was Zoë Law, wife of Andrew Law, one of the hedge fund industry's most successful money managers. Mr Law is estimated to be worth £350m.
Working alongside Mr Law on the organising committee was Andrée Shore, the wife of Howard Shore, who chairs the investment banking firm Shore Capital. Mr Shore has donated £499,330 to the Tories and has been an outspoken critic of Labour's plans for a 50p tax rate.
Overall, the 2015 organising committee has 63 members, of which at least 30 have donated to the Conservatives – totalling more than £3.3m since the last election.
Who was on the guest list?
Aside from the prime minister and the majority of his cabinet, attendees included Peter Stringfellow, Ann Summers boss Jacqueline Gold with her father David Gold, Nancy Dell'Olio and Baroness Karren Brady.
More: 11 people at the Tory fundraiser with an £11bn guest list