The BBC is in the government's line of fire after the new chair of the Culture, Media and Sport Select Committee said that the broadcaster's focus on popular entertainment is "getting a bit out of whack".
Jesse Norman's warning comes amid debate over the corporation's royal charter (up for renewal at the end of 2016), with the licence fee, size and remit of the broadcaster all up for discussion.
Worryingly for Auntie, many of the eight figures on new culture secretary John Whittingdale's recently drawn-up advisory panel for the royal charter are either the BBC's critics or commercial rivals, such as Dawn Airey, a former Channel 5 executive, and Ashley Highfield, the CEO of local newspaper group Johnston Press. Whittingdale is also putting the BBC under pressure to do more to ensure political impartiality and be subject to greater oversight from regulator Ofcom.
A green paper from the government outlining plans for the broadcaster's future is expected to be released on Thursday. As the BBC's future is (mainly) debated behind closed Westminster doors, here's a selection of Auntie's finest moments to remind you what at least some of your licence fee has been spent on over the years:
1. Monty Python
An iconic British export, Monty Python's influence on comedy has been compared to the Beatles's influence on music - and it all began with a short series commissioned by the risk-taking BBC back in 1969.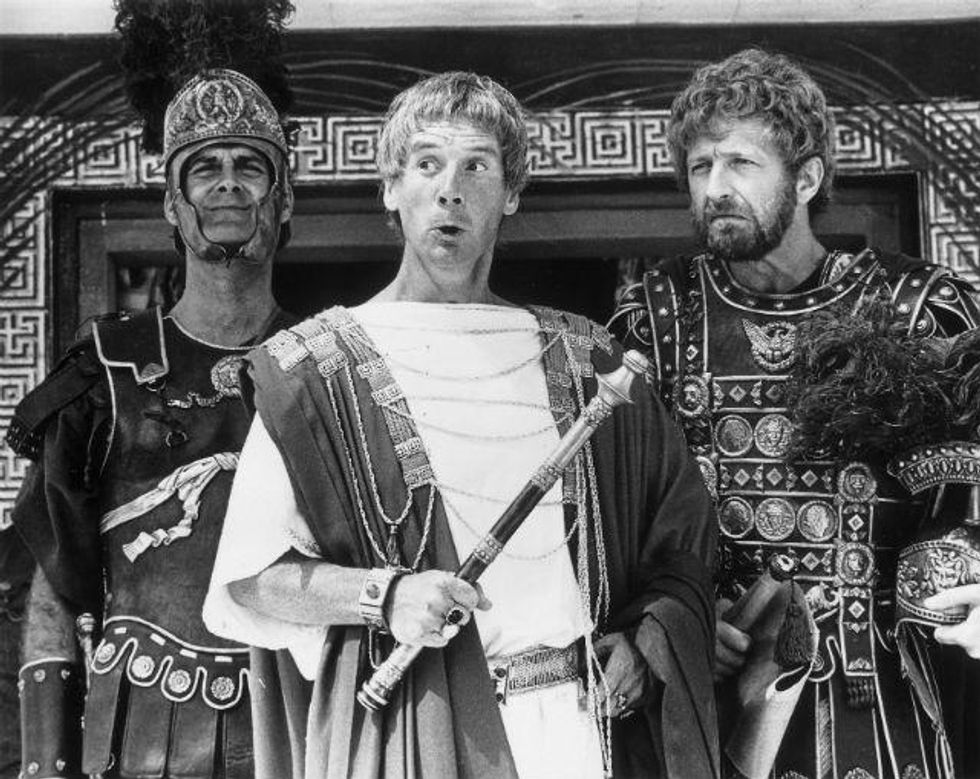 2. Comic Relief
The BBC has paired up with Lenny Henry and Richard Curtis' charity to host annual fundraising drives since 1988 - to date more than £1billion has been raised to tackle poverty across the world.
3. Foreign correspondents
Lyse Doucet, Orla Guerin, Frank Gardner - the BBC's list of fearless war correspondents goes on and on, risking their lives to tell us what's happening in the world from the living room TV screen every night. Sometimes they have a laugh too.
4. The Office
The world was never quite the same again after the BBC introduced us to David Brent, the hapless boss at Wernham Hogg Paper Company, back in 2001. The show is one of the most popular British comedies ever, shown across the world and remade into an equally popular American version of the show starring Steve Carell.
5. Panorama
Panorama is the world's longest-running current affairs television programme. Over the years it has investigated corruption in football, sex abuse by the Catholic church, the Omagh bombing, where money siphoned off during the Iraq War went, and the spaghetti tree harvest.
Robin Day interviews prime minister Harold Wilson in 1967.
6. iPlayer
While it seems like second nature now, when iPlayer launched at the end of 2007 it was a TV revolution. Within six months of launching visits to the site already accounted for five per cent of all UK internet traffic and iPlayer has gone from strength to strength as it adds more programmes to its catalogue.
Our favourite thing about it, apart from the fact it's free, is that the volume control goes all the way up to 11.
A 2008 ad for iPlayer in East London.
7. Jeremy Paxman
Love him or hate him, you've got to admit that the prospect of a grilling from Newsnight juggernaut Jeremy Paxman probably still gives politicians sleepless nights, even if he has since defected to Channel 4.
8. BBC4
BBC4 broadcasts at least 100 hours of new arts and music programmes, 110 hours of new factual programmes and documentaries, and premiers at least 20 international films every year. Where else on British TV could you watch a two-hour uninterrupted single-shot journey down the Kennet and Avon canal?
9. Doctor Who
Doctor Who is one of the BBC's most beloved shows. Twelve doctors and 34 series later, the latest series premiere drew almost 7million people.
The set of Doctor Who in 1965.
10. Anything David Attenborough has ever done
Self-explanatory, really. The BBC gave the young David Attenborough a training contract in 1950, when, like many people, he didn't even own a television. Mainly known for his wildlife documentaries like Life on Earth and Planet Earth, 89-year-old Attenborough is still making programmes and is one of the most-loved people in Britain.
David Attenborough on the first day of his new job as BBC2 Controller in 1965.
11. Covering sporting events
When it comes to sport, the Beeb still does it bigger and better than anyone else. Their 2012 Olympics coverage was widely praised (especially when compared to other broadcasters) and they also know how to do a mean sports montage:
12. I'm Sorry I Haven't A Clue
Radio 4's I'm Sorry I Haven't a Clue bought us the impossible game of Mornington Crescent and the ever-lovely (and fictitious) assistant, Samantha. The antidote to panel games ran continuously from 1978 chaired by grumpy jazz trumpeter Humphrey (Humph) Lyttleton. After his death in 2008, he was eventually replaced by the equally deadpan Jack Dee.
Humphrey Lyttleton in 2006.
13. BBC World Service
The World Service broadcasts in 28 languages across analogue and digital radio, internet streaming, satellite and podcasting to an audience of 188 million people a week. It is the biggest - and one of the most trusted - news sources in the world.
Aziz Fadhil reading the BBC World News in Swahili in 1974.
14. Have I Got News For You
Paul Merton and Ian Hislop are the best double act since Tom and Jerry. The pair have served as team captains on HIGNFY since 1990. They've been joined by some hilarious (and some questionable) guest hosts, including Boris Johnson and Brian Blessed: