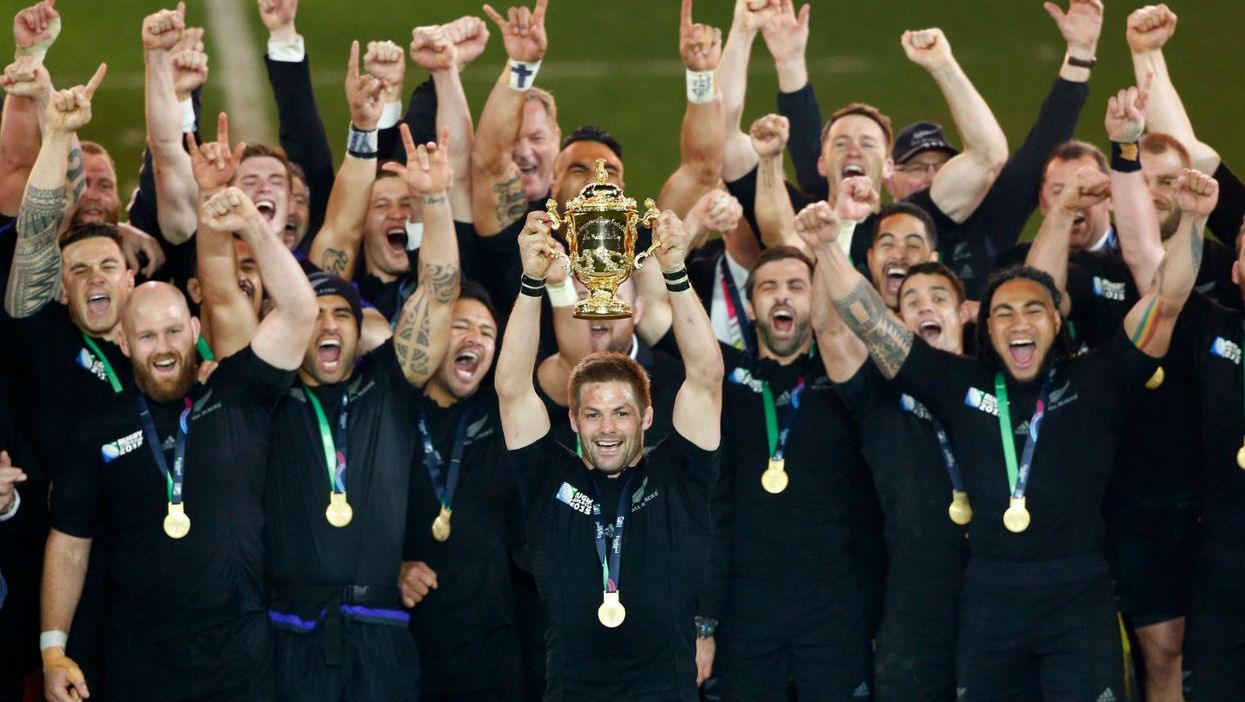 New Zealand's rugby team has a win rate of more than 75 per cent over the past 100 years, and with their World Cup victory they have become an inspiration for businesses and individuals off the pitch, too.
The All Blacks' 34-17 win at Twickenham on Saturday made them the first team to retain the trophy.
But go back to 2004 and things were not so good. Results were slipping and the men in black had come last in the Tri Nations. Captain Tana Umaga was threatening to quit and drinking had permeated the squad. Then something changed.
As detailed by James Kerr's book Legacy, the cornerstone of the team's recent success under coach Graham Henry and now Steve Hansen, is a simple mantra: "Better people make better All Blacks."
And since that mindset change, the island in the south-west Pacific with a population of just 4.5 million has again dominated world rugby and become an inspiration for those seeking managerial and performance success.
Kerr followed the team for five weeks in 2010. His book studies the spiritual and practical foundations of the country's re-emergence as rugby's elite and he suggests 15 lessons the rest of us can learn.
Here are some of those lessons that have made this team so successful, that have made them the best:
1. Sweep the sheds
Humility is at the core of All Blacks culture. After each game, some of the biggest names in world rugby stay to tidy up the changing room. As Kerr explains: "The All Blacks believe that it's impossible to achieve stratospheric success without having your feet planted firmly on the ground."
2. No dickheads
According to the Maori custom of whanau which means "extended family". The team must follow the spearhead - which must always move in the same direction to be at its most effective. There is no room for those who oppose this mantra, no matter how talented they are.
3. Marginal gains
Always strive to improve, even if by the smallest of margins.
4. Blue head v red head
According to Kerr, the All Blacks strive to think clearly under pressure - particularly while trying to shake off an old habit of "choking" in the biggest games. Some of the players use triggers to get out of a "red head" (anger/rage) mentality and into a "blue head" (calm/focused) one.
5. Leave the jersey in a better place
As Dan Carter reflected after the final on Saturday, his last game for New Zealand: "When you make the All Blacks, it's your job to enhance the legacy so when you finish playing you have to return the jersey at a better place than what you got it in." This mentality is crucial to the All Blacks' success.
6. Devolved leadership
Former coach Graham Henry used to leave the final moments before each match up to the players. Kerr explains that this was one of the things that allowed the All Blacks to develop into a team of leaders rather than a team of followers.
7. Set your watches fast
Kerr explains that every single All Black is accountable for their own actions. No player is ever late for meetings because they all set their watches fast.
Watch Kerr explain some of the methods below:
More: Sonny Bill Williams' medal giveaway was not his first act of selflessness at the Rugby World Cup