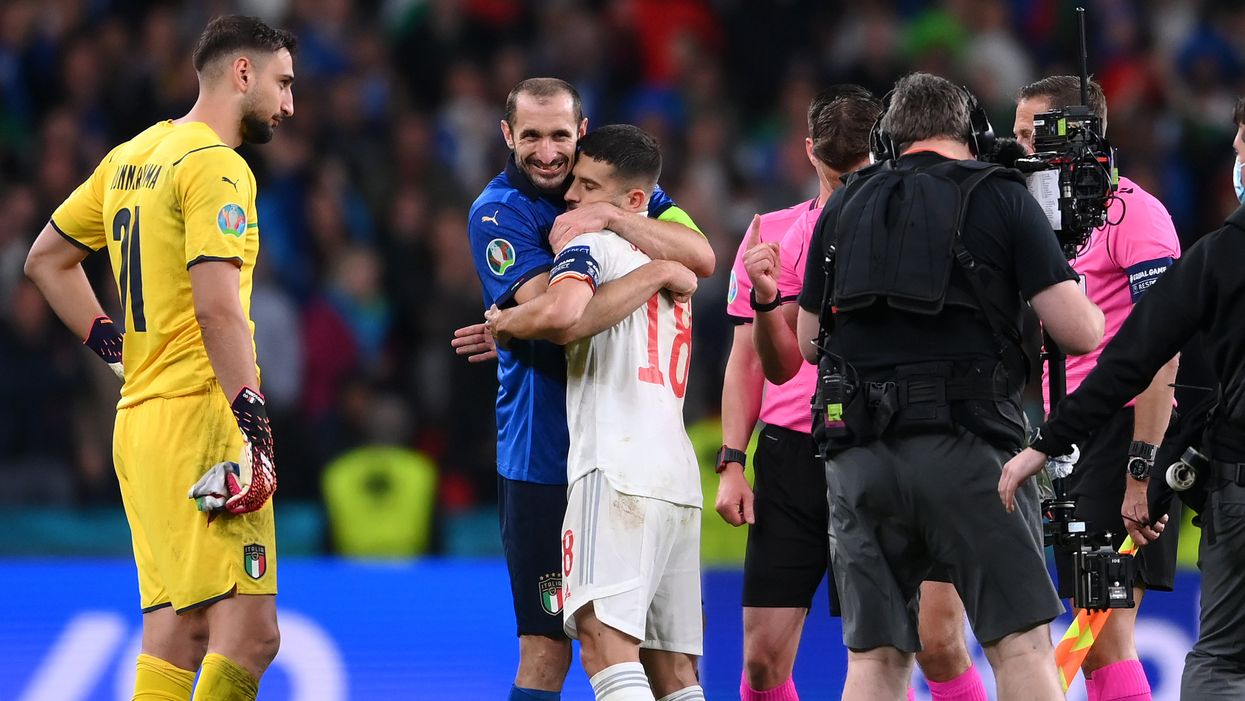 Getty Images
Italy captain Giorgio Chiellini appeared incredibly playful and jovial right before Italy won against Spain in the Euro 2020 semi-finals - and the internet thought that he was trying to psyche out the opposition with his kindness.
A spot in the semi-finals was at stake, so it's only natural that the captains would have some nervousness about the coin coss, which would determine which end the Wembley kicks would be taken from on the field.
Despite the pressure, Chiellini joked around with Felix Brych, the referee, and Spain's stand-in captain Jordi Alba , which seemed to take Alba off guard.
The match was sent to penalties after a draw of 1-1 in Wembley.
In the first half of the game, Frederico Chiesa put Italy in the forefront at the hour mark, but Álvaro Morata of Juventus equalized 10 minutes before the final whistle was blown.
The extra 30 minutes resulted in no goals, meaning penalties were needed to figure out a winner.
As the respective teammates on each side gathered together, Chiellini, Alba, and Brych met in the middle to see who would get the spot kicks.
The reactions from both captains were like night and day.
Alba had a serious and composed demeanor, while Chiellini was joking around, giving Alba a little playful shove and laughing like they are buddies.
It took a turn when Chiellini took it a step further when he hugged the now confused Alba.
Alba seemed so bewildered that he forgot to choose head or tails in the coin toss.
Brych was also laughing as he tossed the coin the second time, which decided that the penalties would be taken in front of Italian fans.
People on Twitter took to the platform to give their two cents on the moment.
"How's Chiellini just goofing around in such a critical moment? Looking serious clearly doesn't guarantee success!" someone wrote.
"Alba just wanted to get out of there," another added.
Check out some other reactions below.
Football players and other athletes like to take an edge with their demeanor against opponents, which could have been a part of the strategy with Chiellini all along.
Alba not only appeared discouraged by Chiellini's friendly approach, his teammates saw a captain that was commanding and confident in the situation.
Italy advanced to the next round and will play the winner of Wednesday's game between England and Denmark.