Picture: Laura Rettie
Chris Morling, founder of price comparison website money.co.uk relocated his business from London to Gloucestershire.
He relocated it to a 10,000 sq ft castle.
Seriously.
This is the castle:
The castle in Cirencester was refurbished recently, and the finished building seems to have been plucked out of every office worker's dreams.
This is what the office looked like before the massive refurbishment:
A regular piece of office space.
And then came the refurb:
The reception welcomes you with actual foliage...
This is the Pow Wow room:
There's a pool table and Arcade game in the kitchen.
Despite being the CEO, Chris attends all the socials with his 50 employees, and even plays football and basketball with them during their lunch break.
Oh, and there's also a cinema. You know, for after-work screenings. As you do.
Forget about stuffy portraits of kings-of-old...
Captain America watches over you instead...
Even the loos are snazzy...
And if you're more steampunk than Pop Art, Chris has your back:
Orange. Orange everywhere.
There's even a library.
And an 'Ice Room'. WHAT EVEN?!
The office room has dragon paintings.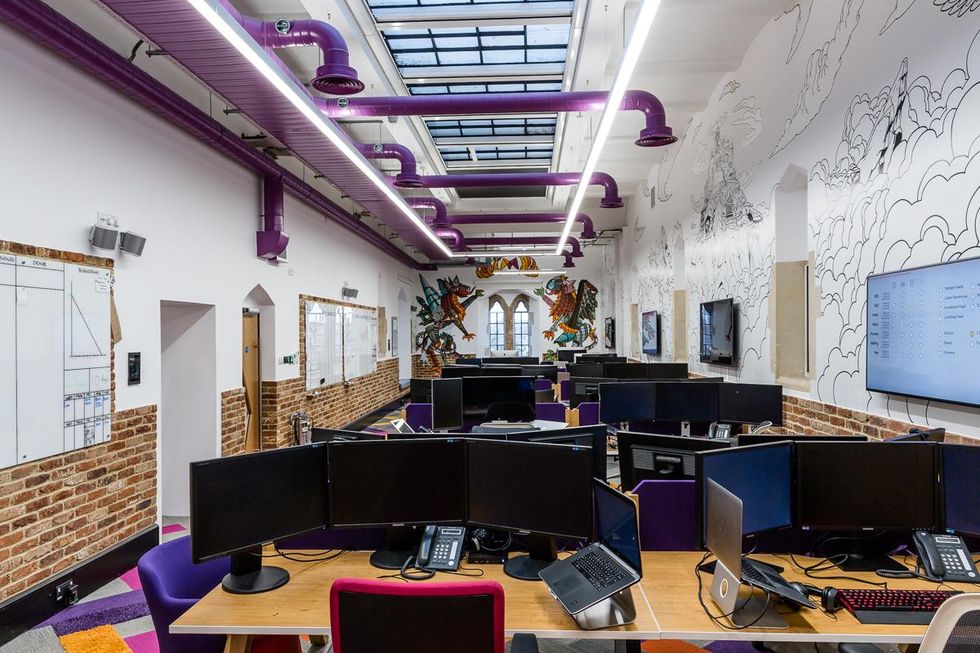 And we're not sure what happens inside the Radio Room, but look at it:
The castle also has a gym. (well, two, actually...)
Laura Rettie, an employee, told indy100 that she feels "rewarded, empowered and valued", working at the castle.
For me I feel this is the best place I've ever worked – it's because we are absolutely given the independence to make our own choices, we are led, not managed… He's the best boss I've ever worked for
And if that isn't enough, Morling also treats his staff to annual all-inclusive holidays - they've been to Florida and Malta, to name a few places.
Some people think this is too good to be true - surely there's a catch?
Rettie insists that this is not the case.
It really really is as good as you think!
Despite the attention he has been getting, Morling remains humble, and in a recent email to staff praising their performance, he signed it #BritainsProudestBoss.
And the best bit? The company may be hiring...
All photos supplied by Laura Rettie.