Social discontent is strong worldwide, and in light of current events, here are some of the most striking images of defiance from our past (and present):
1.
Ieshia Evans, Black Lives Matter, July 2016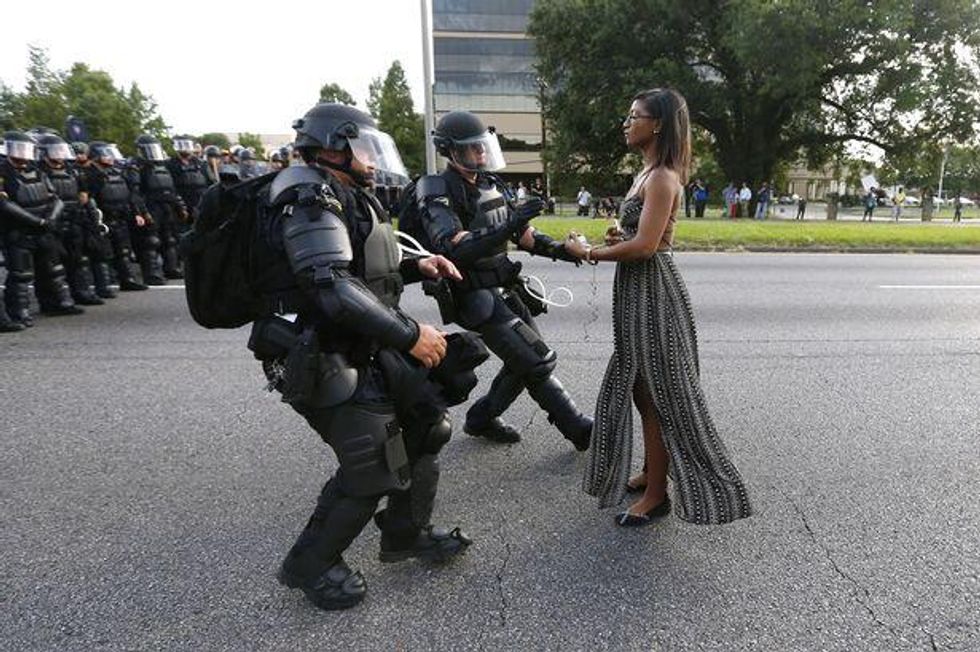 Picture: Reuters
Ieshia Evans was part of over 100 people who took part in a demonstration in Baton Rouge following the death of 37-year-old Alton Sterling, who was killed after being shot by police. The image of the woman standing tall against armed riot police will go down in history as a marker of rising police brutality in the US.
2.
The Young Afghan Girl, 1985
Photographer Steve McCurry captured what has become one of the most famous pictures for The National Geographic. The image, which was taken in June 1985 depicts a young Afghan refugee called Sharbat Gula staring defiantly into the camera. At the time of the photo, Afghanistan was in the midst of a civil war which cost hundreds of thousands of people their homes, and lives.
It was the first time Gula was photographed, and 17 years later when McCurry went back to the mountainous region of Afghanistan, he was the only one to photograph her again.
Recently Gula was arrested for living in Pakistan with fraudulent papers, but after pressure from the international community, she will be released on bail.
3.
Horace Greasley and Heinrich Himmler
In 2010 this image was identified as being of British Prisoner of War Horace Greasley confronts Heinrich Himmler during an inspection of the camp he was confined in. Greasley is also well known for regularly escaping (and sneaking back into) prisoner of war camps at least 200 times to meet with his German love interest 'Rosa'.
However historian and writer Guy Walters has claimed it was taken in Minsk, Belarus, and that it Greasley is not the subject, as the subject is wearing a Soviet cap.
The power of the image is by no means lessened by the absence of an identity, and is arguably more powerful it the soldier is an unidentified every-man, eye to eye with the head of the National Socialist's death head.
4.
Femmes Algériennes, 1960
French photographer Marc Garanger was drafted into the French army during his country's colonial war with Algeria.
He was sent to Kabylia, a small mountain village whose region had been putting up a strong resistance to the occupation. He was tasked with unveiling the Algerian women in the village – who only showed their faces to the men who were their brothers, fathers and husbands – and to photograph them.
The images became synonymous with Algeria's resilience against the French. France would occupy the country for many years, but one of the main components of the uprising and eventual war of independence would be Algerian women.
5.
Ruby Bridges, New Orleans, 1960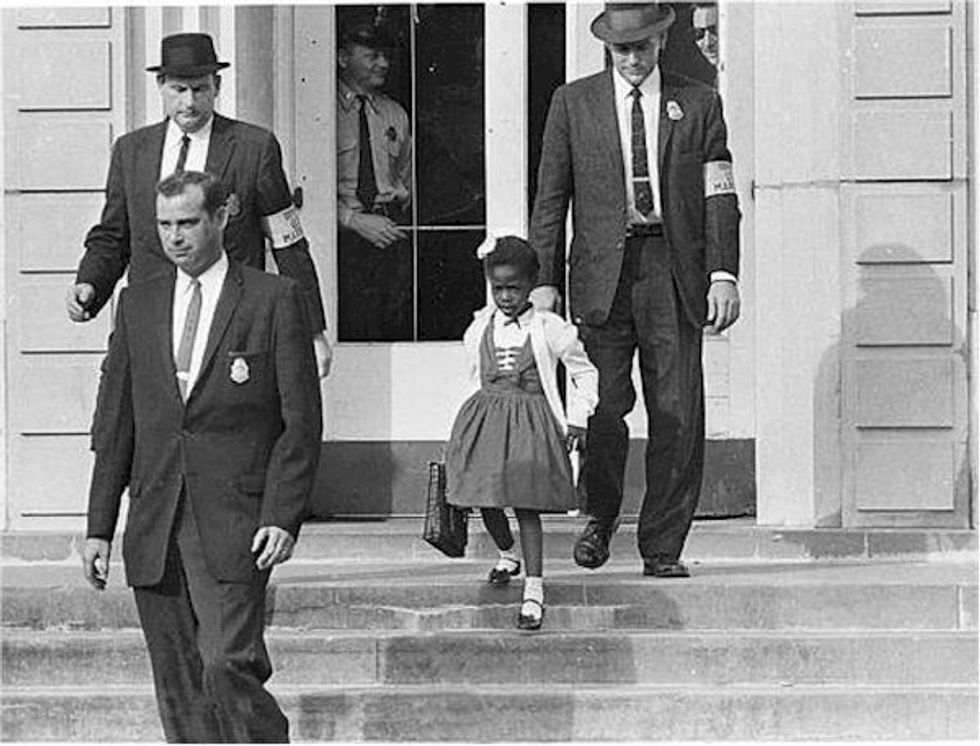 School segregation had been part and parcel of Jim Crow laws in the South for many years, legally bolstered by the seminal Plessy v Ferguson case. It was not until 1954, in the Brown v Board of Education Supreme Court ruling, that segregation was overturned.
The image shows the first black girl attending school with white children. Ruby Bridges was escorted to and from William Frantz Elementary School, and what is interesting about the photo was that segregationist protesters were stationed outside for many weeks.
6.
Poland, 2016
Anti-abortion laws have a long and sordid history in Poland, and every year women take to the streets to protest. The year 2016 has Poland proposing a total ban on abortion, which prompted protests across the country.
The following image was taken at one such protest and took on a life of its own, as people began sharing on social media.
7.
Captured US marines, North Korea, 1968
During the cold war, a US vessel – USS Pueblo – was captured by North Korean soldiers who claimed the ship was in their waters, while the Americans insisted it was International Waters.
The soldiers were captured, and forced to participate in videos and photographs that were later used by North Korean propaganda.
They decided to protest their capture by showing the middle finger in every photo that was taken of them.
According to the soldiers, who were later released, North Koreans were unaware of the gesture's insulting meaning.
8.
The Pro-LGBTQ mum
Francis Goldin has attended Gay Pride in New York for thirty years, with the same placard.
It got some attention at Gay Pride 2016 where, at aged 93, she was still holding the 'I adore my lesbian daughters' sign.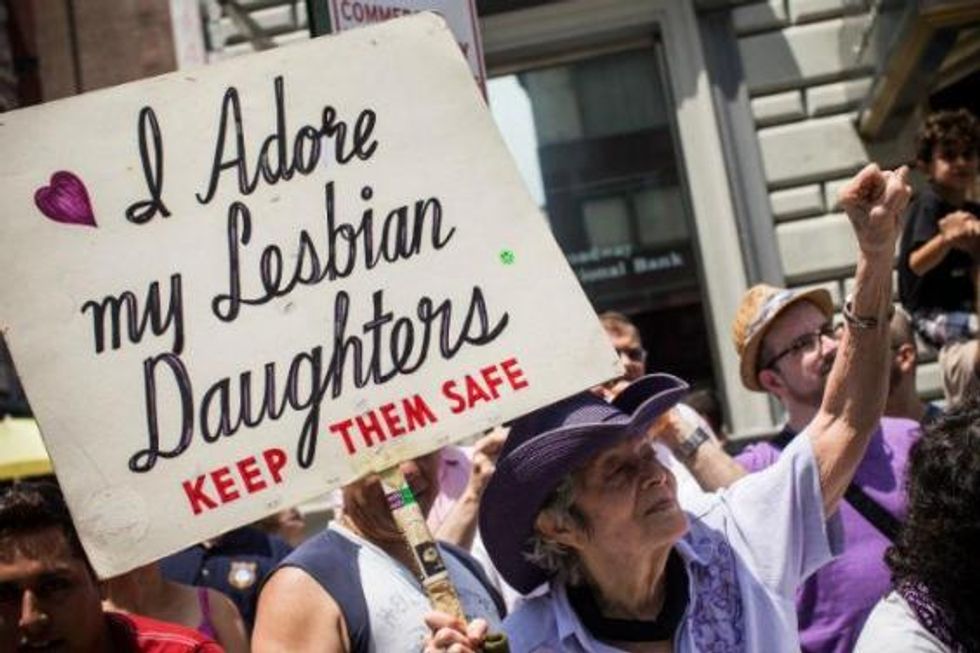 Picture: Andrew Burton/Getty
9.
Hitting a neo-Nazi with a handbag
This photograph by Hans Runesson shows Danuta Danielsson hitting a neo-Nazi with her handbag during a march by the Nordic Reich party in 1985. Her mother had survived a Nazi concentration camp.
10.
Woman stares down EDL supporter
On Saturday 8 April 2017 an English Defence League (EDL) demonstration took place in Birmingham.
One image, taken by Joe Giddens of the Press Association, resonated with many for the smiling, and non-combative show of defiance by a Birmingham resident in the face of bigotry.