You may have previously seen some images of giant cat hedges like the one above.
It's because one artist's handiwork has been capturing social media's imagination.
The Topiary Cat was inspired by Tolly, Richard Saunders' Russian blue cat.
Tolly lived to about 12 years old and was, in Saunders' words "quite a character".
Saunders, who lives in Stapleford, Hertfordshire, has painted surrealism since he was a teenager, and cites his influences as Salvador Dalí, Max Ernst and Arthur Rackham, a children's book illustrator.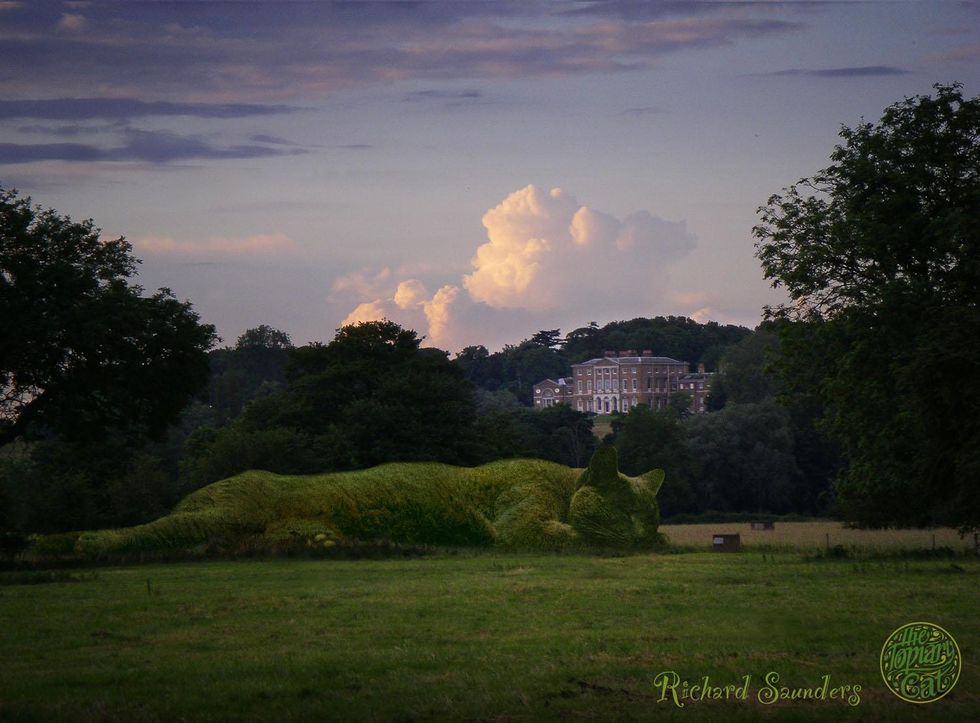 He makes the images by matching light sources of landscapes with images he has of Tolly, alongside some wizardry in Adobe Photoshop CS5.
He's also a keen gardener - hence the theme.
His garden at home is also on a surrealist theme - however there are no real topiary cats there.
Saunders has made it clear that the cats in his images are manipulated photographs, but they have sometimes had his image credits cropped, or disclaimers withheld:
He told indy100:
The first image was created when I photographed a giant 'cloud-style' abstract topiary at Hall Barn, a historic country house located in Beaconsfield, England. It suggested a sleeping animal by a lake. I photographed Tolly with the light source the same and married the two images together.

This montaged image became spread on the internet, unattributed and with my name cropped out, claimed as a real 'amazing' place. Subsequent images have gone even more viral, one having had well over three million hits.
It seems that people want to believe that the cats are real.
Saunders has retired from his job as joint owner and creative director of an advertising agency and said he plans to dedicate his time to painting and the Topiary Cat:
I can spend my days creating more surrealism and generally subverting people's expectations!
All images courtesy of Richard Saunders.