President Donald Trump will fly to his Mar-a-Lago club in Palm Beach for the third consecutive weekend on 17 February, according to the Palm Beach Post.
Why is this important?
A number of reasons:
---
1. Donald Trump used to love criticising Barack Obama for his vacations
President Barack Obama actually took far less vacation time than his predecessor, taking just over 230 days in office, while President George W. Bush spent 533 days. 
This will be the third weekend in a row Donald Trump has taken off since his inauguration.
2. He said he wouldn't
Speaking to a reporter while campaigning in 2015, Trump said:
I would rarely leave the White House because there's so much work to be done.

I would not be a president who took vacations. I would not be a president that takes time off.

You don't have time to take time off.
This will be Trump's third visit to Mar a Lago for a weekend. He was inaugurated as President on 20 January 2017.
3. It costs $3 million (around £2.4 million) a pop
This is an estimate.
The approximate cost comes from a report from the Government Accountability Office, prepared in 2016 about a trip Barack Obama took in 2013 at the request of Republican Senator John Barrasso.
It's a similar trip in that it took four days and was to Palm Beach Florida, but for a brief detour in Chicago.
Presidents generally pay for their family holidays, but the taxpayers foot the bill for the security costs involved in taking a president on holiday.
Again.
4. The membership fees for Mar a Lago have doubled.
To $200,000.
Why?
Because at that price you get to rub shoulders with the president on a given weekend, and get access.
Or post selfies with Steve Bannon:
Or take photos with Trump, Bannon and the newly-resigned Michael Flynn.
Or publicly identify the US official who carries the nuclear attack briefcase.
Or watch a reported missile launch.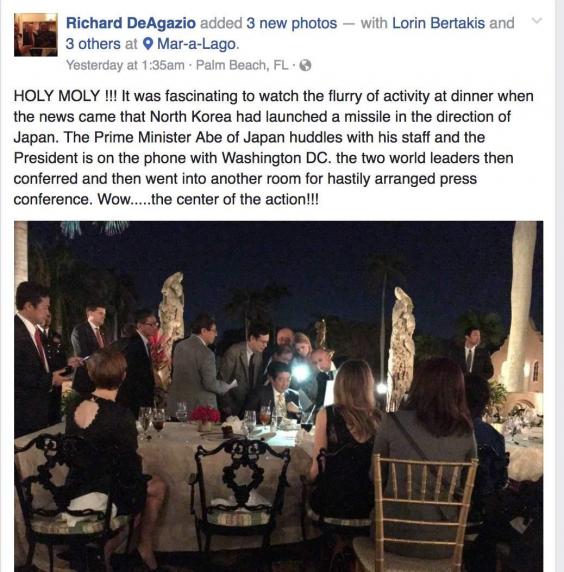 This all seems above board.
---
More: Someone invented a new word for Donald Trump and people think it's perfect
More: Michael Flynn resigned and everyone is making the same joke