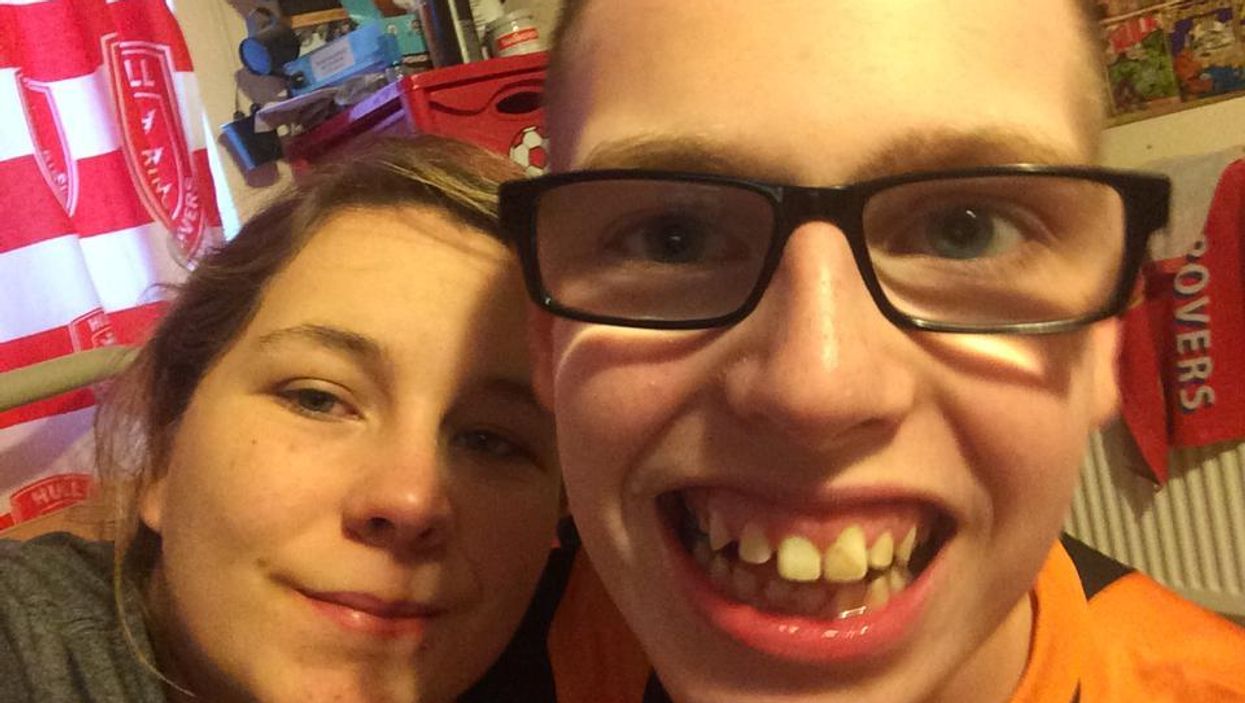 James Walker from Hull, pictured here with his sister, was born with severe epilepsy.
Picture: Gina Walker
While the 17-year-old is able to think, see and hear like any other teenager, his condition makes physical movements like walking and talking impossible.
Until one day last year, when mum Gina went to pick James up from his school, and he said the words: 'Hello, mum'.
Thanks to a new blink-controlled eye-tracking computer at school, James was able to express what he was was thinking for the first time in his life.
Gina told indy100 she cried listening to him talk through the machine.
It was a miracle. James got a bit written off when he was little, about 7, because that kind of technology didn't exist then.

When you listen to a toddler say their first words you get excited, don't you? But imagine how it feels when your 16-year-old talks to you for the first time.
James' specialist Frederick Holmes School had bought the new computer for their 80 pupils to use.
Hector Minto of Tobii Dynavox, the company who developed the 'Eye-Gaze' equipment, said that while NHS funding exists for AAC (alternative and augmentative communication), one of the criteria is that candidates need to have a level of proven motor function to get the green light for funds.
It's a loophole. Kids like James are at the start of that journey [of learning how to communicate], and no one will fund that. But it's a vicious circle - how can he prove his ability without any tools to practise?
Picture: Tobii Dynavox
With only one unit for all the students, James got two turns a week to practise using the machine.
When Gina mentioned James had been able to speak in a charity board meeting, an acquaintance from the group David Hoyle couldn't stop thinking about it.
He ended up starting a Facebook campaign to raise the £12,000 needed to buy James his own machine, intially without the Walker family's knowledge.
From his experience in fundraising, David knew that the target was quite steep - but he thought of a way to split up the total.
Creating a group called 'JW100', he asked 100 people on his Facebook friends list to try and raise what they could towards the total.
The response, he said, was "absolutely ridiculous".
People put on events, ran marathons, held cake bakes and sponsored walks, diets, you name it - and as more people in the local community got involved, donations started pouring in.
David ended up with enough money not only to buy James his machine - but to buy five more for Frederick Holmes too.
I think we have the perception that society focuses on disabled kids when they're younger, people care about cute toddlers.

But we proved that that's not right. We had an absolutely ridiculous, amazing response. James is a young man, and we came together for him. I can't express how fantastic [the people and charities who helped] are.
James has had his machine since September, and according to mum Gina, it's been an incredible experience watching his voice and personality grow.
He can say up to five words at a time at the moment, and is developing a dry sense of humour.
Picture: Tobii Dynavox
There's proper bants when it comes to the football, and he argues with his sister about her music.

He can actually tell her he doesn't like or to turn it now. To be honest I think he gets his own way a lot of the time but that's OK.
Mike Bickerton of Frederick Holmes school said everyone was delighted with the gifts, and since David's campaign even more people have approached them directly with donations.
It's just absolutely heartwarming watching our kids get to grips with what it's like to talk.

Modern technology can do amazing things, and of course, without something like social media campaigns like this couldn't even have happened.
James told indy100 he appreciated his Eye-Gaze. Via his mum, he told us:
I like, I need, thank you.
Picture: Gina Walker