Nicole Kidman has been criticised online for not mentioning her adopted children during her acceptance speech at the Golden Globes this weekend.
While accepting the award for her role in the HBO show Big Little Lies, Kidman thanked her husband Keith Urban and their two daughters 9-year-old Sunday and 7-year-old Faith, saying:
First cab off the rank, that means my daughters are still awake so Sunny and Faith, I love you.

I'm bringing this home to you babies. 
But the Oscar winner did not mention the two children she adopted with ex-husband Tom Cruise, 25-year-old Isabella and 22-year-old Connor, sparking speculation that she had deliberately snubbed them.
Hey, Nicole Kidman! You have more than two children, girl! 🤦🏻‍♀️ #goldenglobes

— Jennifer Boston (@Jennifer Boston) 1515374714
This is apparently not the first time this has happened: Kidman also did not mention Isabella or Connor during her Emmy speech last year, but she did thank Sunday and Faith.
Just an FYI...Nicole Kidman has 4 children and this is the Second Time she has made reference at a win to her two d… https://t.co/jMzmW0YyuU

— A Seefeld (@A Seefeld) 1515374303
Many have speculated that the reason she doesn't mention Isabella and Connor is linked to her 2001 divorce from Cruise.
Mr Cruise is a high-profile member of the Church of Scientology, and it is reported that both Connor and Isabella - who elected to live with their father - have been brought up to follow the faith as well.
Kidman, however, left the Church.
Former Scientologist Leah Remini alleged in a memoir that Kidman is deemed a 'Suppressive Person' (SP) by the Church, a term that is used to refer to people who doubt or could negatively affect its teachings.
The documentary Going Clearclaimsthat members are often told to cease all contact with SPs.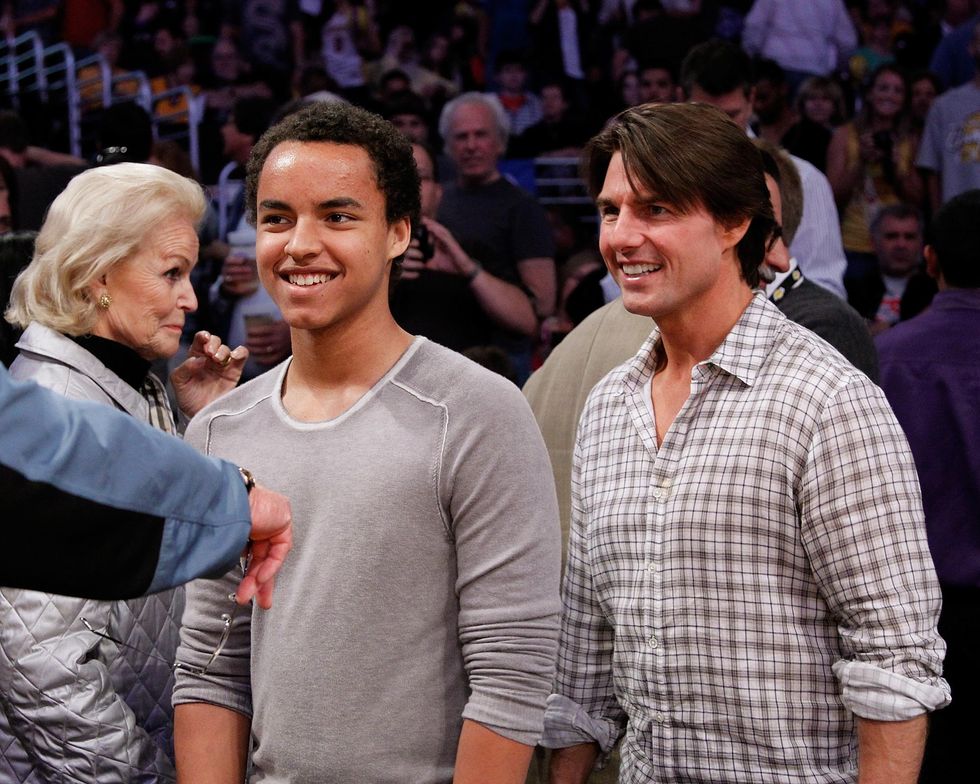 Picture: Tom and Connor Cruise at an NBA game in 2010.
It was, however, reported in early 2016 Kidman had an 'emotional reunion' with Isabella.
news.com.aualso report that Isabella had told New Idea magazine that she was still close to Kidman:
Of course we talk, they're my parents', adding, anyone who says otherwise is 'full of s**t
Connor added:
I don't care what people say. I know that me and mum are solid. I love her a lot.

My family means everything. Yeah, I love my music, but the family comes before everything else.
In 2016, Kidman dedicated her performance as an adoptive mother in Lion to Isabella and Connor. She told the press that the film:
was important to me because I'm a mother with adopted children.

This movie is a love letter to my children.