Tiff Stevenson approaches politics in conversation with me in the same way as she does in her new show, Bombshell: sombre and serious, until you're all giggling.
Bombshell is about feeling politically adrift, the horror of Grenfell and the problematic conversation between men and women. It is also about Tiff's period inexplicably syncing up with the apocalypse, Theresa May ruining leopard print for other women and her "strong and stable bike chain necklace".
Sometimes it feels like the latest whirlwind instalment from the award-winning stand-up is about pretty much everything - but, for Tiff, still not quite enough. She tells indy100 she could have also happily squeezed in thoughts on the addictiveness of Twitter and homelessness, Northern Ireland's restrictive abortion laws and much, much more.
Though a stand-up with very few rules and restriction on content, Tiff does stick to one overarching theme: women. "I don't always set out to necessarily aim it towards women, but obviously the perspective of it is going to be female because I'm female," she said, adding:
There was a promoter who booked festivals years ago who said 'you were always unashamedly female even when it wasn't fashionable to be so.'
Most important of all, though, is if she's doing her show right, she said, and at her absolute best, it's funny - but also thought-provoking, challenging and "straddling the personal, social and political".
If I can flag up an injustice, and then it changes for the better, that's only a joyous thing. If I could shine a light on it for just a little while, how great is that?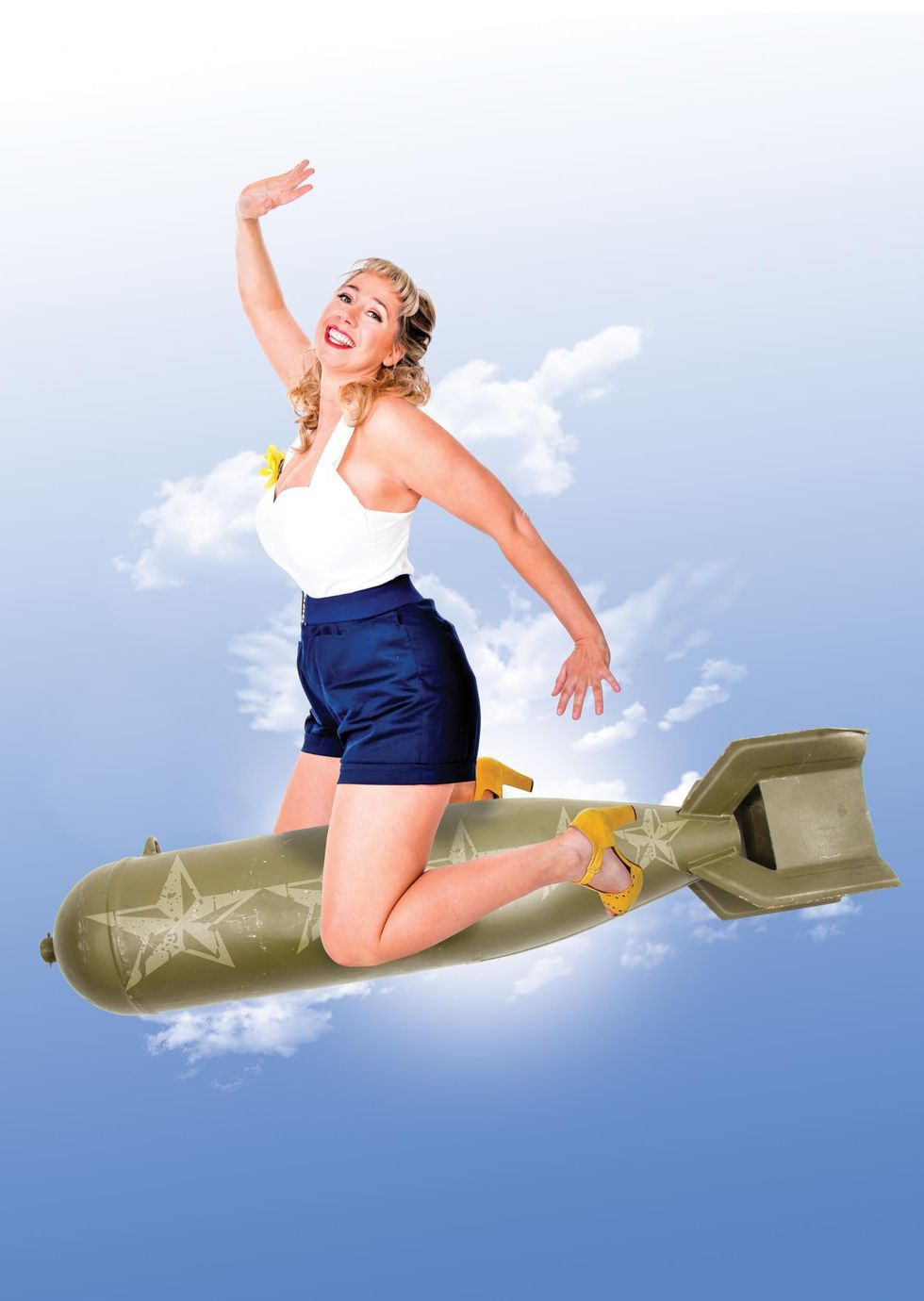 Picture: Tiff Stevenson's Bombshell
I saw Tiff's show in Soho Theatre on a day of total contrast for women to the 2016 presidential election, a time where women "kicked back": in the same 24-hour period, the Irish abortion referendum votes were totted up and we saw Harvey Weinstein in handcuffs, even if fleetingly.
Both these moments "felt so far away" to Tiff at the tail-end of 2016. Pushing a female perspective in her shows "tipped towards urgency" for Tiff following the election of Donald Trump, the starting pistol for a reignited tug-of-war over women's rights.
It felt like there was this moment at the end of 2016 when Trump got in that worldwide women must have felt we're being told that we're 'less than'.
The Irish abortion referendum in particular was an "overwhelming and emotional" win for Tiff, not only because she had an abortion aged 17, but because she helped in the fight.
Show is sold out. I'll be in bar after staring at exit polls. Crying either way. Fair to say it feels personal & I… https://t.co/PQluJ1oTOU

— Tiffany Stevenson (@Tiffany Stevenson) 1527275990
Last night backstage pre show. I felt sick not knowing outcome of the referendum. 20 new minutes! No longer shall I… https://t.co/3HnWgMmvdH

— Tiffany Stevenson (@Tiffany Stevenson) 1527331798
The historic referendum win felt an appropriate day to see Tiff in action - and, in Soho, her audience were also "euphoric" following the Yes victory. The loudest pop of tension was from celebratory champagne.
But not all crowds are welcome to hes ideals, as she knows from dropping in-your-face jokes in Ireland and challenging restrictive abortion laws when they were still achingly taboo. We still need to fight - and, though Tiff's comedy celebrates our wins, it refuses to settle just for existing progress.
The triumph of the day turns bittersweet when Tiff remembers Savita Halappanavar, the woman who died from complications of a pregnancy that doctors were prevented by law from terminating.
It shouldn't have had to take people like Savita to die in order for women to be able to get that.

That's the brutal shame, that there's real actual consequences at the end of not giving women these freedoms, that you're letting them die.
The rise of #MeToo, sweeping up so many powerful, previously untouchable men in its wake, was another recent leap forward for women and one that prompted Tiff to lose "about a stone in rage weight".
It was so emotional for so many women that I knew that #MeToo was triggering and it was almost like 'ask women if they're okay', because we all relived our experiences of when this stuff has happened to us.
Tiff's mum used to work in a film studio, where she "used to go to the dark room and she used to get groped." Tiff continued:
And that's just what you had to deal with on a daily basis, because it was dark in there, you would do in and people would grab you. In a way, she was like 'we weren't like you lot, we just got on with it'.

And we were sort of like 'well, don't internalise that, you shouldn't have, that shouldn't have been the case and I'm sorry that happened to you, that in order to go to work you had to tolerate being physically assaulted'.
Tiff is not "anti-men", an annoying clarification with which feminists will be familiar. "I'm pro-men and I'm a champion of men," she said and thinks "any decent man would know the difference between compliments and harassment". What she wants to ask, instead, is:
As a society, how can we be better? And how can we teach our young guys this?
That extends to work as a comedian, too. and Tiff thinks "equality of opportunity isn't there for women in the same way".
So if I look at the top female comedians in the UK at the moment, and I compare them to the top male comedians, and I look at what comparatively we've all been offered, it's shocking how the level of opportunity and exposure is limited for women and just not offered.

For example, commercial radio shows. There are literally male comics all of over the radio. I feel like almost every other male comedian has a show… The fact that only recently Sandi Toksvig had hosted QI, so that's one woman hosting a panel show, out of all of those shows.
We all know the tired one-woman slot on panel shows, as if women are all made in the same mould. Too often, said Tiff, "the only female role on the show is filled by someone who's not funny. Then they go 'this woman's not funny' and you go 'is Camilla Long supposed to be funny?' She's a journalist. So I think that's part of the problem as well". She added:
When you only book one woman, it makes us all naturally in competition with each other and that's just something the guys don't face.
Don't necessarily go to Tiff to solve all these problems, because she doesn't know which side to face either. On the left-wing, she is frustrated with people that "pretend that we don't acknowledge or see differences, because to start from that point is to do everyone a disservice or to create a reality that is almost Orwellian in that it's not wanting to accept or acknowledge that we're different with different ideals".
Even worse, Tiff is bored stiff of the people who come to her shows bemoaning same-sex marriage or reproductive rights with the muttered excuse: "it's the way it's always been". Tiff has one response for these people: "We evolved from fish, would you rather we were fish swimming in the ocean?". So no wonder she's feeling politically adrift. Tiff's message to the left and right? "Let's just all be a bit decent to each other." Please.
You can catch Tiff Stevenson's Bombshell at the Underbelly Festival Southbank on 28 June.