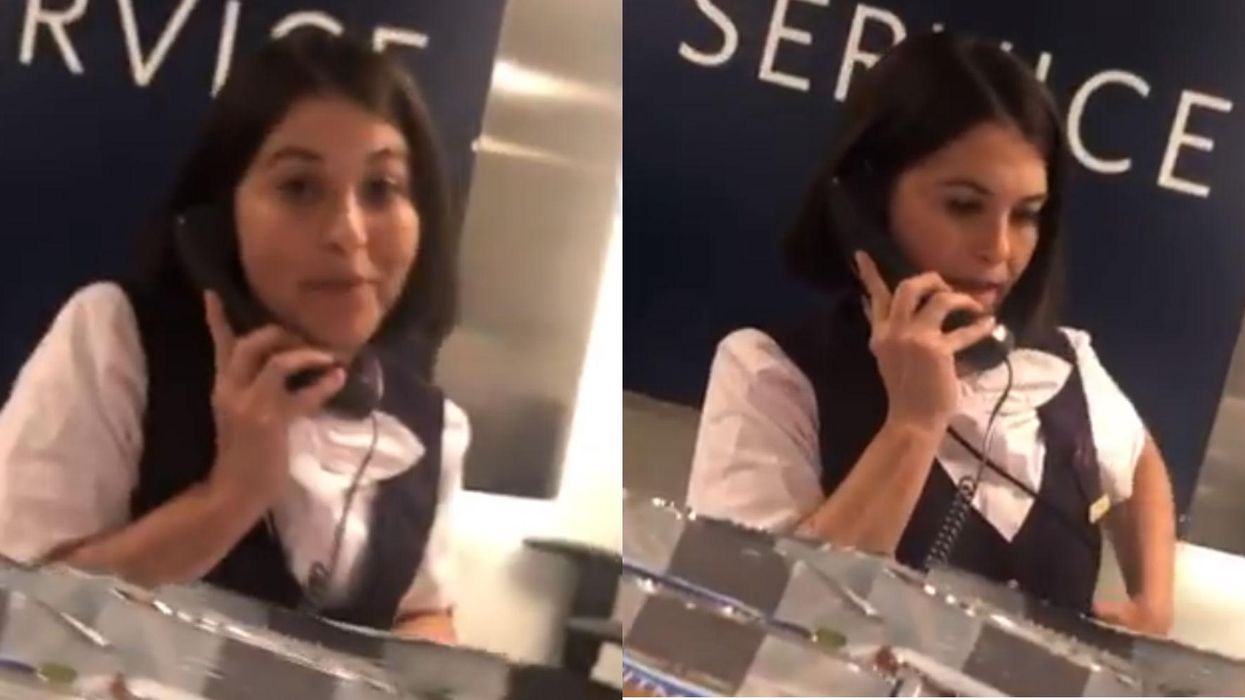 @OurAppGuy / Twitter
Yes, it's happened again. A white person has called the police on a black person when they haven't done anything to break the law.
Arlene, who told the Root she'd like to only be identified by her first name, took to Twitter last month to vent her outrage after her mistreatment when flying from Kentucky to Boston, Massachusetts on 24 August, with Delta Airlines.
When she arrived at Boston's Logan International Airport, Arlene says she realised her bag was badly ripped and damaged, so she asked to speak to a manager at the Delta service desk.
When she asked to see the manager, footage of the incident shows that the Delta baggage handler claimed that the manager wasn't available, then claimed that she can't give out names and numbers of employees, then, when she realises Arlene is recording, she calls the police.
Taking to Twitter, Arlene explained what happened:

In the post, she writes:
I have never been as humiliated in my life.
Video of the incident was also posted to Twitter by a third party:
In the video, Arlene can be seen talking with the woman on the desk of Delta customer services.
Soon after Arlene offers to wait for the manager, the woman says:
Are you recording me?
She then picks up the phone and calls the police, saying:
I have a lady in my face who's recording me and won't get out of my office.
Arlene replies:
I'm asking for a manager.
According to the Transport Security Administration, filming and taking photographs at an airport is not a misdemeanour. On its website it states:
TSA does not prohibit photographing, videotaping or filming at security checkpoints, as long as the screening process is not interfered with or sensitive information is not revealed.
Massport Properties, the company in charge of Logan International Airport, also echoes the above. It allows non-commercial filming on its properties, but its guidelines say:
Photography may prompt law enforcement officers or Massport personnel to approach you and ask you questions.
Speaking to The Root, Arlene commented that she did not think that the Delta employee would have called the police if she had been a white person:
I do not believe I would have had the police called on me if I was not a black woman.
She also added that she was extremely scared when the police were involved, because of historic cases of police violence in America against African Americans:
I did not stay for the police to arrive because of the current climate between the police and people of colour.
This incident is just the latest in a long line of viral stories that have emerged from the United States in recent years, showing white people calling the police on black people, despite the fact they haven't broken a law, or engaged in criminal activities. In fact, they're usually just going about their day-to-day life, sleeping in dormitories, having a barbecue, or sitting in Starbucks.
USA Todaydid a recent report into the trend of 'Beckys', 'Pattys' and 'Carls' patrolling African American's everyday lives. Emory University professor George Yancy commented:
Black people experience policing every day, even if it's just a look or a gaze.

What social media is doing is magnifying the elephant in the room in such a way as to reveal to white people the reality that black people experience all the time. 
In response to the incident, Delta Airlines issued indy100 with the following statement:
We apologise to this customer for her experience in the Boston baggage service office and Delta is in contact with her to better understand what transpired.

We take situations like these seriously and we are working directly with this customer to use this as an opportunity to learn from her experience and improve on future customer interactions.