The House of Lords has come under renewed scrutiny this week, following the resignation of Lord Sewel over drug and prostitution allegations and reports that a secret reform panel has been set up.
While reform of the Lords has been discussed for more than a century, little real change has been made.
So, in light of recent events, perhaps now is as good a time as any to look at why this unelected chamber should be scrapped:
1. It's completely full
Picture: Getty
There are currently 820 peers in the House of Lords - up from 666 in 1999 - which makes the chamber second in numbers only to China's National People's Congress (which is about as equally democratic).
There is not enough room to seat more than half the peers, which can lead to strict time limits on speeches during popular debates.
A cross-party group of peers and MPs have quietly set up a committee to look at how to cut its size.
2. Its attendance record makes Ukip MEPs look like swots
Picture: Parliament.uk
Peers can claim up to £300 in expenses for each day they attend the House. However, former Conservative peer Lord Hanningfield alleged in 2013 that half the members of the House of Lords regularly clock in for a few minutes just so they can claim the money - a practice entirely within the rules.
3. It's undemocratic
Picture: Getty
While the vast majority of hereditary peerages were disqualified by the House of Lords Act 1999, 92 remain in place under the Weatherill amendment until "second stage" proposals are agreed.
New members are now nominated by politicians - the very people they are supposed to hold to account.
For instance, David Cameron is likely to introduce even more Conservative peers in the term of this parliament to better reflect the make-up of the Commons (which will add to the 186 he added under the Coalition).
4. At least one peer freely admits that some of his colleagues are "thieves, rogues and bastards"
Picture: PA
Lord Sewel (above), the deputy speaker of the House, who was also responsible for upholding standards, resigned this weekend following a report in the Sun which appeared to show him snorting cocaine off the breast of a prostitute.
In a video published by the newspaper, the peer, who has also been suspended by the Labour party, appears to suggest his job is less lucrative following the expenses scandal - despite receiving a salary of £84,500.
"It's all changed and disappeared. People were making false claims," he says, adding that there are "members of her Lordship's House who are right thieves, rogues and bastards at times… wonderful people that they are".
5. There's no official retirement age
Picture: Getty
Although a voluntary retirement age was introduced in 2011, there is still nothing to stop peers continuing in their roles well in to old-age regardless of their capacity to do the job.
Unfortunately this has had damaging effects. Labour life peer Lord Greville Janner (above centre) was found to have voted in the House of Lords 203 times and claimed £104,365 in expenses despite having been diagnosed with dementia and having given power of attorney to his children.
Leaflets have even been distributed to encourage peers to retire in the hope of reducing the size of parliament.
6. It costs a lot of money
Picture: Getty
The House of Lords costs approximately £93m to run each year. Not only does it subsidise food for peers through a £1.3m food budget, but when giving evidence in December to a committee looking at how government should be run, the former clerk of the commons Sir Malcolm Jack said a plan to merge the catering departments of the two houses of parliament was rejected by the House of Lords because "the quality of champagne would not be as good".
Editor's note: Since publication of this article, the House of Lords press office has been in touch to point out that Sir Malcolm's statement has been disputed. In supplementary evidence provided to the committee, David Beamish, the clerk of the parliaments, explained: "So far as I am aware, there has never been a formal proposal to merge the catering services of the two Houses, and the House of Lords has certainly never rejected the idea." He also pointed out that "champagne purchased by the House of Lords is for sale at a profit".
7. It's full of historical relics
Picture: Rex
Yes, the UK is a constitutional monarchy with an unelected head of state, but the House of Lords still receives criticism for the 26 bishops from the Church of England - the Lords Spiritual - who have an automatic right to sit in the upper chamber. No other faith enjoys this privilege, not even the de-established Anglican churches in Wales and Northern Ireland (not the Presbyterian Church of Scotland). The British Humanist Association says the UK is the "only western democracy to give religious representatives the automatic right to sit in the legislature".
8. It is completely unrepresentative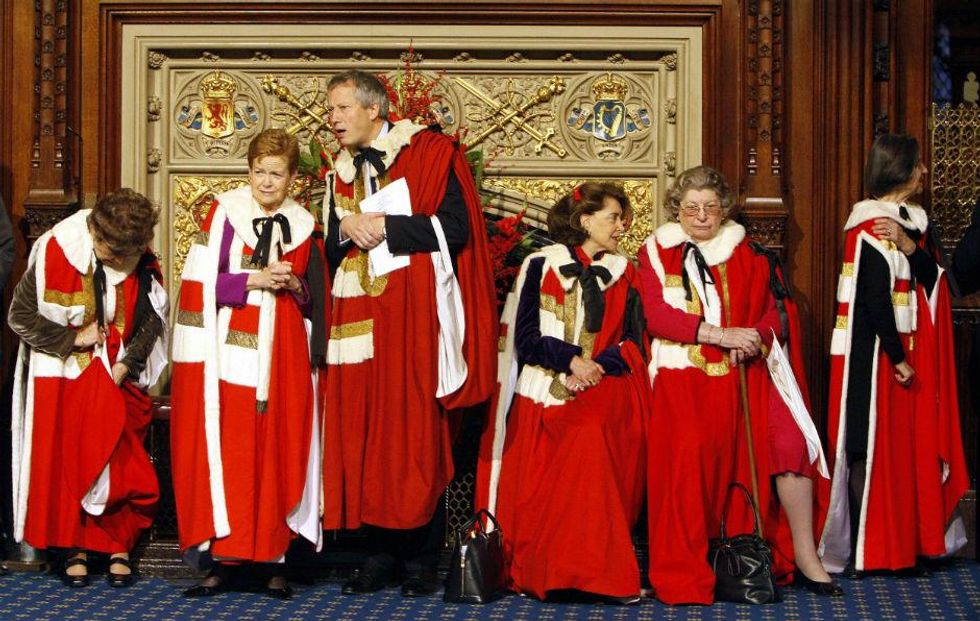 Picture: Getty
Only 32 per cent of eligible members of the House of Lords are currently female (although this is shockingly higher than the House of Commons) - as opposed to 50.95 per cent of the general population.
Meanwhile, a report in February of this year (pdf) estimated that just 5.3 per cent of the total come from ethnic minority backgrounds - as opposed to 12.9 per cent of the general population.
While plans for widespread reform were put forward in the last parliament, the coalition was forced to drop the proposal while facing significant opposition from Tory backbenchers as well as Labour politicians concerned about unhappy peers.
The current Conservative government said in its manifesto that House of Lords reform is "not a priority" in this parliament.
Speaking in light of the Lord Sewel allegations, Lib Dem peer Baroness Sal Brinton called on her colleague to resign, saying his conduct showed he has little regard for women or the responsibility of his role.
Too often members of the House of Lords are afforded the luxury of permanent protection, able to claim public money while being publicly unaccountable...

The House of Lords must be reformed as a matter of urgency. In the meantime, Lord Sewel should, if he has any sense of decency, resign immediately...

Just one person can undermine the good work and public service of the Peers. It is yet another sorry indictment of an undemocratic system, and simply highlights the Liberal Democrats case for reform.