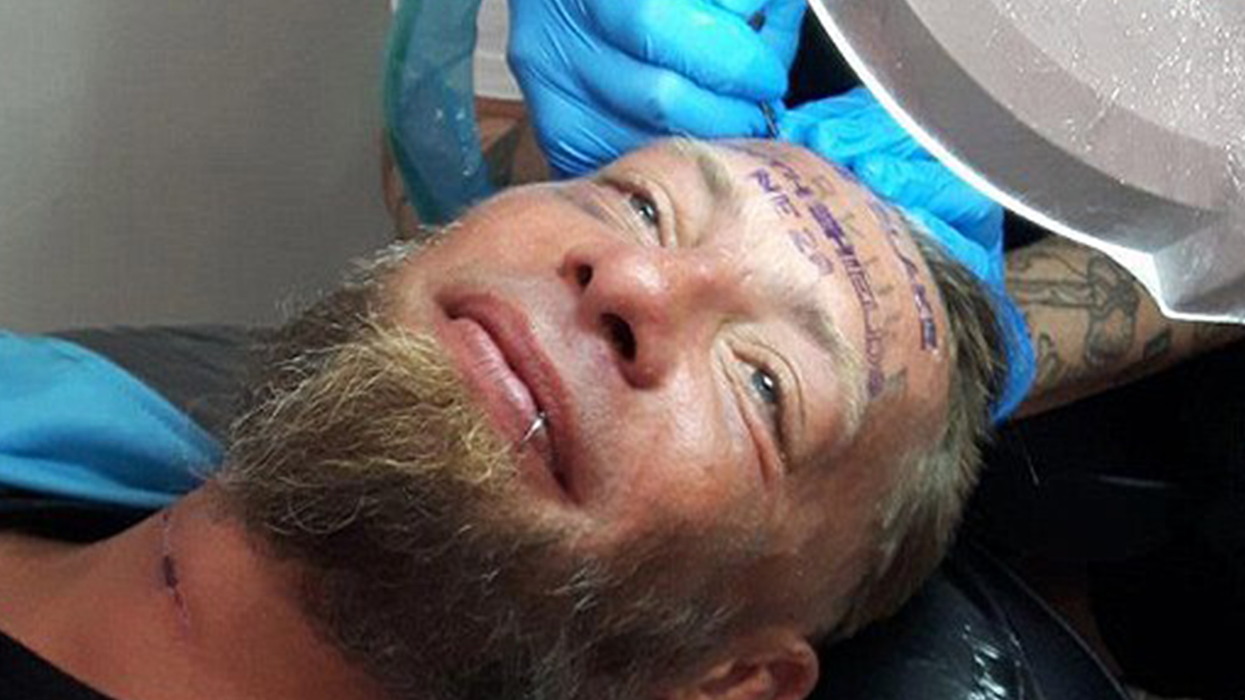 Facebook
A fundraising campaign has been launched to help a homeless who was paid to get a tattoo on his forehead by a stag do in Benidorm.
Tomek, who is believed to be Polish, was reportedly paid €100 (£90) to get the name of the groom inked on to his head.
A photo emerged on Facebook of Tomek having the tattoo done which appeared to read 'Jamie Blake, North Shields, N28.' The tattoo was not completed as it was said to be too painful.
James Blake, the British groom accused, has said he was not even there during the incident, telling the Newcastle Evening Chronicle:
There was a group of Irish lads there as well and Tomek.

He isn't homeless, he lives with my friend and works on the strip.

I got drunk and was asked to leave the bar. I was never in the tattoo parlour and as far as I know he was not paid any money.
The photos were uploaded to Facebook by the tattooist but were soon deleted following complaints.
Tomek, who is said to be well known in the area, reportedly suffers from back problems after walking from Poland to Spain.
The incident has been widely condemned by the public and in response, a tattoo parlour in Benidorm has launched a Go Fund Me campaign to help him have the tattoo removed and assist him medically.
Their goal is €3,000.
Karen Cowles, the president of the Benidorm British Business Association wrote on Facebook:
Can I say it was NOT any of the British tattoo studios here.

At RKA Tattoos we will be collecting money for Tomek to have his tattoo removed and help pay for any immediate needs he has.

On the Facebook post, Chris Haslam commented: "The tattooist needs reporting. He's as guilty as the others if not more so.

Probably don't need a license [sic] but needs shutting down.