Win McNamee/Getty Images
A lesbian police officer in the United States has been praised after she saved the lives of Republican lawmakers who have voted against LGBT rights.
Last Wednesday six people were wounded in Virginia when James T. Hodgkinson opened fire on Republican members, including Steve Scalise, who were practising for a charity baseball game.
Hodgkinson was killed just moments later when police opened fire and prevented further injuries.
One of the facts that emerged from this event was that one of the police officers who took down the assailant is a lesbian woman of colour.
That's right: a lesbian woman of color rescued a ballfield full of white GOP dudes. #hero #crystalgriner… https://t.co/FwP9CW7Oi9

— take care of yourself (@take care of yourself) 1497538832
Crystal Griner, who is often assigned to protect Scalise, was shot in the ankle but still managed to stop the shooter.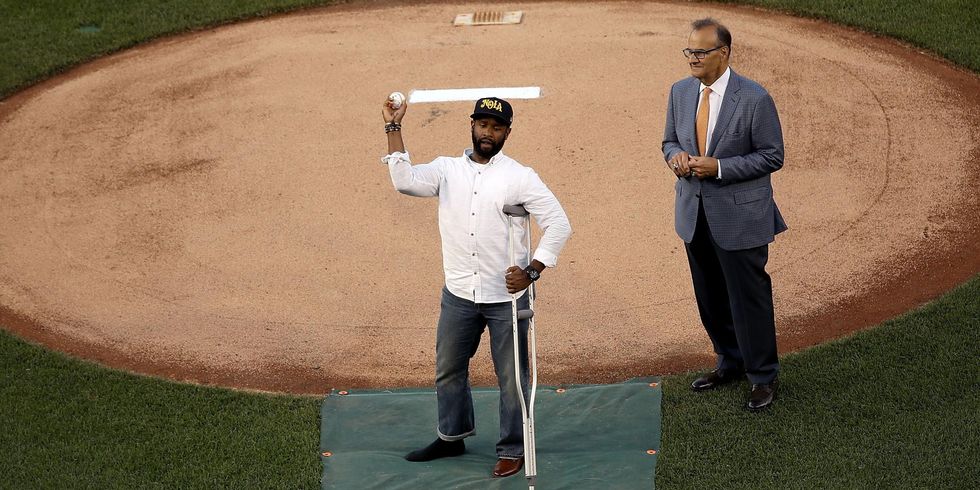 U.S. Capitol Hill special agent David Bailey, wounded alongside special agent Crystal Griner protecting U.S. Rep. Steve Scalise, throws the first pitch before the Congressional Baseball Game (Picture: Win McNamee/Getty Images)
However, many of the politicians she saved have, in the past, directly tried to deny gay people's right to marry.
These include Rand Paul who has previously called same sex marriage "offensive" and Roger Williams who said gay marriage was fraudulent and a:
federal intrusion on the states' constitutional right to self-governance.
Scalise himself has been a fierce opponent of gay marriages and once co-sponsored a Constitutional Amendment to outlaw them in the United States.
The amendment supported by Scalise reads:
Marriage in the United States shall consist only of the union of a man and a woman.

Neither this Constitution, nor the constitution of any State, shall be construed to require that marriage or the legal incidents thereof be conferred upon any union other than the union of a man and a woman.
Griner's heroism has won praise from all quarters.
Just met with Capitol Police officers Crystal Griner and David Bailey at the hospital. Thanked them for saving my life.

— Jeff Flake (@Jeff Flake) 1497476763
While she was in hospital, President Donald Trump visited Griner, meeting her and her wife Tiffany Dyer.
Vice President Mike Pence, who has opposed many LGBT rights, praised her efforts:
The courageous actions of Officer Crystal Griner, and that of Officer David Bailey, saved lives and prevented an even greater tragedy.