Picture: ABC/screengrab
Wisconsin University student, Trevor Keeney doesn't know how to knot a tie properly.
They're fiddly, annoying pieces of cloth. We understand. We have all been there.
His lack of knotting knowledge caused him so much anxiety, that in the hours running up to a big class presentation, he hopped in his car to rush over to a friend's house for help.
His friend wasn't there, but police officer Martin Folczyk noticed his speeding and pulled him over.
He saw Keeney's necktie complication and decided to help.
Picture: ABC/screengrab
After asking for Keeney's licence and insurance papers, the police officer proceeded to teach the university student to knot a tie.
How. Lovely.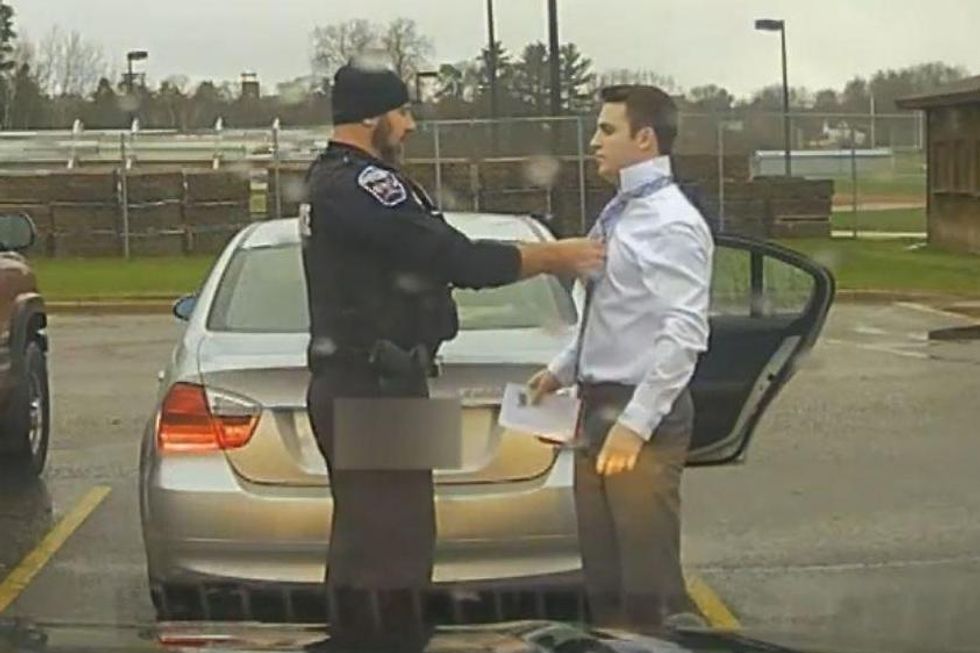 Picture: ABC/screengrab
Keeney ended up getting 92 per cent for his presentation FYI.
Must have been the perfect tie.
He told ABC News:
I went back and met with him for about 30 minutes and he taught me! It was cool.
Here's footage of the necktie lesson, below:
To protect and serve ladies and gentlemen. To protect and serve.