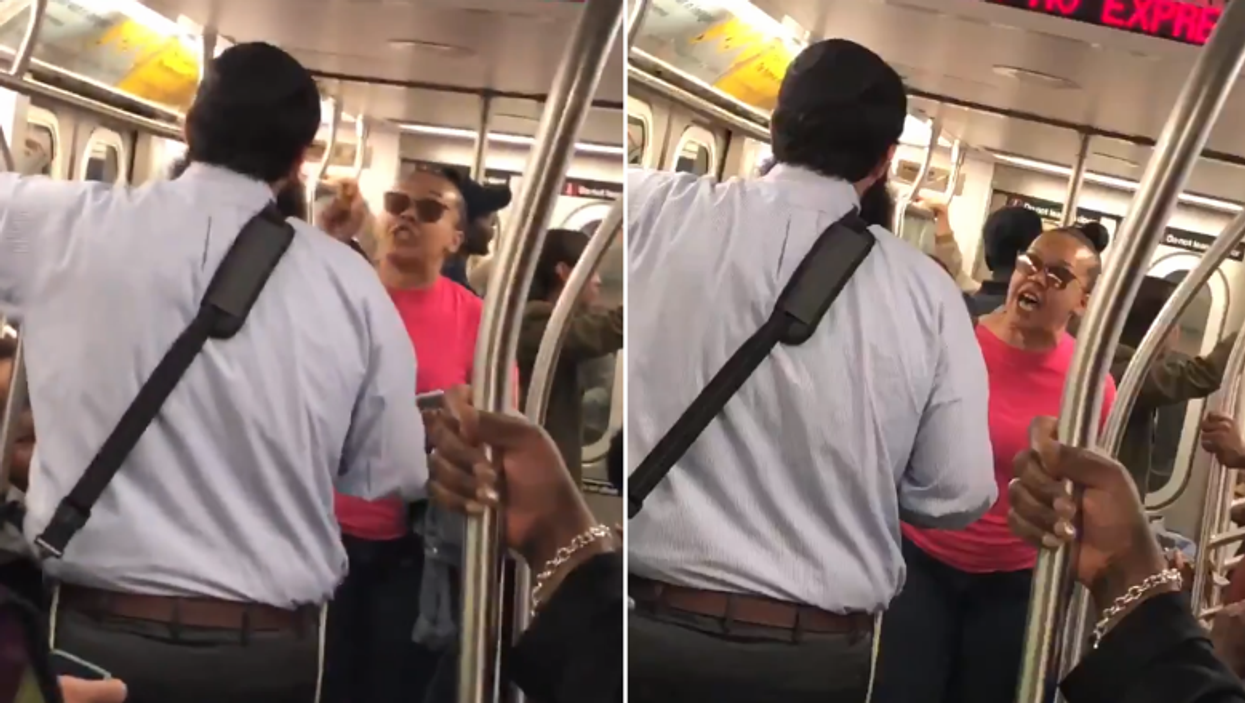 Twitter/chrisfrench_
A black woman was filmed shouting at an Orthodox Jewish man after he called her 'racist' while they both travelled on a crowded subway train in New York.
The clip was circulated on Twitter by user @Chrisfrench_ and it shows a particularly heated argument between the two on a Bronx-bound 4 train.
MTA, you never disappoint. https://t.co/QpFx81klcG

— just here for the jokes 😅 (@just here for the jokes 😅) 1527202851
The woman can be heard shouting:
You said I'm racist so you tell me what I'm being racist towards… because you're Jewish and I said if a Jewish family got on here, somebody would have got up.
And went on to say:
That is not a racist statement. That is a factual statement.
The man in the video has been identified as Yossi Wolfe, a 31-year-old Wall Street Journal software engineer and the woman has been identified as Shauntaye King.
In an interview with Israeli national news outlet Arutz Sheva, Wolfe told them the incident began after another African-American woman and her kids boarded the busy train and no one offered their seat.
According to Wolfe, the woman said:
If it was a Jewish family y'all would have gotten up!
To which Wolfe replied:
Can we please not make this a racist thing?
This appears to be the moment which set the woman off, says Wolfe. In the video you can hear her shouting:
You need to learn the difference between race… Judaism is not a race. It is a religion.
Wolfe is heard trying to placate the woman and is heard saying: "No, 'you guys.' I am a person. You are a person".
"No! No!" the woman is heard vehemently protesting and goes on to say: "We are different. Understand that. You know why? Because your people treat my people different in our community! The f**k you talking about."
The woman continues her rant, saying:
You treat us different in our community. You don't even rent to us. What the f—k are you talking about? 

Your people! You said I was racist, so I'm addressing your people. You said I was a racist, right? Because I brought up Judaism, right? You wouldn't have called me racist if I said a Mexican family came on here, right? You wouldn't have called me a racist then, right?
In an exclusive interview with The Post, King has said she has no regrets about the rant, except one: saying "f***k you" to the man.
King said in the interview that the two-minute clip doesn't tell the whole story, but she still stands by mostly everything she said.
Telling her side, King explained:
Every person on that train looked at that woman and didn't even think to get up.

When I sat on the train for three minutes and watched how rude my people were to their own people, I said something about it.
She went on to say:
He just kept calling me a racist, kept telling me I'm anti-Semitic and I told him I have a white mother.
Perhaps someone should've mentioned that unlike many religions, Jewish people are also considered a race and six million of them were murdered in the Holocaust on racial, not religious, grounds.