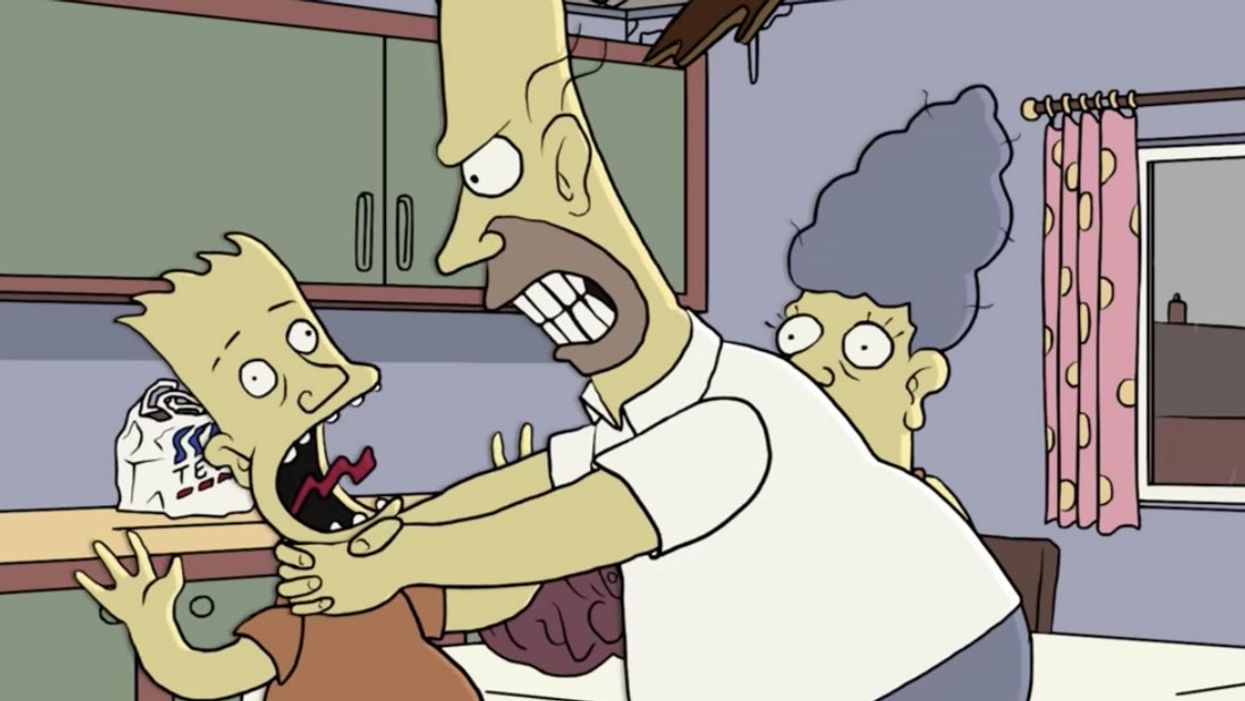 YouTube/Still
Simpsons fans, don't adjust your screen: the series has been re-imagined as a bleak British sitcom in an unsettling new clip.
The riff, created by British comedian Alasdair Beckett-King, features beloved characters Bart, Marge and Homer exchanging their iconic American accents for British ones.
In the clip below, which has been viewed more than 1.5 million views, the trio are seen congregating around the kitchen table. The names have been slightly altered - Bart is now Bartholomew, and Marge is now Margery - and the back-and-forth between father and son is in upper-crust English, while Marge speaks in a broad Scottish twang.
"Ah, Bartholomew, out for another day of whimsical japes," Homer says to his son.
"Do not have a cow, father," Bartholomew replies before a bust of Winston Churchill falls through the ceiling, onto the kitchen table.
"The wean's got the head of yon Winston Churchill," Margery says.
In addition to their newfound British accents, the appearance of the beloved characters has been altered as well.
Rather than the bright energetic pop of yellow we're used to, the British characters appear grayish and haggard.
They actually resemble the show's earlier animations, when it was originally aired back in 1989.
The Simpsons are one of the longest-running animated series in the US, and were recently renewed for its 33rd and 34th seasons.
Beckett-King wrote on YouTube: "What if The Simpsons were a British show? It would be shorter and a lot more depressing."
He told fans if they subscribed and supported him on crowdfunding site Kofi, he'd promise not to make any more bleak Simpsons clips ever again: "This can end today."