Warning: Some people may find some of the photos in this article distressing
Gripping images of Europe's refugee crisis won the 2016 Pulitzer Prize for breaking news photography on Monday.
The judging committee said that the joint first place prize was awarded to Mauricio Lima, Sergey Ponomarev, Tyler Hicks and Daniel Etter's work for The New York Times and the photography staffers of news agency Thomson Reuters for photos that "captured the resolve of refugees, the perils of their journeys and the struggle of host countries to take them in."
Covering hundreds of miles and telling dozens of individual stories, the images capture people at an uncertain moment in their lives, on unknown roads to uncertain destinations:
Refugees arrive by a Turkish boat near the village of Skala, on the Greek island of Lesbos (The New York Times/Sergey Ponomarev - November 16, 2015).
Desperate refugees board the train toward Zagreb at Tovarnik station on the border with Serbia (The New York Times/Sergey Ponomarev - September 18, 2015).
Ahmad Majid, in blue T-shirt at centre, sleeps on a bus floor with his children, his brother Farid Majid, in green sweater at right, and other members of their family and dozens of other refugees, after leaving Budapest on the way to Vienna. (The New York Times/Mauricio Lima - September 5, 2015).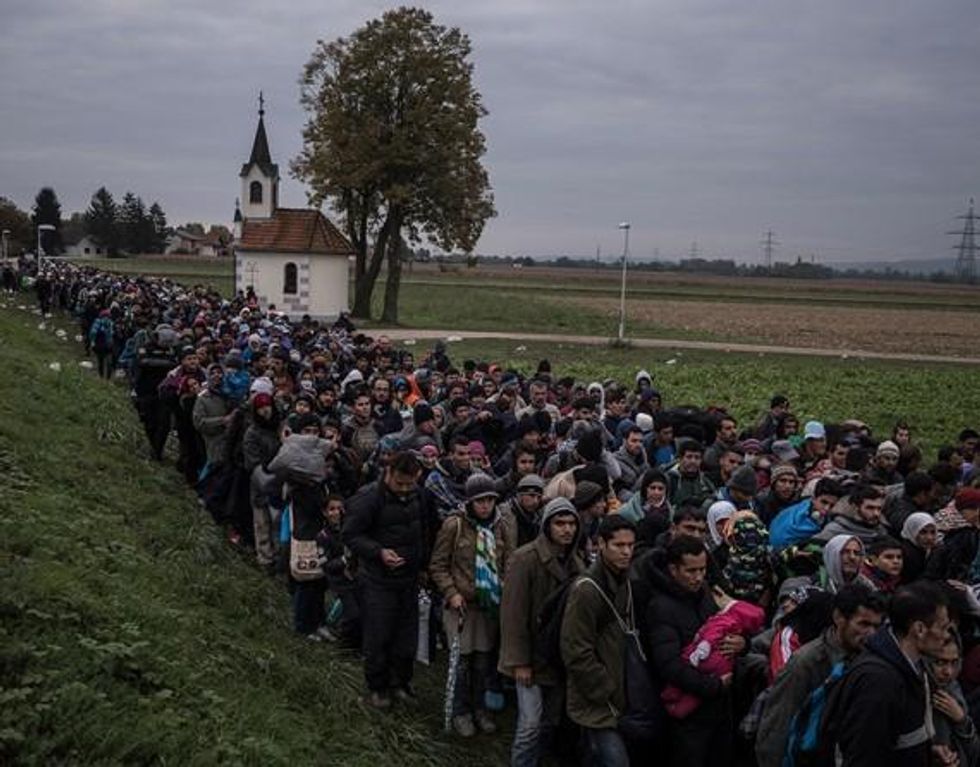 Migrants walking past a church, escorted by Slovenian riot police to a registration camp outside Dobova, Slovenia. The small Balkan nations along the path of the human migration through Europe have seen record numbers of refugees cross their borders, and have been overwhelmed in their ability to manage the human flow (Sergey Ponomarev, The New York Times - October 22, 2015).
A man tries to shield his child from police beatings and tear gas at the border crossing in Horgos, Serbia (The New York Times/Sergey Ponomarev - September 16, 2015).
After battling rough seas and high winds from Turkey, refugees arrive by rubber raft on a jagged shoreline of Lesbos. Fearing capsize or puncture, some panicked and jumped into the cold water in desperation to reach land (The New York Times/Tyler Hicks - October 1, 2015).
Laith Majid, an Iraqi, broke down in tears, holding his son and daughter after they arrived safely in Kos, Greece, on a flimsy rubber boat (The New York Times/Daniel Etter - August 15, 2015).
An overcrowded inflatable boat with Syrian refugees drifts in the Aegean sea between Turkey and Greece after its motor broke down off the Greek island of Kos. (Thomson Reuters/Yannis Behrakis - August 11, 2015)
A Syrian refugee holds onto his children as he struggles to walk off a dinghy after crossing a part of the Aegean Sea from Turkey to Lesbos (Thomson Reuters/Yannis Behrakis - September 24, 2015).
Syrian migrants cross under a fence as they enter Hungary at the border with Serbia, near Roszke (Thomson Reuters/Bernadett Szabo - August 27, 2015).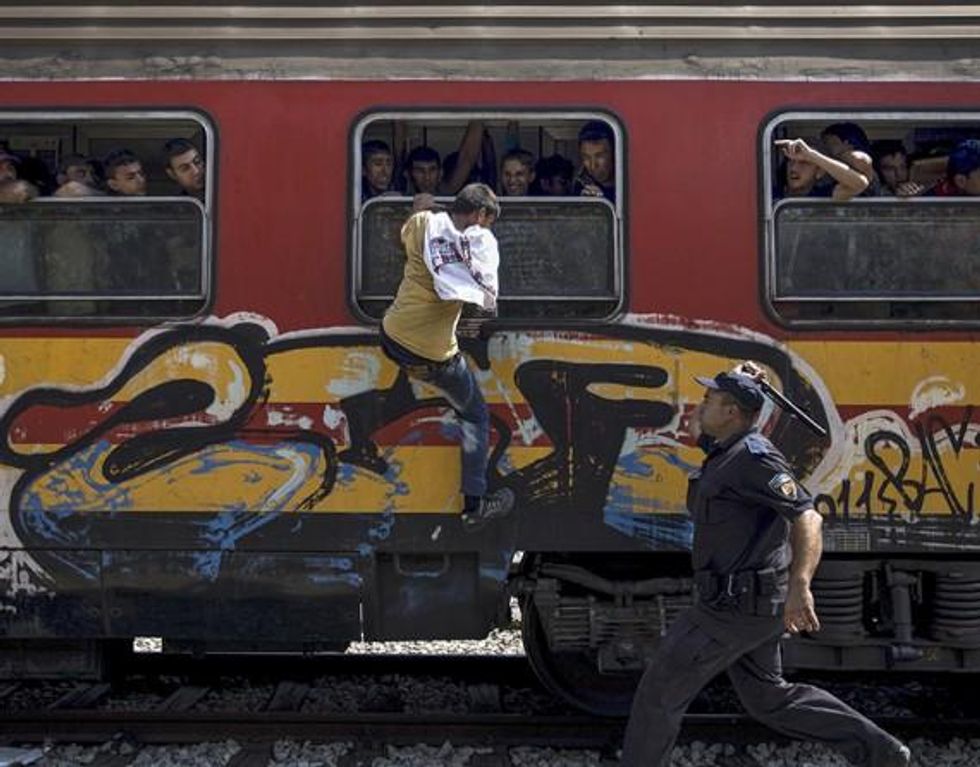 A police officer tries to stop someone from boarding a train through a window at Gevgelija train station in Macedonia, close to the border with Greece (Thomson Reuters/Stoyan Nenov - August 15, 2015).
Hungarian police stand over a family who threw themselves onto the track before they were detained at a railway station in the town of Bicske (Thomson Reuters/Laszlo Balogh - September 3, 2015).
A Syrian man kisses his daughter as he walks through a rainstorm towards Greece's border with Macedonia, near Idomeni (Thomson Reuters/Yannis Behrakis - September 10, 2015).
View the shortlisted entries and other categories at the Pulitzer Prizes' website here.