Time travel is something that you only thought was possible in sci-fi movies or novels, but low and behold it's actually real (maybe).
At least that's what one man from Slovenia is claiming, who has said that he has travelled to the 45th century, which would be in the fifth millennium and somewhere between the years 4001 and 5000.
The man, who goes only by the name of David, says he is inspired by Nikola Tesla, and spoke to ApexTV about his adventures in time and space.
He claims that he started building his time machine, which isn't a DeLorean, eight years ago and has met many other time travellers around the globe who helped him construct his device.
One particular man who helped him on his journey was the fantastically named "Jack Lion Cousteau" from France, who had time travelled only 40 times.
Anyway, after extensive research and consultation, David was able to build the machine that you see below, which looks more like a computer hard drive - but then again we aren't time travellers, so we can hardly critique.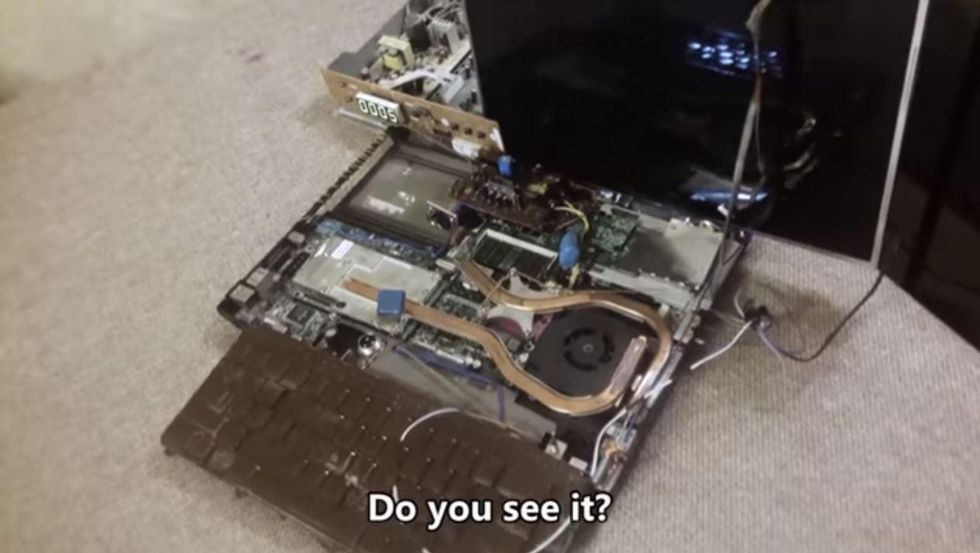 Picture: ApexTV
Speaking to ApexTV, David said:
During that investigation, I have passed through the whole world. I have found facts.

I met a person who had a wound on the head from a laser weapon. Another person show me a photo from the 35th century.

In France, I even met a person who had made a time machine. He told me that the machine had been made three years ago and during the time he had travelled only 40 times.
David says that the machine can cause a lot of pain to his body and once left him with a wound on his head.
Another problem is that his machine only allows him to travel into the future, but it has allowed him to witness some pretty startling things.
He adds:
The first travelling with my machine lasted 20 seconds then I started to prolong the time and I saw many interesting things. 

I even saw the aliens, which lives [sic] inside us. I communicated with the future people.

I too much wanted to bring all the facts but I understand that my invention could bring harm and evil. 
He also says that he saw buildings with more than 500 floors and flying cars, which doesn't seem that inconceivable, especially as Elon Musk can now blast cars into space.
Yet there are inconsistencies in his story as after he says has visited the 45th century, he goes on to add that his machine can only travel to the 38th century. Hmm...
If that's the best that David could come up with, we're prepared to label this story as highly sceptical and about as believable as all those apocalypse stories.
That being said, we'll let you make your own mind up. Watch David's full interview in the video below.
HT Uni Lad