On Saturday, a gorilla was shot to death when a little boy fell into its enclosure at Cincinnati Zoo.
There has been uproar over the decision - made quickly - over what to do to protect the child's life after the endangered lowland silver back grabbed him, but the zoo has stuck by its response in the "life threatening situation".
A criminal investigation has been opened, the child's mother has received racist abuse and death threats over her 'negligence' that led to the animal's death, tributes for the gorilla are pouring in and a petition calling on "Justice for Harambe" has been signed by more than 400,000 people.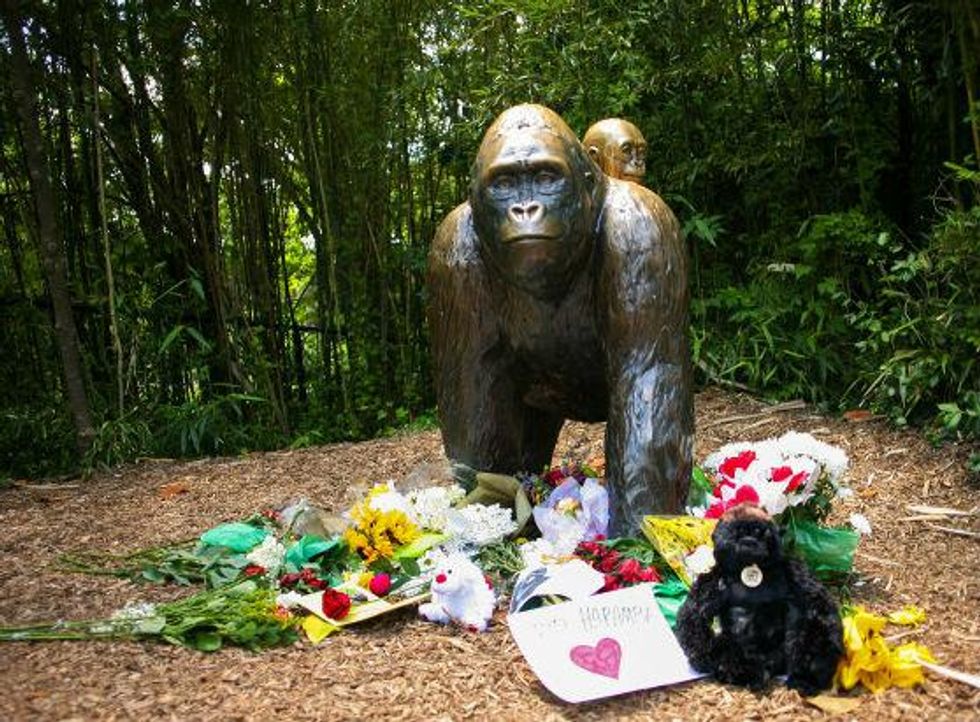 Picture: William Pilpott/Reuters
Meanwhile, last week saw a spike in shipwrecks and death in the Mediterranean. Up to 1,000 people are now estimated to have died trying to make the dangerous crossing to Europe.
A rescuer with German charity Sea-Watch was pictured cradling a dead baby in his arms as if she was sleeping on Friday.
The child was pulled from the waters of the Med after a wooden boat capsized - 44 other bodies were recovered too.
In an email, the aid worker, who said his name was Martin but did not want his family name published, told Reuters she looked:
...like a doll... I took hold of the forearm of the baby and pulled the light body protectively into my arms at once, as if it were still alive...

It held out its arms with tiny fingers into the air, the sun shone into its bright, friendly but motionless eyes.

I began to sing to comfort myself and to give some kind of expression to this incomprehensible, heart-rending moment. Just six hours ago this child was alive.
More overcrowded and unseaworthy traffickers' boats are thought to be making the journey from Libya to Italy during what is now an established seasonal surge in refugees trying to make it to Europe.
Despite renewed attempts by the EU's border agencies to crack down on smugglers and efforts to discourage people from making the journey in the first place, the reasons people flee - namely, ongoing conflict and instability across the Middle East and North Africa - remain.
Picture: GABRIEL BOUYS/AFP/Getty Images