Dan Kitwood/Getty Images
The car insurance providers Admiral trialled an app that used Facebook profiles to estimate quotes.
Facebook stepped in and Admiral have since 'reduced' the reach of the app.
On Wednesday the company suggested they would look at the Facebook profiles of their clients when determining a car insurance quote.
In a post to their website, Admiral was describing 'firstcarquote', and explained how this new app would collate data on applications, and at first glance it reads like something out of Minority Report.
But we want to make sure safe drivers aren't penalised and get the best price possible. To do this, we'll look at your Facebook profile to help us get a better understanding of the type of driver you are.

There's a proven link between personality and how people drive, and our clever technology allows us to predict who is likely to be a safe driver.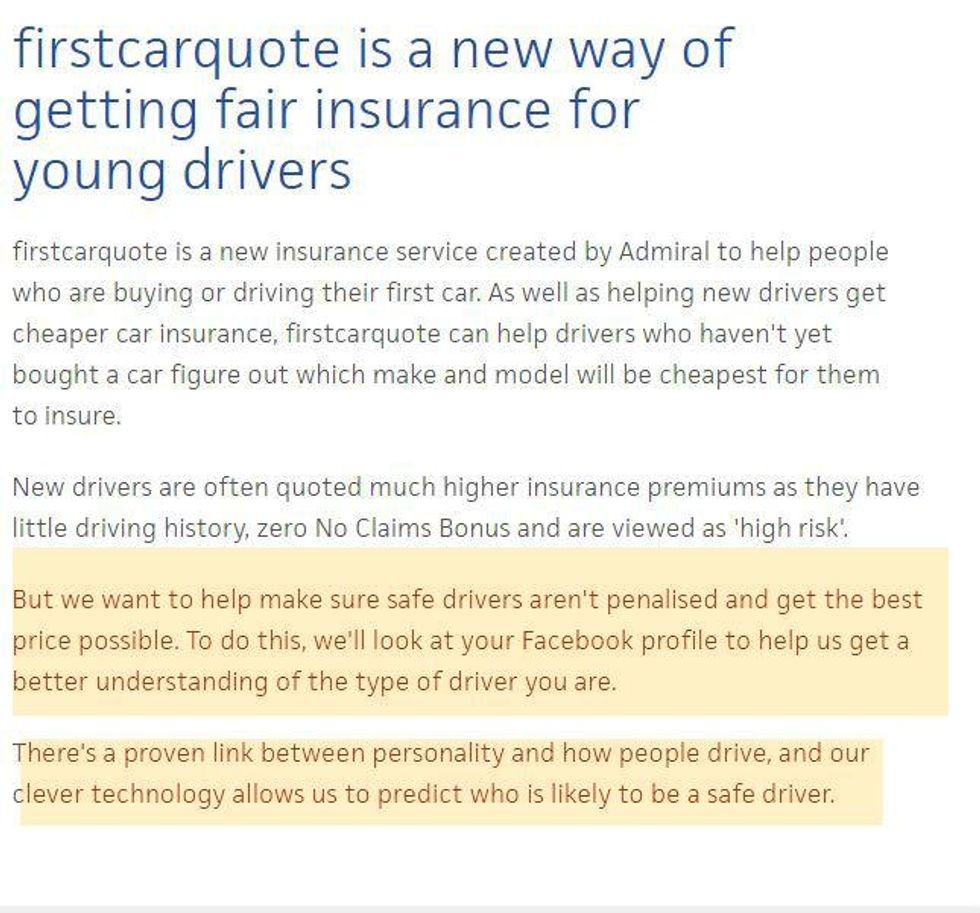 Picture: Admiral
The first FAQ answer relates to the Facebook trawling.
Picture:
Facebook have raised quibbles regarding the app, so it seems there's no (greater) need to remove all of those photos from 'Album: Malia 2k13'.
According to Facebook, Admiral's plan breaches the site's terms and conditions.
To be fair we all just click 'agree' without reading them.
Speaking to the Independent, a Facebook spokesperson said:
Protecting the privacy of the people on Facebook is of utmost importance to us.

We have clear guidelines that prevent information being obtained from Facebook from being used to make decisions about eligibility.

We have made sure anyone using this app is protected by our guidelines and that no Facebook user data is used to assess their eligibility. Facebook accounts will only be used for login and verification purposes.

Our understanding is that Admiral will then ask users who sign up to answer questions which will be used to assess their eligibility.
The FAQ section of the 'firstcarquote' page also reassured users that they would not have ongoing access to data, only a 'snapshot' while the quote is being calculated. The Times reports that writing style and use of calendars or accounting apps would be considered in the analysis.
A spokesperson for Admiral told indy100:
Firstcarquote, which will allow first time drivers to voluntarily share some social data with insurers for a simple and discounted quote, is currently a beta product. Admiral does not have access to customers' Facebook data and does not hold social media data to set prices for its customers. Following discussions with Facebook the product is launching with reduced functionality, allowing first time drivers to login using Facebook and share some information to secure a faster, simpler and discounted quote.