A woman has revealed how she dropped almost 6 stone after she documented her weight loss on Instagram.
Ashleigh Munn, 24, of Greenock, Scotland, decided to lose weight when she reached 16 stone and was forced to use crutches because her hip and pelvis bones could not longer take her weight.
Ms Munn, an early education and childcare student at West College, Scotland, found further motivation to lose weight when she was rushed to hospital with stomach pains and doctors discovered a melon-sized cyst on her ovary. Ms Munn believes her weight likely contributed to the growth of the cyst.
She told PA Real Life that she couldn't tell her daughter Mya to live a health lifestyle if she and her father David didn't.
Ms Munn documented her diet on Instagram and ensured she ate healthily, adding fresh fruit and vegetables to her diet and making meals from scratch. She also recently turned vegetarian, according to her Twitter account.
Ms Munn has since dropped 5.5 stone.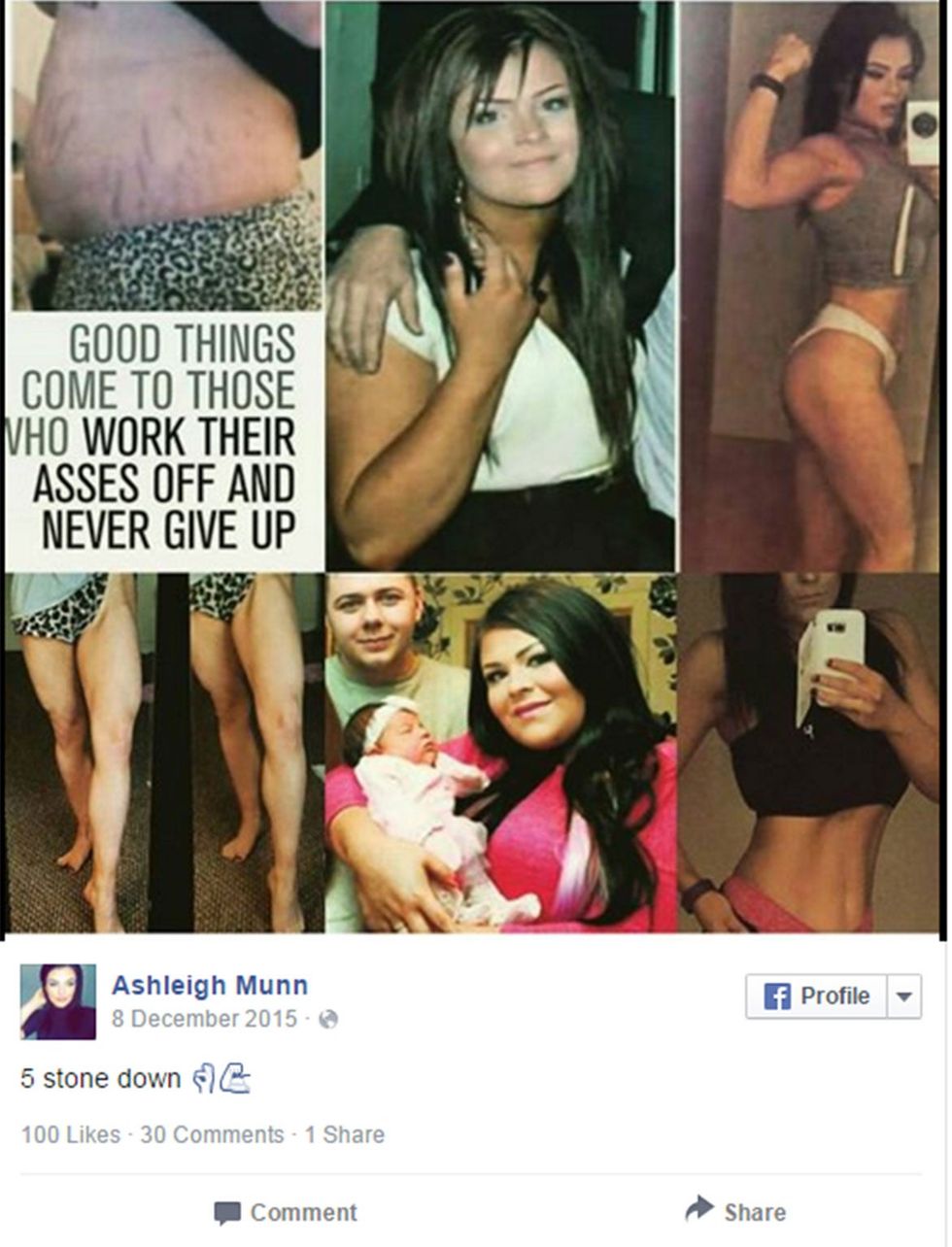 Ms Munn documents a milestone on Facebook. Image: Facebook/Ashleigh Munn
Experts believe that noting down what you eat, like keeping a food diary, can help with weight loss.
"People don't realize how many calories they are obtaining from caloric beverages and snacks, and these can be easy interventions … that can help reduce calories," Victoria Catenacci, MD, assistant professor of Medicine at the University of Colorado Health Sciences Center told WebMD.
The NHS website also recommends those who are obese to monitor their weight loss progress by regularly noting how much they weigh in a diary.
The body also suggests setting realistic weigh loss goals; eating slowly in order to be mindful; avoiding sitations where you may overeat, and involving friends and family in your efforts.