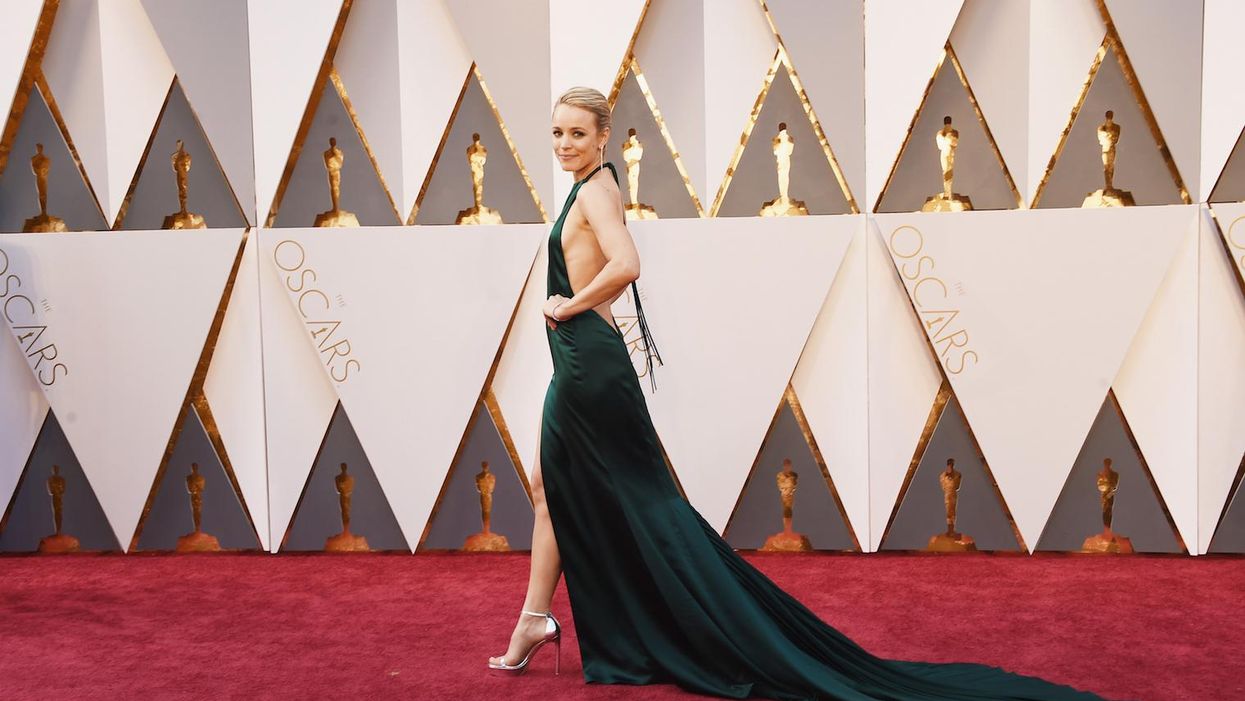 Sunday marked the biggest red carpet event in the entertainment calendar. It was, of course the Oscars.
Journalists stayed up all night to cover every moment of the awards ceremony and the parading of clothes on bodies that comes before it.
Writing as a former fashion journalist, I have myself been privy to delighting in the incredibly extravagant dresses worn by the most recognisable faces in Hollywood.
However, the media coverage surrounding women at the Academy Awards is always utterly depressing, and I would quite like that to change thankyouverymuch.
In a bid to highlight just how many God awful words are thrown at women for daring to go out in public wearing clothes, I've taken two articles from the Daily Mail's Oscars 2016 coverage and analysed the words used to describe women on the red carpet.
At just under 4,000 words long this piece awards Heidi Klum the Oscar for 'worst fashion fail', likens Kate Winslet's look to a bin bag and deemed Golden Globe and Grammy Award winner Diane Warren's choice of outfit 'inappropriate':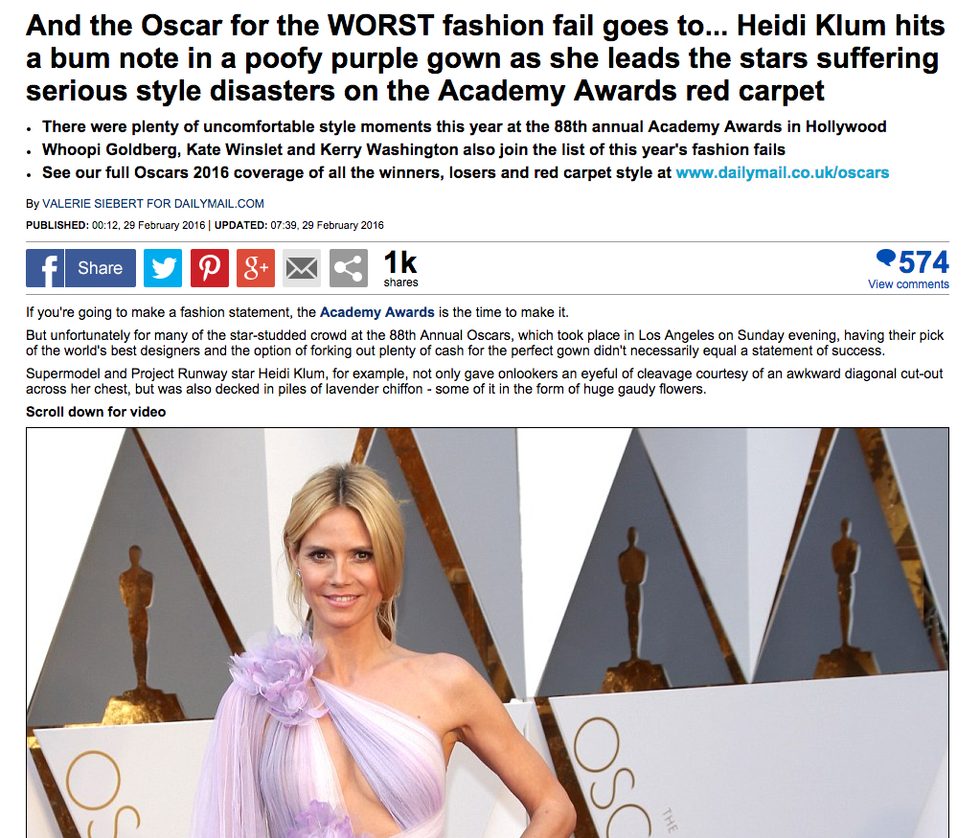 Disaster
Uncomfortable
Terribly awkward cleavage
Gaudy
Over the top
Garbage bag
Trashy
Irksome
Part trash bag, part oil-slick
Disappointed
Creepy
Otherwise flattering
Incredibly constricted
Curtain-like
Odd
Dominatrix
A step too far
A bit much
Tacky
Too tight
Fell flat
Badly tailored
Ill-fitting
Off-putting
Clashing
Messy
Too large
Unnecessary
Incredibly unflattering
Awkwardly-lengthed
Totally inappropriate
Poor
Headache-inducing
Strange
Looked like a blood clot
Restaurant leftovers
Awkwardly cropped
Too-baggy
Struggle
Winging it

NB: This piece included the sentence: "Model Lily Cole looked like she was the restaurant leftovers in a tinfoil-like crumpled gown that hid her slender frame."
Next, best dressed:
Unfortunately, the DM didn't just dedicate another 4,000 words to the best dressed women. Oh no.
Instead, there were dozens (I couldn't actually bring myself to count) of stories on individual trends and dresses.
With a vast sea of content to pick from I opted for this, 'Jennifer Lawrence, Brie Larson, Cate Blanchett and Charlize Theron take the plunge in glamorous gowns on the Academy Awards red carpet'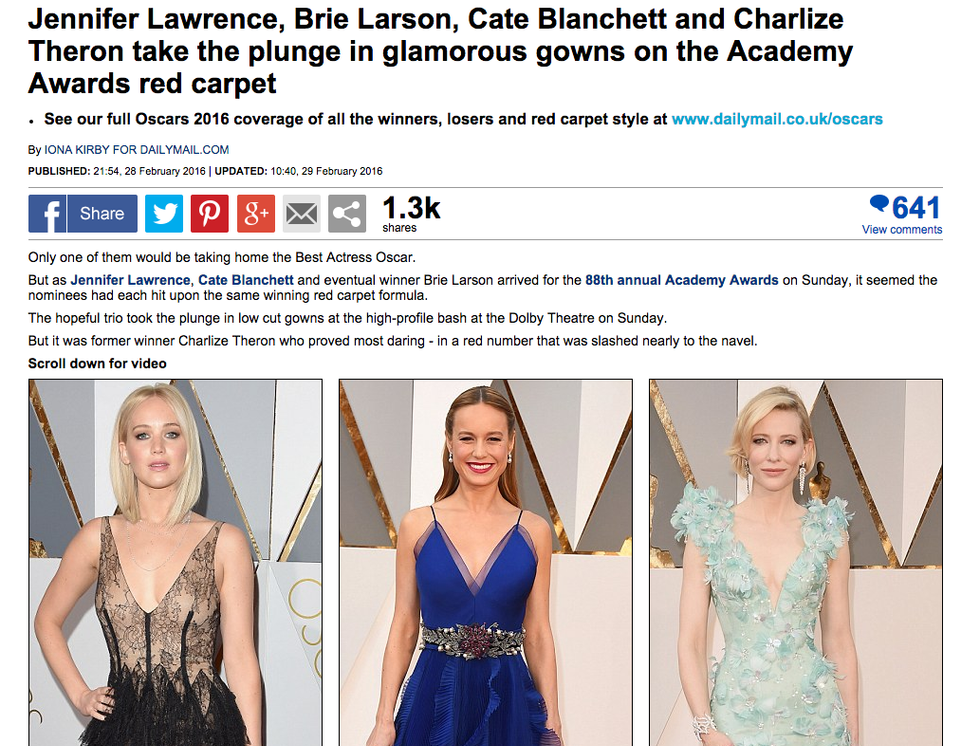 And remember, these are supposed to be the positive terms...
Plunge
Glamorous
Low cut
Daring
Lovely
Saucy
Sex appeal
Slinky
Didn't disappoint
Unsurprisingly
Sexy
Clung
Slim
Showed off
Racy
Effortlessly
Sparkle
Pretty
Centre of attention
Dazzling
Striking
Quirky
Sensational
Went all out
Dramatic
Nipped in
Tiny waist
Generous
Revealed
Bold
Mesmerised
Wowed
Beauty
Divine
Showcased her baby bump
Showed off her blooming bump
Angelic
Ample cleavage
Left little to the imagination
Slender figure
Beautiful
Risk
Unusual
Delicate
Leggy
Elegant
Showed some skin
Picture perfect
Played it safe
Oozing elegance

At this point I give up.
Further proof that none of this actually matters... Kate Winslet appears on the worst dressed list and is praised for being 'stunning':