A popular Pennywise and the Babadook meme depicts them as being in a gay relationship - and it's the gay part that's angering some conservatives.
A child murdering clown and a demon? Is nothing sacred?
Shortly after its release in 2014, Tumblr users decided, with the firmness of internet anonymity, that The Babadookwas a homosexual.
It all began when Netflix mistakenly categorised the movie under their LGBT section:
Memes flowed beautifully, and life was good:
The popularity of the fan theory has seen the Babadook show up as a regular attendee at rallies, Pride parades and demonstrations promoting equality.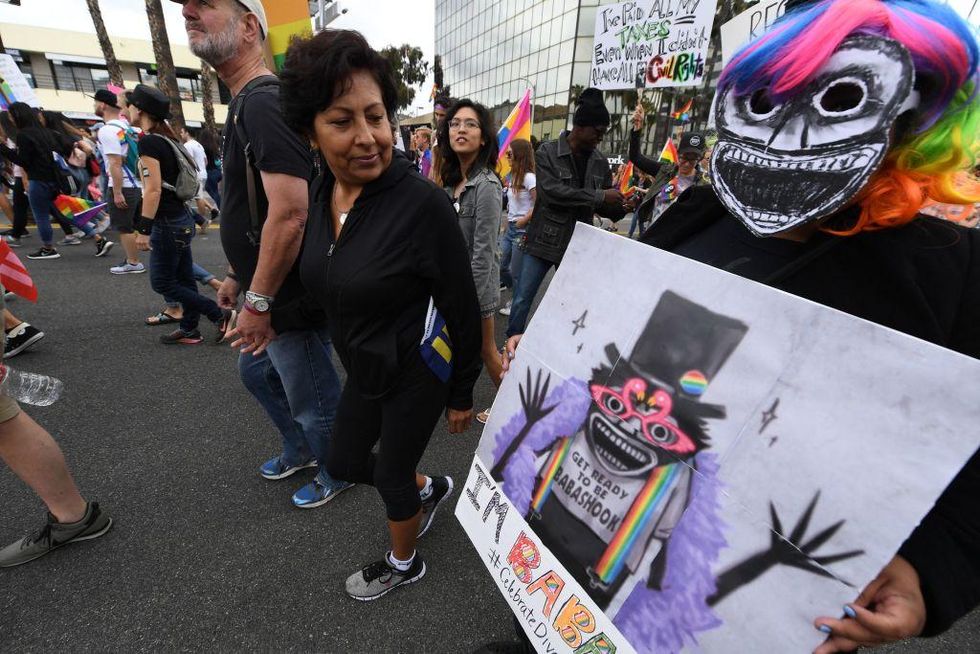 Members of the LGBT community and their supporters participate in the #ResistMarch at the 47th annual LA Pride Festival in Hollywood, California on June 11, 2017.
The 2017 remake of Stephen King's IT has prompted another fan theory: Pennywise the Clown is gay too.
It was only a matter of time before Pennywise and the Babadook were paired up.
And more fan art has followed.
#PennyDook
However, not everyone was thrilled. Conservatives it seems were angry these otherwise wholesome characters were being portrayed as homosexuals.
A user calling themselves 'Moderate Republican' allegedly contacted @StarRHodey on Twitter, saying:
Stop posting all of this degenerate sh*t about iconic film characters being in favor [sic] of f*gs.
The account used by 'Moderate Republican' (@JewsAreGreat) was later suspended by Twitter.
Fans also had a problem with making Pennywise a homosexual at all, but because of the story cannon.
Others who were knowledgeable about the It series pointed out that at the beginning of the novel Pennywise' kills a teenager, based on a real homophobic murder that happened in Maine, in 1984.