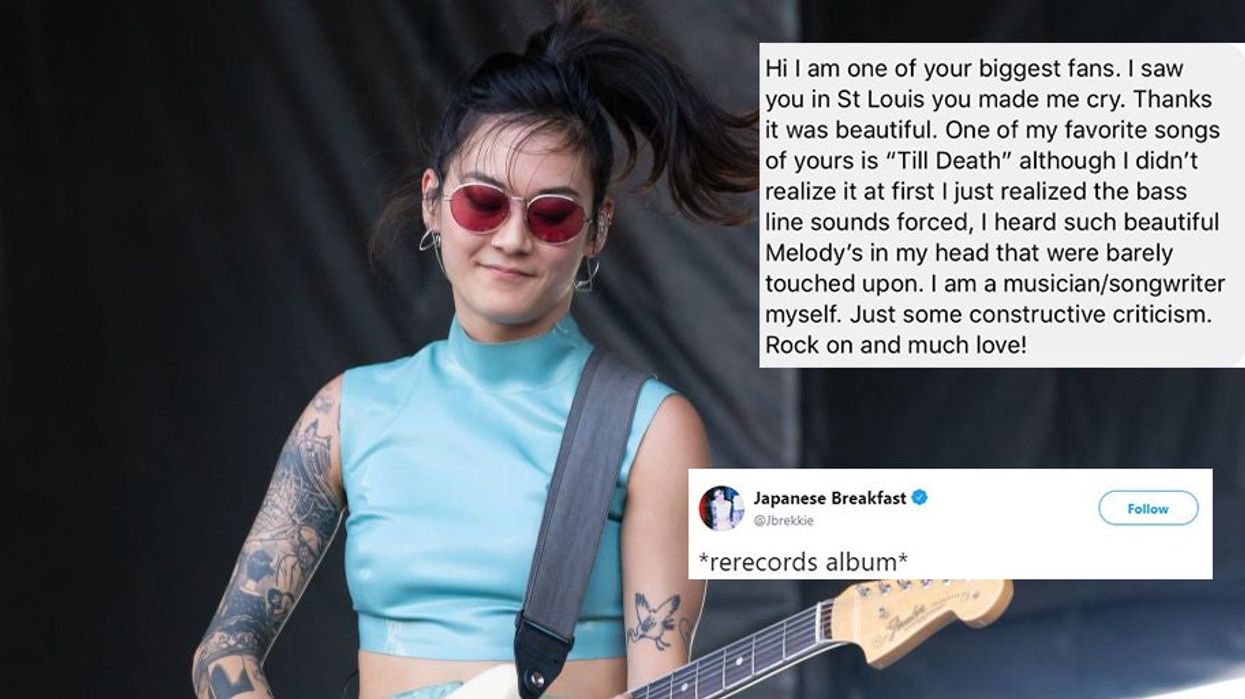 SUZANNE CORDEIRO/AFP/Getty Images
Japanese Breakfast is the solo musical project of the Korean American musician Michelle Zauner.
She has released two full studio albums under the pseudonym and fronted the emo band Little Big League, who have also released two albums.
It's fair to say then that she probably knows a thing or two about writing songs and playing music.
However, on Friday, she shared a series of messages she received from a man who was claiming to be one of her 'biggest fans'.
You would usually expect this sort of message to be along the lines of 'OMG I love your music. Thanks for everything. Keep up the good work.'
Except this 'fan' decided it would be better to tell Zauner where she had gone wrong on the bass line to the song 'Till Death', which is basically mansplaining ignorance of the highest order.
He wrote:
Hi, I am one of your biggest fans. I saw you in St Louis you made me cry. Thanks, it was beautiful.

One of my favourite songs is 'Till Death' although I didn't realize it at first I just realized the bass line sounds forced, I heard some beautiful melody's in my head that were barely touched upon.

I am a musician/songwriter myself. Just some constructive criticism. Rock on and much love!
He then followed it up with another message where he tried to be more specific.
To be more specific, that song is so devastatingly beautiful and the bass riff really needs to be rudimentary.

It deserves a simple dropping bass riff that isn't too flashy. 

Some of the parts of the current bass riff aren't that bad but on the whole, the song needs that simple dropping bass riff.

Also wouldn't hurt to try and change it up and do something that followed the rhythm of the bells/piano for one part. 

The song is beautiful as it is and deserves not to be overwhelmed by the bass riff.
It's hard to see what he is trying to get at here, as it's not like she can just go and release a new version of the song with a completely new bass part.
Zauner was just as confused and tweeted out screenshots of the messages with the caption '*rerecords album*'.
People couldn't quite believe that this had happened and began to respond to the tweet in a state of shock.
Plenty of bands and artists replied and the experience seemed to be depressingly familiar amongst female-fronted acts.
This tweet from Noah Yoo really sums it up the whole problem.
More: This woman just shared a handy flowchart for mansplaining