Apart from playing Deadpool and being devilishly good looking, Ryan Reynolds is also famed for his expert trolling of his fellow actors.
Hugh Jackman is one of his regular victims, whilst his wife, Blake Lively, has also fallen prey on several occasions.
Yet, recently, he has had the tables turned on him and he has become the victim of some truly exceptional pranks from his acting friends.
Firstly, there was the recent 'sweater party' that he was invited to by Jackman and Jake Gyllenhaal, where he was pictured wearing the ugliest Christmas Jumper you've ever seen.
This viral image has now been used to troll Reynolds again, but this time it's the Avengers: Endgame directors, Joe and Anthony Russo, who are getting in on the joke.
They have recently changed their Twitter profile picture to the above image but have made a few changes.
The word 'fans' has been written over Reynolds, while 'Antony Russo' is over Jackman and 'Joe Russo' is over Gyllenhaal.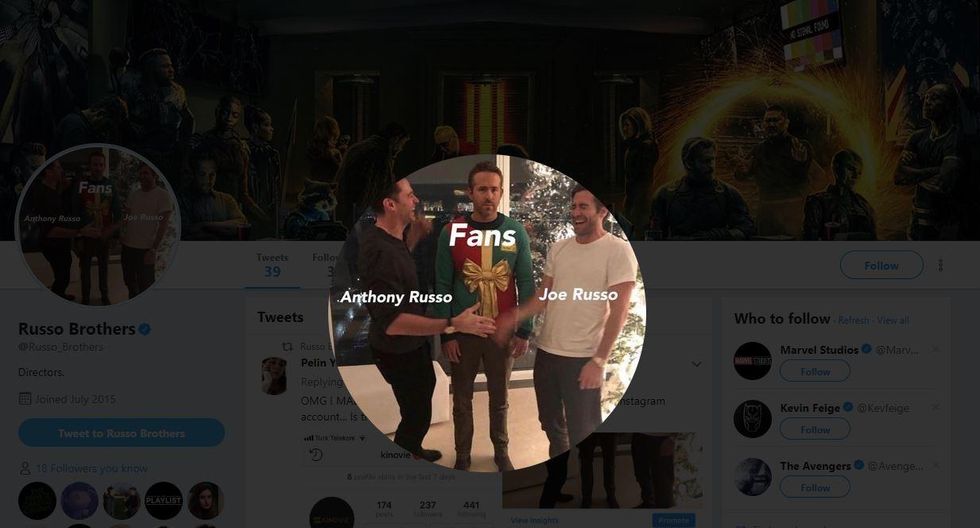 Picture: Twitter
Although this is a fun way to mock Reynolds, whose Deadpool character is not part of the Marvel Cinematic Universe (in fact, Gyllenhaal is the only actor to be part of that franchise as he is set to star in Spider-Man: Far From Home) the meme also acknowledges the torture that the Russo's put their fans through whenever they cryptically release information about their highly-anticipated movies.
In a funny twist, it actually turns out that a fan made this meme on Instagram and tagged the directors, who obviously appreciated the joke so much that they used it on Twitter.
Jackman has also posted an alternative version of the picture, with each actor turned into their comic-book alter ego.
HT Movie Web
More: 11 times in 2018 that Ryan Reynolds proved he was the king of social media