Oli Scarff/Getty Images/JoeHWren
At the beginning of Winter each year, tens of thousands of students around the country and abroad anticipate interviews with the Universities of Oxford and Cambridge.
The UK's two most famous universities interview thousands of students every year for a limited number of places.
It's a grilling and nervy prospect for a young student, as Joe Wren will testify:
The note reads:
Hello.

We haven't even spoken but I really wanted to wish you luck with your application to Cambridge. I've not been there but I did a science degree and it changed my life. Please live your dream but don't put too much pressure on yourself - Cambridge would be great but wherever you go and whatever you do, you'll do a great service to the world.

Love yourself and others and be generous, and in exchange is a small token of how I believe great students like you should have the chance to study the world. Last month I contributed a tiny sum to a Kickstarter to a powerful telescope that has an image intensifier and allows us to see distant galaxies. There is so much to know.

Mathematics is a truly beautiful subject - enjoy it and ride the wave.

Best of luck.
The tweet has received over 1,000 retweets and 4,500 likes in just over a week.
It really resonated with people:
According to Cambridge's application statistics, the greatest number of applications come from abroad: 6,787 internationally in 2016.
The breakdown for the UK is as follows: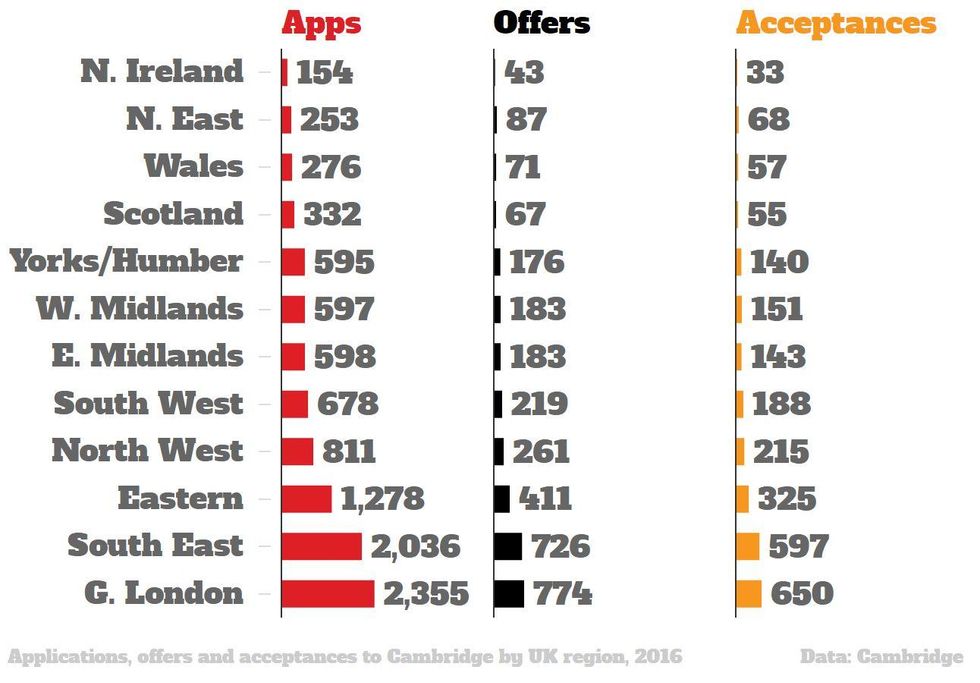 Applications from abroad have the lowest success rate (12.3 per cent), and in the UK the highest success rates are found in London and the South.